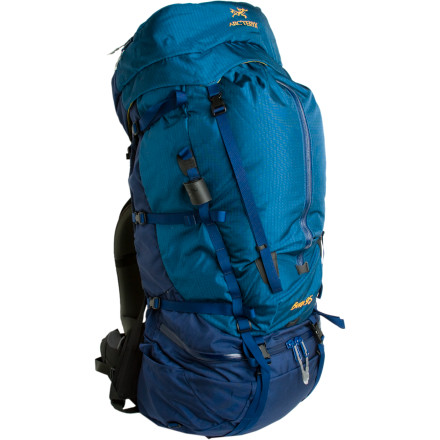 Detail Images

Community Images
As the biggest pack that Arc'teryx makes, the Bora 95 Backpack is ideal for weeklong backpacking trips and large-scale expeditions. Featuring a massive 5,500 cubic inches of cargo space, the Bora 95 holds all the gear you could possibly want to (or be able to) carry.
Tough, durable fabric and construction stands up to abuse; external DWR coating helps repel light rain and snow
Top closure makes for easy stuffing; side zip lends full access to pack's contents without having to unpack and repack everything
Dual 6061 aluminum stays and thermo-formed straps to give you excellent support and comfort while you heft your monster load
Thermo-formed hip-belt transfers the load to your hips and features side-mounted cinch straps for added stability over rugged terrain
A large front pocket helps keep gear organized, while the side zipper lets you access gear without having to unload everything
Six external compression straps let you adjust the pack's volume to accommodate varying load sizes
HydroPort opening lets you route your water-bladder hose through to the outside of the pack (water bladder not included)
Water-resistant outer zips prevent melting snow and rain from dripping down the pack and sneaking in
Unanswered Question
I see there are 2 conflicting sources of...
I see there are 2 conflicting sources of information for the SMALL hip belt.



Does it fit a waist of 34-34.5 inches as per Arcteryx website?



OR is it maximum 32 inches?



Thanks!
I 'm sad to hear that the Bora series is to be discontinued by Arc'teryx in 2013, but I intend to continue enjoying my Bora 80 and 95 packs for many more years. For me, they are classics- outstanding in design, durable dependable comfortable load carriers.There's not much I can criticize about them. If you can find one in the right size, I believe that you will probably be very pleased. The most recent versions are especially recommended!
The ultimate load carrier- for me.
Paired with my Bora 80, I believe that I 'm ready to carry just about anything I wish into the backcountry in comfort. I choose one or the other depending on the items to take; both have more capacity than their prior designs due to the kangaroo pockets, top lids and sleeping pad strap revisions.



See my review of the Bora 80 as well.. ibid for the Bora 95 with substantially more room at little weight penalty. These 2 packs just make me want to get out of town- and that says a lot when putting around 50 pounds on yourself.



I 'm told that Boras will be discontinued by Arc'teryx as of 2013. I mourn the loss for those who come after us.
I've carried some heavy loads in the Bora 95 over the past eight years on trips raging from a few days to almost two weeks. You can't go wrong with this pack.

A note on the rain issue. I packed mine full of sheets and old clothes and did a three hour hike in the rain. After returning and checking the contents, I found a few areas wear rain had found it's way though openings. This was a steady rain, and I never noticed a problem with brief showers while on treks. I purchased the pack cover which I now throw on (easily) when the weather takes a turn.

Last year the straps started to tear. I contacted Arc'teryx directly. They replaced the straps at no charge. Very good customer relations!
Anyone have a solid comparison between the...
Anyone have a solid comparison between the Gregory Denali Pro and the Arc teryx Bora 95 (besides the obvious 10 L's and slight weight difference), especially on mountain expeditions like Denali, Aconcagua, etc.? I am looking for an expedition pack in the area of 95 L for Denali in May and would love to hear how these two packs compare (pack-ability, comfort, suspension, durability. . .anything pertinent). Thanks!
Best Answer
Hello

I used the original Bora 95 for almost a decade and the Denali Pro for several years.
For backpacking I would say the Bora is noticeably superior. I found it more comfortable and could haul more weight. I also liked the bag features and yet simplicity. Simple but very comfortable hip belt and back panel. The latter is a little sweaty in hot weather given its construction however.

On the plus side for the Gregory is that it uses more durable bag materials than the current Bora model, is more adaptable for mountaineering use with more lash points, is slightly bigger (although in practice the Bora 95 Tall can hold almost as much volume, and more weight in my opinion) and can be cinched down nicely for a summit pack use. I found my Gregory developed a slight frame squeek after several trips. Also a bit difficult to get a winter bag in the Denali unless you load from the top.

In short, for me the Bora was a more successful choice than the Denali (at least for backpacking), but you may find the opposite. I would load up both if you can and see how they carry for you. If you find the Denali as comfortable with the heavier weights you may want to consider it since its design is a bit more suited to mountaneering. If not I would go for the Bora.

As an aside I retired the Bora after about a decade of extensive use (mainly backpacking in the mountains rather than mountaneering). In contrast I sold the Denali after several years and am presently using a Gregory Robson Pro I picked up used and cheap and which is no longer produced. It's essentailly a slightly smaller version of the Denali, although I prefer its bag design. I plan to buy another Bora 95 at some stage however.

Good luck
David
Great answer! I ended up getting the Bora and used it for the first time today with loads of weight. I was impressed by how comfortable it carries lots of weight and am confident it will serve me well.

On a side note, is it just me, or is this bag actually not H2O compatible? The one I got has no bladder sleeve and unless I am mistaken no H20 port. Interesting. . .
Can It carry skis? If so, how? Diagonal,...
Can It carry skis? If so, how? Diagonal, A-frame?
Thanks Deone!! I'm thinking this backpack might be too much for a 5-day trip backcountry skiing. Which bag would you recommend for that purpose? I greatly appreciate your feedback
Hey I need a pack for extended trips and...
Hey I need a pack for extended trips and i'm looking at both the Bora 95 and the Osprey Argon 110. Does anyone have any comparisons or suggestions for other ideas?
Best Answer
Hey Ian, I have had both and in the end I kept/use the Argon 110 more...Basically the Argon holds more stuff/better organization/attention to detail, and a better suspension system... the Bora 95 has a little better materials and the Arc'teryx branding/name... that's about it...
A bit late for this response but I have used both and agree in part with Ian that the Argon bag will hold more volume and has lots of features, however I think the Bora is in a different league in terms of load hauling comfort. The Argon IMHO is great for carrying loads which are large volume but low to moderate in weight, while the Bora can carry just about anything in comfort.
Great pack for one specific purpose
I debated whether or not to get this pack for some time. I knew that Arcteryx builds some of the best packs out there, and I THOUGHT i wanted something huge. Finally got over the price and bought it for a trip i took on the AT through the White Mountains. I was stoked on the pack initially. This pack is very near waterproof though I purchased a pack shelter just to be certain. Build quality is second to none, though the zippers Arcteryx used on the pack were a bit overkill I thought, seeing as this is a heavy pack to begin with I think they could have done a few things to cut the weight down as much as possible. My only real complaint with the pack was that every 15 minutes or so it became necessary to readjust the hipbelt. For whatever reason the nylon straps slip on this hipbelt (at least on my pack) When you're hiking up the north side of Mt. Moosilauke in a downpour the last thing you want to be thinking about is adjusting the hipbelt on your pack. At first I didn't think much of this problem but by the end of the trip I was very irritated- This is a VERY EXPENSIVE backpack. One of the most expensive you can buy if I'm not mistaken, and when I drop almost 500 bucks on a product I expect it to be near flawless! Arcteryx really needs to work on their hipbelt issue. (I've heard others complain of slipping hipbelts) Other than this very bothersome flaw in the packs viability the only thing I can say to someone about to purchase it is this, DON'T EXPECT ALOT OF OPTIONS FOR GEAR. This pack was made for someone who wants to get to point A to point B with a truckload of gear and do it comfortably. Aside from the hipbelt the pack does this job well. But if you're someone who wants to thru hike the AT or do any kind of hiking where you're constantly setting your pack down to attend to blisters, filter water, get rain gear, change your socks, don't expect this pack to have lots of small/medium size pockets in different locations for easy access to this gear. There is a large pocket in the brain of the pack, but other than that pouch and the one on the underside of the brain, you're going to be unclipping, unzipping, and unpacking quite often to get at what you want. ASIDE FROM THE HIPBELT this is a very high quality pack built for a specific task and one should keep this in mind if thinking about purchasing it. I would have given it 4 stars but the hipbelt was such a letdown. COME ON ARCTERYX! I EXPECT A $435 DOLLAR PACK'S HIPBELT TO STAY TIGHT!!!!!
I really like this pack and have taken it on Elbrus, Vinson, and Denali as well as other trips. This bag is waterproof (almost) and can carry more than you can and comfortably. It is also extremely durable and can handle crampons and axes being thrown around with it easily.
My only gripe is that on all of these bags that I have seen, the plastic piece that's supposed to give you head room has broken off. It is ridiculously flimsy and that's why I didn't give 5 stars.
The photo is me on the 16 ridge of Denali's west buttress doing a double carry. Pack was STUFFED! with about 95 lbs.
Very comfortable and designed for big loads. Tall version is sold with medium waist belt. I've ordered large one from mountaingear.com. if it's possible put waist belt option on this site.
What's the difference between the 85 and...
What's the difference between the 85 and 95? The 85 is much dearer than the 95. Which would you say is better in terms of price, comfort, useability?
I assume you're talking about the Naos 85. The reason it's so much more expensive is that it's waterproof. For that amount of money I'd just get a non-waterproof pack and bring along a rain cover. There is a Bora 80L pack if you're looking for something large, but smaller than the 95L pack. It's much less expensive than either of the first two options.
Hey. I'm a big guy (6'5", 300 lbs, 42"...
Hey. I'm a big guy (6'5", 300 lbs, 42" waist, big, long torso). Any other big guys out there have experience with this? How's the fit? I'm thinking about retiring my "vintage" external frame pack--which I've customized a great deal to make it fit comfortably. I'm looking at a variety of 80-90L internal frame packs.

Any feedback is greatly appreciated!
Best Answer
These packs have a great fit and the internal frame can be moulded to your torso. You will certainly need the "long or tall" model for your frame. These are some very comfortable packs. Technology used in these newer packs will amaze you compared to your "vintage" pack. You can't go wrong with buying Arc'teryx.
more expensive, no ski carry, 2 pounds heavier than other packs in its category, hardly any internal organizational pockets, but when you are out on an expedition and run into others they will think you really mean business (or have a shit ton of money).
Gear gorger, perhaps less is more?
Carried a heavy load very well, sturdy construction, bomber zips, very water-resistant, etc. My only complaint is the shoulder straps, they would twist and cut into my shoulders. Still occurred after countless adjustments. I'm convinced the problem is in how Arcteryx sews the webbing to the strap. I returned mine and adopted a more minimalist mentality. I'm going to give the Altra a shot.