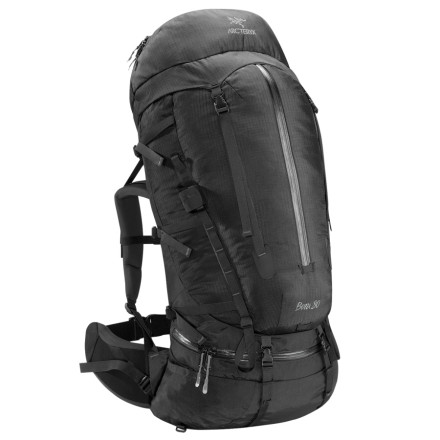 Community Images
Arc'teryx dedicated the Bora 80 Backpack to keeping you comfortable during multi-day trips with tons of gear. Dual aluminum stays and Thermoformed shoulder and hip-belt straps ensure maximum comfort and support when you really load up this giant backpack. Arc'teryx integrated a large front pocket, sleeping bag compartment, and side access to keep everything organized and accessible.

Tough, durable fabric and double-layer bottom stand up to abuse; external DWR coating helps repel light rain and snow
Top closure makes for easy stuffing; side zip lends full access to pack's contents without having to unpack and repack everything
Dual 6061 aluminum stays and thermo-formed straps to give you excellent support and comfort while you heft your monster load
Thermo-formed hip-belt transfers the load to your hips and features side-mounted cinch straps for added stability over rugged terrain
Removable top lid converts to lumbar pack for short hikes
Separate sleeping back compartment helps keep contents organized, while two external daisy chains and ice axe loops let you attach plenty of extra gear
Six external compression straps let you adjust the pack's volume to accommodate varying load sizes
HydroPort opening lets you route your water-bladder hose through to the outside of the pack (water bladder not included)
WaterTight outer zips prevent melting snow and rain from dripping down the pack and sneaking in
I have a Naos, but I like the features and compartments better on this bag. I still find myself thinking I have to pull everything out of it just to get to anything in the bottom. I catch myself and remember I can get what I need through a variety of openings on the pack. I think this bag is one of the best bang for your buck packs Arcteryx has made. I just prefer Arcteryx packs to the other manufacturers out there.
Very good, worth the money
Gender:

Male

Familiarity:

I've used it several times
Ive got the 95 black did couple hikes with it weight was approx 35-40lb which is as i see nothing for this kind of pack , but very comfortable many adjustments make perfect fit up hill down hill doesnt matter, side straps make pack go slimmer if you dont carry much which is a huge plus. Durability seems pretty good, love the side pockets which can be used for many thing such as canteens any flat objects and i ve seem couple people caring rifles with a stock in a water pocked and tighten up with side straps which makes it amazing i think. Top lead is detachable can be worn as belt bag on the front but more comfortable when its on a back.



Not sure if its me but i havent seen anyone wearing the lid as a backpack.

IF you connect both small straps and wear it as a backpack you can strap a belt around your chest im not sure if it was intended or not by the design but you easily can do it , lid was packed with about 15-20lb and performed pretty good ( thanks to wide belt) .



I would suggest getting getting back/orange version because in the winter days it will help melting snow if you under the sun at least i got it with this intention.



Also want to add who ever is into light backpacking yes its abit heavy BUT belt , aluminium back support are removable.



the only two things ididnt like about it are: no small pouches on the front of the belt and when you open the lid and its loaded it draws the backback on the ground ive tried front back same thing only if you disconnect all 4 and pick it up and flip it then backpack itself doesnt move not a big deal but still i like the idea of removable lid but when packing and unpacking there something sould be done with design .
Nice pack!
Gender:

Male

Familiarity:

I've used it once or twice and have initial impressions
I just received my pack today. Initial impression-very well made, nice durable material, well thought out design, plenty of space, ample areas for attaching gear. I feel I chose a really good pack...and I'm very critical about everything I buy. I bought this pack in preparation for a possible thru hike of the AT this coming year. I have a good feeling this pack will get the job done. I'm anxious to load it down with gear and hit the trails for a couple days of cold weather camping. I'll definitely post more of a review once I use it. By the way, I added a 3 Liter Osprey water reservoir and I am seriously happy with the outfit!
Love this pack
Gender:

Male

Familiarity:

I've used it several times
I bought this pack because my wife has had the same pack for 6 or 7 years, hers is just a little smaller and a female version. When mine arrived she noticed a few improvements to the newer version. We loaded up our packs with about 50 lbs. each and headed down into the Grand Canyon to spend a couple of nights at the bottom. I had to make a handful of adjustments for the first half of the 7 mile hike down, I was being a bit picky about how my pack sat. After only a couple of hours my pack felt great and was sitting comfortably for the rest of our descent. For the 10 mile hike out my pack was extremely comfortable and broke in enough for me to be extremely happy. I had no problems with my pack, I am a very satisfied customer and I expect to get at least 7 years from it as my wife has. She by the way has backpacked all over the world with hers.
The Shizz-Nit
Gender:

Male

Familiarity:

I've put it through the wringer
Have had my Bora 80 for 6 years of heavy duty use now and this thing is bomb-proof. I've had absolutely ZERO problems with it and have never bothered to use a pack cover as it really isn't needed IMHO. Carry heavy loads like a dream. As usual Arcteryx kicks ass. Pricey and worth every damn penny , just like everything I else I buy from Arcteryx.
I ve used this bag once for small car trip and for good three day backpacking trip out to Shi Shi beach on the WA coast. I love this bag, it takes the weight and distributes it well with space to spare. My only problem is I'm 6'5' 195 lbs and I have a 34" hips with 32" waist. The stock belt didn't fit and the bag didn't sit well to allow my head to use the awesome space Arc'teryx has designed into the bag. Needless to say I have a long shake down period now that I have a small hip belt for the bag. Don't let my fit disappointment shy you away the bag is bomber. I will have this bag for years to come.
Bora 80; you're a bad mutha.
After 4 years of hard use, I think I am ready to pen this review. I'll cut to the chase: If you're looking for a bombproof ruck and can deal with a little porkyness, this is your pack. For mountaineering, I don't think it can be beat. I have used and abused this pack like a garden weasel working the back forty of a potato farm. Totally resists abrasion, you can throw your crampons in the outside pocket that's big enough for wands or pickets and not tear through. I've done that a couple of times when I'm really tired and don't recommend it all the time, but so far so good.

This hauler will accommodate all the gear you need for any trip but the longest expedition. I've used it in Chamonix and the Swiss Alps, Ecuador, and all my trips in the Eastern Sierra and Shasta. Fit and comfort is great as the adjustments are meaningful if you take the time to dial it in. I think the main selling point of this ruck is simply its durability. When I tell you the Bora is bomber, I mean it. My Bora looks worn and it is, but it's still going strong and ready for the upcoming season of lots of abuse.
Does the black version of this pack also...
Does the black version of this pack also have the bright yellow high contrast interior?
The black one has a bright orange interior.
Aside from enjoying just carrying this piece of art, I believe that it is the result of someone actually designing according to what a person would need to do when backpacking or climbing.

The Bora 80 is sized to allow use of dual axes, crampons, rope, snow pickets, winter clothes and sleeping bag, a real winter stove such as an MSR Reactor or XGK II and actually carry well...AND provide the confidence that you won't end up with a mess halfway to where you're heading because it fell apart.

I really like the ability to use a 2L Nalgene hydration system out of the top pocket, an elegant solution since it is independent of whether the pocket is on or off the rest of the pack and any realistic hose diameter will work with the rubber ring-keeper on the shoulder harness. I like that I can reload this bladder easily without getting into the main compartment, and that I have that much more space in that compartment with virtually nothing compressing the bladder. There's no interference with the function of the main part of the top pocket, which provides good space and a spare waist buckle- doubling as a lumbar pack.

I find that often there is no need for a rain cover, because of the quality of the zippers and pack material. When I use one, it's usually to discourage animals or Republicans from trying to sample that material overnight.

I sometimes use the excellent 2010 version of the Arc't Cierzo 35 within this pack as a summit pack. I got mine while I was shooting at the XXI Olympic Winter Games and am impressed at how it holds up around a shovel, snow saw and ice screws for being so lightweight.

The daisy chains are useful for me, racking climbing gear for example. The side zip access lets me get to WesternMtg Vapor down jacket easily. Low-weight items go into the large rear pocket, improving the pack's balance on my back. A very large sleeping pad will fit at the base with the straps provided, and there are 2 additional anchor points at the bottom if still more storage is needed.

If I need even more volume, my Lowe Alpine Kanga Himal 110 is in the garage- but if not carrying something like a video tripod, camera rig, or extreme cold-weather clothing, the Bora 80 meets many of my needs for backcountry travel.

When going ultralight, I reach for something like my Gossamer Gear G5 which probably weighs about what one shoulder strap would on this pack.
I did a 10 day 121 mile trek in New Mexico and this pack was AMAZING. I just kept packing and packing and it never filled up. I ended up with 94 lbs and the weight distribution of this pack made it feel more like 50. Only problem was that the string on the zipper broke and I had to fix it with para-cord.
My Dana Designs Terraplane has exceeded...
My Dana Designs Terraplane has exceeded all expectations for the past 20 years. However, it's finally time for a new pack. I've got an unusually long torso for my height so the Bora sounds ideal. I have a few questions:
1. What is the best way to secure crampons to this pack? Assume I've got an ice axe secured to the pack as well. The daisy chains don't appear centered. Just go with axe on one side and crampons on the other and use other gear to create balance? Anyone had success centering the crampons on this pack?
2. As my Dana was exquisitely crafted pre-water bladder days this will be the first time I purchase a pack with a bladder pocket. What advice on bladder manufacturers / sizes / setups can you offer for use with Bora?

Many thanks!
Best Answer
You're correct: the daisy chains are not centered. Ice axe on one side and crampons on the other is doable, but definitely use a crampon case or you may whack your elbow on the spikes. There's really no way to center them on the pack without using some long straps from the chains to the center. However, that would interfere with access to the outer pocket.

The Bora 80 keeps the water bladder in the top lid, not in the pack body, so you're slightly restricted as to how much you can carry in there. I always used a 1 liter bladder and can't imagine that anything bigger would fit.

Remember that the Bora is an older pack design that has been replaced by the Naos and Altra, so it won't necessarily have the newest and greatest innovations from the last 5 years or so.
Dana is still designing packs, if you're interested in another great pack from him. He formed Mystery Ranch after he sold Dana Designs to K2.

http://www.mysteryranch.com/learn/dana-gleason
Yep, ice axe on one side, crampons (definitely with a case) lashed on to the compression straps on the other. I'm not sure if you've ever seen the way the water bottle pockets on the Bora work, but screw bad opinions, these are the only way to go. I carry at least 1 40oz Nalgene in one and could carry another in the other pocket just as easily (and I can reach them on-the-fly). With the hood- I usually use it for other stuff, like my rain gear.
As for the water bladder, I have a Bora 80 paired with a Camelbak Omega 100 oz bladder. It fits perfect, I have the line running out of the pack and through the loops on the shoulder straps.
As for the water bladder, I have a Bora 80 paired with a Camelbak Omega 100 oz bladder. It fits perfect, I have the line running out of the pack and through the loops on the shoulder straps.
What is the best Hydration Baldder for the...
What is the best Hydration Baldder for the Arcteryx Bora 80?
I prefer the Osprey Hydraform but you will get many different answers to this question.
I agree with Mike. The osprey Bladder has a frame, which is meant to rest along your spine. This does two things: it keeps the weight of the water next to your back, as well as gives the bladder shape so you don't get a funky shaped bladder weighing you down. Also, it has a magnetic clip feature that is super nice. I have the 2L and the 3L, but I rarely use the 2L. I find it to be too small. Here is the link so you can check it out yourself: http://www.backcountry.com/osprey-packs-hydraform-hydration-reservoir Hope that helps!! Good luck and be safe out there!
My 2 l Source bladder fits perfectly in the upper compartment. I'd prefer one along the back, as this makes the lid too heavy, but the benefit is getting all the water out more easily.
is it waterproof or water-resistant? ...
is it waterproof or water-resistant? would my down bag be ok in the occasional light drizzle or short periods of heavy downpour without a packcover?
The Bora is going to be water resistant to a light rain. If you're worried about your down bag getting wet, I would suggest two things.
1. Get a waterproof suppression sack for your sleeping bag.
2. Look at the Arcteryx Naos 85, it is a waterproof 85 liter backpack.
i've had a bora 65 for several years and if I'm not mistaken the bottom compartment is does not have the water resistant/repellent stuff - regardless I've definitely had water seep through the bottom when I've put it on the ground at base camp for extended periods of time in wet conditions. I've never bothered with a rainfly though with over 400 days of use and no shortage of downpours, just put your down bag in one of those handy event compression sacks and you won't have to think about it. Water can get in the brain though so be smart with what you put in there/how you put it in there.
Agreed. It is water resistant, not waterproof. Sea to Summit makes a nice waterproof compression sack, which I use for down, and which I like. www.backcountry.com/sea-to-summit-event-compression-dry-sack
Can it carry skis? A-frame?
Can it carry skis? A-frame?
Yes. Carry them in a-frame and it will work
Unanswered Question
Which hydration system will fit the 10" x...
Which hydration system will fit the 10" x 10" zippered "hydration pocket" in the Arc'teryx Bora 80 pack? Seems as though they're all too long (e.g., the MSR Dromedary 2.5L is 7.5"x14".
Beautiful Pack-Just Too Dang Big
I spent the last year living out of the Bora 80 while traveling around New Zealand. The bag was both my mobile home and steady tramping partner. Let's just say it was a year of love. Unfortunately, our relationship was flawed from the beginning. The vertical frame design combined with the volume of the pack just straight up didn't fit my body. I'm about 5'7", fairly fit, and as far as i know, have no spectacular superficial oddities. It didn't matter if the pack was stuffed to the gills or only held a few strategic items, it towered over my head, pulled backwards from me and distributed the weight onto my tailbone/lower back. Hiking up hill was a b%@#h, let me tell you. I tried anything and everything to make it work. At the time, I was working at an outdoor gear retailer in NZ, and all of us tried every adjustment, but nothing could change the way the weight sat, simply because it is meant to be distributed up and it is just too long for my back. Wonderful, wonderful pack, though. So, just a caution to the ladies out there looking at this bag. The bag is like a dream, I mean really, but it takes a long torso to fill it properly.