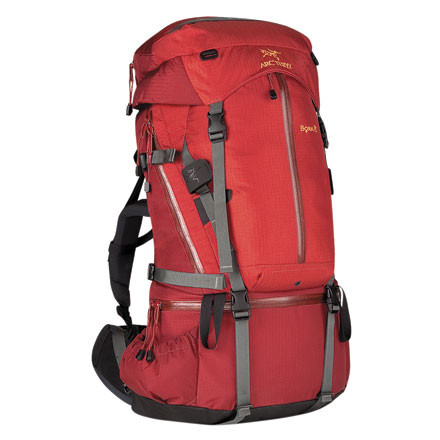 Detail Images
Someone wants to sell me this backpack....
Someone wants to sell me this backpack. it's used but looks like its in good shape. how much should pay them for it?
, ☃bcs_badge_alumni_label☃
Arc'teryx makes solid bags, if it is in good shape and it fits well, I'd give them $175... just my personal opinion.
this bag is so well made and a lot of thought went into the design. it is comfortable and light. the material is lightweight yet extremely waterproof. lots of storage options, hooks, and straps. able to adjust the bag easily, still trying to fine tune all the adjustments that are available. was very comfortable for my first long overnight hike. when i started out on my hike the waist straps were pinching my "love handles" but was easily solved by tying a long sleve shirt around my waist.
This pack is bomb proof! It is super comfortable and fits great. Very water proof and zippers sealed well. The zip off lid is handy for day hiking on backpacking trips and the adjustable suspension is great for making the pack fit perfectly for my body type. I definitely recommend this pack! I don't have anything bad to say about it.
, ☃bcs_badge_alumni_label☃
Bora 75
This pack is as comfortable as one can get. I hiked over 6k vertical and 26 miles in 24 hours with this pack completely full. I was very impressed with the fit, padding on the back and hips, and design. I am a loyal Arc'teryx customer - once again they came through with a durable, comfortable, and functional product.
I had my beloved pack stolen in a very messed up situation, and came upon the Bora as a replacement. I have comfortably traveled with this pack for five months at a time storing my life inside of it, and it was functional as well as comfortable. The kangaroo pocket is great for quick access to gear, and I loved the detachable top- it was big enough to wear as a backpack (over the shoulder/back) not only as a hip pack (which I appreciated.) Also, the waterproofing was awesome: getting water dumped on it was no problem, even in rainy situations. My only problem with the bag is that I would have liked an additional side zipper for more access, but the top, front, and side access is definitely adequate. Best of all, it is a comfortable pack. I am looking forwards to many more happy voyages with this pack.
Great fit, gear stays dry
Arc'teryx is one of the few companies that makes women's packs in a tall size. The fit was excellent (I am 5'10"), and I comfortably carried ~35 pounds over 4 days. My pack survived (accidental) immersion in a river astonishingly well—the gear in the sleeping bag compartment was slightly damp, while the stuff in the main compartment came out bone dry. Great overall.
This backpack is great! The hip belt is a little tough to break in at first, but after you do it hits a woman's hips at the perfect spot to be comfortable and function well, too. Drying pocket on the front is a great idea as well.

One thing I don't like (which is totally nit-picky) is that the zipper for the top pouch (which also converts to a fanny pack) always gets stuck in my hair while walking. But that's nothing that would stop me from taking this pack on all my trips!