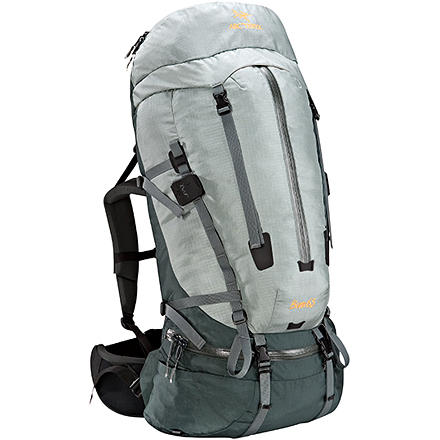 Arc'teryx built the Bora 65 Backpack with dual aluminum stays and Thermoformed straps to provide top-notch support when you load it to full capacity and head out for a weekend. Durable 630D Ripstorm nylon construction and WaterTight zippers withstand nasty approaches without flinching. The Bora 65 Backpack includes a large kangaroo pocket to help you keep everything organized, and side access lets you dig around inside this Arc'teryx pack without dumping everything on the ground. *Only available for US shipment.
I've read great things about the fit and...
I've read great things about the fit and durability of Arc'teryx packs, but feel that the Bora 65 may offer more capacity than I need. Does anyone know how the Bora 50 compares to the 65 as far as quality, fit, comfort and useful features?

I plan to use it camping and trekking this summer in Southern Ontario and the Canadian Rockies. Has anyone used it in similar climates, and if so, did you find that it made you sweat a lot?
The Arc'teryx Bora 50 uses the same quality material for the body of the pack and shoulder harness. The hipbelt will be more trim as you won't carry as much weight with the 50 (theoretically). Arc'teryx uses a wicking material on the harness and has channels across the back pad for some airflow. That being said, if it's quite warm (probably not a problem in Ontario), you'll sweat a bit.
For the 65 liter, you can compress the pack and remove the lid to decrease the overall volume.
Southern Ontario is the summer is of course very hot and humid, but realistically no heavy-duty pack is going to offer you very good ventilation, despite claims. Suggest you don't worry about that at all - just get what fits and works for your needs. If you plan on trips longer than an overnighter, and you're not packing superlight, then default to the larger size (e.g. 65 litres).
I'm considering buying the Bora 65, but...
I'm considering buying the Bora 65, but I've stumbled on a rumor of Arcteryx overhauling the bora for 2010. Is this true?
Best Answer
The Arc'teryx Bora 65 isn't overhauled, it's replaced by a pack called the Altra, which uses lighter fabrics and the suspension of the Arrakis. The Bora 80 and 95 continue. If you like the super plush suspension of the Bora, you'd better grab one while you can. The new pack has a cool u-shaped panel opening, and will go up about $25 for the same volume. These will probably arrive just after the first of the year.
how does the lime color look?
how does the lime color look?
its pretty cool. Not too bright. The picture is actually pretty accurate to the actual color.
Yep, i feel like a total fatass wearing this pack. That's because i don't feel any weight hanging off my shoulders or pulling me back at all. It feels like i just got 50 lbs heavier when I put the pack on.
Sure, its a little heavy. But what's a few pounds when you are cruising in complete harmony across variable terrain? This pack was designed to carry a heavy load for its size and it does it stupendously well. The description sums it up pretty well, but it left out a few features.
Feature #1: Fanny Pack
The lid for the pack clips off and doubles as a fanny pack, with a waist strap stowed in the inside of the lid. I've successfully used it as a summit pack, stuffing it to the brim with the necessities. Since it was so stuffed, it wasn't comfortable and it swung around, but that isn't an issue when it isn't crammed full. Most importantly, the buckle stayed clipped.
Feature #2: Reinforcecd bottom
The bottom of this pack is double walled, making it even stronger and more water resistant on perhaps the most overlooked part of the pack. Its what always hits the ground first, hits the hardest, and stays there the longest, and shields the sleeping bag. Keeping the bottom dry is a crucial aspect that they didn't overlook.
Feature #3: Water Bottle pockets
Out of sight and out of mind, these stowable pockets stash away nicely. When they are pulled out, they are long enough to hold my 1.5 L nalgene well. They also have small velcro tabs that lock down the pockets. You can barely see the ring that the velcro attaches to in the picture.
Feature #4: Gear Loops
Easily visible in the picture, the black gear loops are sturdy velcro and are removable. Also, the bottom gear loop is adjustable, making it easy to get that big ice axe in there.
Looking for the Experts to compare the...
Looking for the Experts to compare the Bora 65 with the Baltoro 70. I weigh about l45 lbs and expect to carry about 45 lbs. So, comfort carrying a relatively heavy load by a slender person is the primary issue. Thanks.
Best Answer
The key here is whichever pack fits you better. In my experience, arc'teryx packs are the best fit, IF they fit. They tend to only fit a small range of people, but the people they fit love them. Gregorys are a little more flexible, fitting a wider range of people.
One feature that really sets this pack apart from the Baltoro is the aluminum stays in the backpanel. These stays increase comfortable load capacity by transferring more weight to the hip belt. Also, by bending the stays to fit the profile of your back you can get an even more comfortable fit. Also, the durability of the Bora is legendary.
Some features that the Baltoro boasts that the Bora lacks are the Response suspension system and better organization. The response system is basically a suspension that moves with you. the hip belt is attached to the pack with a rotating disc that increases mobility, which is nice when you are navigating tricky terrain. The organization is more of a personal choice.

Overall, I think the Bora is a better choice, but you need to go into a gear shop and get them fit to you. Just because you are a small person doesn't mean you need a small pack.
Bora, I believe its name derives from the Greek mythological figure of Boreas' the North Wind. I most definitely felt the north wind on a 2 month long southern Patagonia trip living day in and day out of my Bora 65 pack. I had my Bora loaded, weighing in at 18Kg. (39.6lbs.) at the start of the Torres del Paine circuit.. This pack was just as comfortable on day one as it was on day seven, That being said... I am a big fan of the Bora. This piece was made in the Phillippines and I feel as though Arc'teryx did a fine job overseeing the quality of this pack.
I snatched up the bora 65 four years ago and still love it! i've used the pack for pretty much everything...from traveling overseas to a day pack for rock climbing. You can load it up heavy and the super plush hip belt transfers all the load with easy. That pack has a great fit and you won't be sorry on long hikes. I was going to purchase the bora 80, but i'm glad i went with the 65 instead. The material and quality of the pack is bomb proof and I haven't had any issues after 4 years of abuse and multiple luggage checks at airports! The pack is pretty pricey, but you won't ever need to buy another one. my tag says made in canada...but I think the new ones are being made in the phillipines.
Arc'teryx backpac made in china.
I have three jackets from Arc'teryx all say made in Canada.I was telling a friend that is why there so expensive.Then this morning Im packing my Arc'teryx bora 65 backpack for a 4 day hike and guess what I saw a label saying made in china.So tell me if someone in China is being paid $30.00 a month to make Arc'teryx why are they not at Wallmart for $39.99?
Had this pack for about 3 years or so, awesome pack, i've used it for everything. Weekend wintercamping, summer camping, overnight trip with a snowboard and backcountry gear, even sinches down good enough to make for a daypack carrying my snowboard. I've loaded it down with 60-70 pounds of gear and it held it tight. Love the pack, arc'teryx gear and clothing across the board for life as soon as i get a job that can pay their prices for all of it!
Earlier last month (October), I took the pack through the Grand Canyon as well through the NY Catskills these past few weekends. The pack is comfortable and expands appropriately if needed. I like the side zipper; I was able to access the contents easily without unpacking everything from the top. In addition, the external 'zippered long pocket' is perfect for my tent and camelpack. Some of my hiking has been in the rain and the pack seems to be water resistant but not moisture resistant hence the need to wrap everything inside is plastic bags (should be doing that anyway). I will purchase the rain cover (read in another post). I have not trail tested other packs of this size but overall, I happy with my purchase. I highly recommend this pack. Enjoy!
I just purchased this pack but I can't...
I just purchased this pack but I can't seem to find the "hydration bladder pocket"! Am I overlooking it? Can someone help me out, please?Thanks!
Best Answer
In the top flap pocket, zippered pocket accessible from underside of flap. In the corner is a 1 inch or so velcroed slot for the tube to come out.
did a week trip in the smokies on the A.T. This pack had the most comfortable hip pads ever and never sagged down. it rained pretty good and the pack was waterproof for the most part. sleeping bag got wet in some areas. all you need is an extra pack cover like a trash bag and you will be fine. had plenty of room for six days of food and a heavy jacket. best pack i ever used.
I purchased my pack about three years ago, and it is still holding up as good as the day I bought it. Super durable foam padding that stays firm and comfy for years, great suspension system, and plenty of features and accesory buckles and straps. The zippers are stout and sealed, and with the rain cover, this back is bomb proof. The only complaint I have is one of the lashes for the Nalgene bottle holder no longer works, the clip broke first time out, and I haven't gotten around to replacing it. Pain in the butt though, as the bottle won't stay put without that cinch. Long story short, a great technical pack, with a price tag that is as hefty as the features.