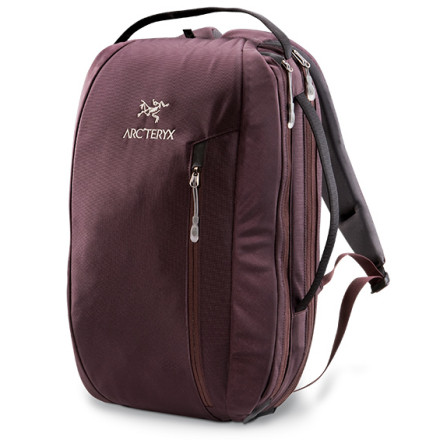 Detail Images
For days when your technical packs are hanging in the closet, the Arc'teryx Blade 15 Backpack holds your computer and other daily essentials for trips to work or around town. The dual-density shoulder straps feature attachments for a cell phone or MP3 player, and tons of pocket storage holds everything from books to car keys.
Msgr back
Familiarity:

I've used it once or twice and have initial impressions
Have to agree that it is more of a messenger bag with straps than a day pack
It's a messenger bag wtih shoulder straps, this isn't a backpack!
This is nothing more than an over priced, laptop sized messenger bag with two shoulder straps. There is just enough space for my 15 inch laptop, external hard drive, mouse, and associated cords. The middle storage pocket isn't wide enough for a bottle of water, however if you routinely carry file folder's, magazines and newspapers, or say two laptops, then you are good to go. Don't be fooled by the 915cu in spec. It may be 915 cu in according to a CAD design program, but it's clearly not 915 cu in of intelligently designed, usable space. NOT RECOMMENDED for people looking to carry lunch and a laptop to work. NOT RECOMMENDED for people interested in a single pack for commuting to work. RECOMMENDED if you only want to use this a a carry on for your trip cross country and all your bringing is your computer, chewing gum, and magazines to read on the flight.
This is a good pack for a laptop with room for accessories and a a couple books. This pack is not for day hikes. It's really "a briefcase for the back". The Blade 15 is very well constructed; using heavy duty materials and solid stitching. It's also great looking with a nice slim profile. Not bulky at all. This will easily fit a 15" and probably a 17" MacBook but with my 13" I find it slips vertically (or horizontally if laying on it's side) as there is no way to adjust the width. There is a suspended pocket secured by a velcro strap which keeps the computer from flopping side to side-but this doesn't do anything about the width of the computer so whereas as a larger laptop fits well, the 13" has more than three inches to move from side to side (or, if on your back, to slip to the bottom of the pack). I could see this as problem if the pack were dropped as there really isn't that much padding. To prevent this from happening I added some thick foam beneath the suspended pocket and more on both sides. The computer still can slide but there is now added protection which I think this pack needs. It would be nice if Arcteryx added velcro straps to the sides to adjust for smaller laptops.

I really like the design. It has a useful handle on top and one on the side (so you can carry like a briefcase). Unlike most day packs-which open from the top-the Blade 15 has two zippers along the side-one for the laptop and one for papers, books etc. It has an easily accessible front pocket for power supply, mouse and pens. There is also a hidden pocket on the back for wallet or keys.

This pack is not cheap for laptop pack but unlike some packs for half the price-this one will not be falling apart in a year or less. This pack is built to last a lifetime. It's really well made. Arcteryx quality all the way. I love the brown (Totem). Great looking pack. well made, feels good to wear or just sling over my shoulder. I really like the handles which make pulling out of the car convenient.

The only negative is that I don't see any way to prevent my 13" laptop from sliding around inside. even though the computer is technically suspended I don't think it offers shockproof protection against a major drop. I'm glad I had some foam to add as I feel much better about slinging it around now.
Nope, it is not waterproof.
Will it fit a Unibody MBP 17"
Will it fit a Unibody MBP 17"
it will fit your 17"Mac, but it's tight. The computer sleeve has width and thickness adjustments.
Three questions... 1. Will this fit a 15"...
Three questions...

1. Will this fit a 15" MacBook Pro?

2. Is there extra room for the MacBook Pro to be in a protective sleeve?

3. is the interior a non-scratch material? I am wondering if I needed a protective sleeve for the laptop?
The Arc'teryx Blade 15 will fit a 15" lappy nicely, the sleeve is adjustable so you can make it fit exactly, and not have the computer bounce around. I've used mine without a protective sleeve, and the combo of a snug sleeve, smooth nylon and foam padded back and bottom, have kept my rig looking good.
what are the dimensions of this bag??
what are the dimensions of this bag??
Dimensions for the Blade 15 are:
18.5"/47cm x 12"/30.5cm x 6"/15cm (LxWxD)