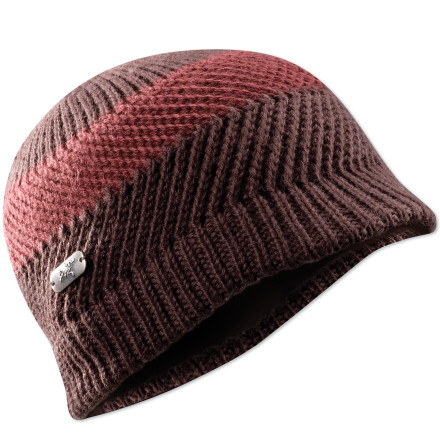 I love this beanie. I think this would look cute for anyone. The brim is nice and helps keep this beanie fitted on her your head, doesnt' slide around. Keeps my ears nice and toasty warm. Buy this beanie, you will get lots of compliments, I know I do!
Three stars because I don't know if it's any better than similar hats. I know it costs more (about 10 bucks). Is it because it has the "Arc'teryx label sewn unto it? It works, keeps my head warm, and I like the brim. Only thing is it has a tendency to lift itself off my head after its been worn for about 10 minutes.
Good looking hat. But I have kind of a small head, and thought this hat was wayyy too big for me. I had to send it back.
Great Winter Hat... and evidently Customizable
So i decided for once in my life to go with current fashion trends and get one of these winter knit hats with the brim. Well the color's perfect, the material's warm enough for a frigid NYC winter; But the brim, although flexible and durable... I didn't really like it. I felt it made me look like a female from the 1930's, you know like Angelina Jolie from the Changling? So after being irritated for about 5 days, i toyed around with it a bit, opened up one of the knit holes in front with an old knitting needle and PULLED the brim right out!!! So now i've converted it into a regular winter beenie, and it's absolutely perfect. The material returned to normal, didn't even leave a hole, you can't even tell it had a brim in the first place. So i'm thrilled with it. Not sure if you can put the brim back in, but you may want to give that a shot too.
I love this hat. It is very warm, covers ear very well, and the brim is great. I looked hard for a beanie with a brim. All the others had very stiff brims. I think made of plastic. They were uncomfortable and did not easily fold to stow in pocket. This hat has a soft foam-like brim that is very comfortable and folds easily so I can throw in a pocket when not needed. I will be purchasing a second one so I have different colors.
I get compliments on this hat all the time. I work in a place where I'm the youngest employee by far and it's still a very appropriate hat to show up in. I have a decently large head and this had fits very well over my ears. This was my main concern and the hat really comes through. Also, the Tarragon goes very well with pretty much everything.
I love it for it's warmth, though not it's style. I'm 29 years old and I feel I look like a 17 year old snowboard punk.
Went to Colorado(Elbert Mnt.) in sept. was cold and windy but billi brim covered ears very well and kept head warm. A little to big for day to day style for me but great to keep you warm hiking.
Arc'teryx Billi Brim Beanie. Does it get...
Arc'teryx Billi Brim Beanie. Does it get to the ears?
You can just pull it down over your ears, but it's not super floppy if you wear it above.