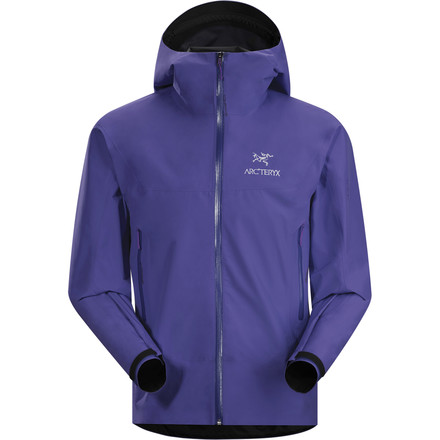 Detail Images

Community Images
Description
A lightweight suit of armor.
The Arc'teryx Beta SL Jacket offers all the waterproof protection of a heavyweight shell in a lightweight, packable design that you can put in your pack and forget about until you need it.
Gore Tex Paclite is lightweight, packable, and guaranteed waterproof breathable
Helmet-compatible Storm Hood with volume adjustability
Laminated watertight zippers for complete waterproofness
Gusseted underarms for added durability and unlimited range of motion
Athletic fit is ideal for layering under or over
Great for ski mountaineering
Familiarity:

I've used it several times

Fit:

True to size
I used this jacket as my shell for ski mountaineering last season. I love having an extremely light weight and very packable shell. My previous shell had arm pit zips, but I found that I didn't make much use of them...my jacket was either zipped up or off. Thus, I really don't mind that this jacket doesn't have the pit zips.

I haven't used it enough to be able to comment on its durability (something I wonder about), but I did get a great season out of it without any problems. I expect and hope it will hold up for a few more seasons, but even if it doesn't, I would still be happy with it due to the light weight, packability, and performance. I say this because a failed mission could potentially cost me more money in travel expenses than what I paid for the jacket, and light weight, high performing gear, can significantly increase the chances of success in mountaineering.

I've got a bunch of pics on Instagram @the_real_moneymike
Great for exploring waterfalls
Love this jacket. Stayed perfectly dry going behind waterfalls in Iceland. Also worked well on a day hike while it was pouring down rain. It's light and durable. Held up great on a month long backpacking trip through Europe, being packed in and out and thrown around. Definitely worth the money
Hi currently i use the Gamma LT Jacket in size M, however i would like to use the Beta SL as the final piece in layering with a base layer as well as a fleece, would it be better to purchase the Beta SL in size L to accommodate the extra layers?
Hey Shawn,



I'd love to help you with sizing!



Give me a call or shoot me an e-mail and we can get started.



Cheers,

Ben



brabinowitz@backcountry.com

801-746-7564
Simple Form + High Function = Beta SL
Gender:

Male

Familiarity:

I've used it several times

Fit:

True to size
My Specs: 165lbs, 6'-0", 32w, 32l, long arms, broad shoulders/chest

Applications: "Emergency" rain shell for trail running, biking, paddling, and casual use between late fall to early spring in a temperate mountain environment. Layer-ability ranges from a base layer, R1, and Nano Puff.

Pros/Cons:

+Fits my frame and long arms very well. Went with a Medium.

+Packability and weight are competitive with others in its class. I can easily roll this into the hood, and it fits well in my running vest or pack

+No pit zips. For me this is a plus. I prefer a parred down jacket. If you want/need pit zips, get a jacket with pit zips.

+ Waterproof zipper is super easy and glides effortlessly with one hand.

+ Hook-and-loop cuffs and hem drawcord work great and are much appreciated when the weather calls for them.

+Good color options. I went with the Masago for visibility while on the bike or walking/running in the woods during hunting season in the mountains. Humored that the color is named after fish eggs, too.

- Hood is a bit oversized. This is described as a streamlined hiker/backpacker jacket. Is a helmet compatible hood really necessary?

- Price is steep, but I plan on having this for a very long time.



Summary: A very lightweight, functional, streamlined and attractive jacket. For its intended "emergency" use, its fantastic. If you can get over the price, its very worth it.
What is the center back length of a medium?
same question for an XL size please?
I've taken this jacket to hell and back..seven times and it begs for more! To say I've taken this thing through the wringer is an understatement. With that being said I've washed it with Nikwax a couple times and that is a small price to pay for an amazingly warm simple jacket. Wouldn't trade this bad boy for the world! I highly recommend it and any other Arc'teryx gear..if you can afford it!
Love this jacket
Familiarity:

I've put it through the wringer

Fit:

True to size
I've had this jacket for several months now, and feel like I can finally offer a review of it. I own this and the Alpha SL Hybrid, which I believe has been discontinued, but I'll compare it anyways.



First, I have both jackets in size medium. I'm about 5'10" 165, they fit me with a little bit of room to layer, but still fit well and look good just over a t shirt. The fit is almost identical, the Alpha SL might be just a tad roomier, but not enough to notice.



Both are incredibly waterproof and windproof, no problems there, and the feel of the fabric is great. For some reason I feel like the Alpha fabric is a bit tougher and the Beta a bit softer, but it could be just the color, in my head, or who knows. Both feel bombproof.



There are a few things I really love about the Beta over the Alpha:

--The hood--it's not massive for a helmet, which I rarely use with this jacket, and fits SO much better on my dome.

--Pockets--on the Alpha, the pockets are a bit too high, they make walking with your hands in them crappy. Beta placement is good, out of the way of a hip belt or harness, and still good for hands in pockets.



What I like about the Alpha over the Beta:

--PIT ZIPS! why are they not on the Beta?

--Vislon zipper rules. Doesn't snag, feels so much nicer.



Overall, if I had to choose one, I'd probably go with the Alpha hybrid, because of the zipper and pit zips. But it's nice to have both for different reasons. I'm sure during summer Atlanta rainstorms, the Alpha SL will win (pit zips!), or if I wear one climbing or anything with a helmet. The Beta is more of a throw-it-on-over-a-hoodie-for-wind-and-rain-protection piece for me, and it excels.



The soapstone color is amazing. It's a great dark great, goes with everything.
Great
Gender:

Male

Familiarity:

I've put it through the wringer

Fit:

True to size
I am a tower technician so getting something that keeps me dry is crucial. I've put this to the limits with its first test being in Juneau, solid rain for a week straight and this thing kept me dry 150 ft in the air with no protection from the elements except a tower dripping even more water on me. Next test was Dillingham, where it was blowing 30-40 and raining for 4 days straight, again, it kept me dry except for those few spots around the neck/wrists where it wasn't completely sealed. Regardless, with proper layering and common sense, this thing will keep you dry. On top of being completely awesome as far as water resistance, I've have a few sketchy brushes against corners of angle iron and sharp pieces of metal, the outer layer has stayed strong and true and hasn't had one rip. The inner layer does seem a bit more delicate and has had some minor wear marks but still keeps me dry. After 4 months of wearing this I love it and have brought it with me and will continue to bring it with me on every trip I go on.



Edit: Forgot to add I'm 6' 165lb and the large fits perfect, I have longer than average arms but it fits great and still leaves room for a sweatshirt/layers underneath. Drawcords make everything sit where it should.
Pricey but very compact and practical
Familiarity:

I've put it through the wringer

Fit:

True to size
I had used the Beta SL Jacket for over 2 years and I had great moments and bad experience. It is very very small and compact so great for traveling, backpacks and very light. I love the fitting and the color looks good. I had the Patagonia and does not like the fitting. I paid high price for this so I used it all winter and keep me dry. I had couple of bad experience where it soak during heavy rain. I had to apply rain proof wash again to make sure that it is water proof and it works like magic again. Does not keep you warm since you need to layer with a fleece but block wind very well. I would recommend it but the price is just too expensive for rain jacket.
Almost perfect.
Familiarity:

I've used it several times

Fit:

True to size
I have been a patagonia diehard for decades, but their totally inconsistent sizing has finally done me in. Started looking at the arc jackets - looking for lightweight raingear for hiking, etc. led me to this. I also got the corresponding pants. There's a patagonia jacket, the M10, that is 2/3's the weight. Doesn't have pockets, though, and an XS was big on my 6'2 170 friend. REALLY? Fit on this jacket is better for me, but at 5'8, 130lbs, I probably need a (nonexistent) XS. Sleeve length and arm fit is ok with a puffy on underneath, but otherwise it's a little baggy. Ideally, this would come in an XS, and have 20% lighter fabric. Otherwise, the collar, hood closure/adjustments, pockets, and details make it absolutely fantastic.
I used this jacket two times under heavy rain. I ended up soaking wet both times and my cellphone died inside one of the pockets.



I love Arc'teryx and hopefully this is just a manufacturing mistake. I just bought the Alpha LT to replace this jacket.
This shell is great as long as you dont pretend it is something that it is not. This is a great layer to throw in your bag in case it might rain or to use if you want to go super light-weight but without stressing about getting caught out in the rain. It weighs almost nothing, packs down super small, looks stylish, and is waterproof/breathable enough to make it a few days in the rain.



This is not a long term expedition shell. It is noticeably less waterproof and breathable than a Gore-Tex pro shell, less durable too. It doesn't have pit zips, and I would usually get a little wet in a downpour. I wouldn't take it skiing in the trees either.



All in all, it's great, it just isn't a great coat if you plan/expect on being out in the rain for days at a time while exercising. I've had mine for a few years, it mostly lives in the bottom of my day-pack, but when I get caught in the rain, it does just fine till I get home.
A nice shell - Good cut with simple design and has great range of motion. The End. The large worked for me 6'2 180lbs
everything is good but its not w/proof
Gender:

Male

Familiarity:

I've used it several times

Fit:

True to size
got it on sale at other store prices for these i see dropping like crazy ive got it couple months back but havent notices that its not 3 layer but still it says ''garanteed waterproof''....



anyways had it 3 or 4 times under somewhat heavy rain, inside the hood had drops of water , shoulders also got wet even though i was outside for 5 min max .



returned it first chance i had.
, ☃bcs_badge_alumni_label☃
Gotta love this jacket
Gender:

Male

Familiarity:

I've put it through the wringer
This is my first Arcteryx jacket and I gotta say I might be fully converted. Just from picking it up and putting it o you can tell its made with excellent craftsmanship and materials. Being from Oregon I know how being in the rain every day for 4 months feels. Its great to have a go to rain jacket that can also be used for so much more> I have used it for hiking, fishing, and even duck hunting(threw a camo shirt over the top of it and I stayed dry all day long.) I like the storm hood and its versatility. Great overall jacket.
Expected slightly better from Arc'teryx
Gender:

Male

Familiarity:

I've used it once or twice and have initial impressions
I own the prior model Beta SL (drop hood). It's excellent. I bought new Beta SL (storm hood). I have nothing against storm hoods, but I'm highly disappointed with the new model because it's poorly designed around the neck and face. Call me a perfectionist if you like but for more money I expect more. I have three major complaints with the new Beta SL model:



1. When zipping it up the upper part of the jacket isn't comfortable and the draw strings project oddly;



2. My biggest complaint and the reason I'm sending it back is that the draw chords used to tighten the hood on the sides are poorly placed - they're on the INSIDE of the hood at face level rather than OUTSIDE the hood and low (like other Arc'teryx jackets such as the Sidewinder); Consequently when the chords are pulled to tighten the sides of the hood, these chords literally are in one's face. Why? I own the Sidewinder - its draw chords are perfectly placed: on the OUTSIDE of the hood and low - when you pull them they're out of your face and low - there's no way they're going to make you uncomfortable or be in your way.



3. A surprising disappointment with the new Beta SL is the cheap-feeling zipper tab - this might not seem like a big deal but when you grab the new zipper tab it feels like you're touching cheap string. The old model jacket has a thick hard plastic tab at the end to give you something to actually grab onto - it feels like quality. The new zipper tab feels like someone was trying to cut costs and put on this thin string - hardly reflecting the brand that produced quality jackets like the Alpha SV, Sidewinder, and Gamma MX.



I'll gladly retain my "old" and excellent red Beta SL and return the new olive one with its oddly placed draw chords and cheap-feeling string zipper tab.



PS - I'm a huge fan of Arc'teryx and all the other products I own I love, just not this one.
Very light and packable, but large torso
Gender:

Male

Familiarity:

I've put it through the wringer
As a member of Gore MountainTechs, I have the opportunity to field test GORE-TEX gear in some of the harshest conditions. This jacket is my go to jacket for backpacking. Very lightweight and packabe, yet still very waterproof. Zippers are not as hefty as I'd like, but help shave ounces so I guess it's worth it. No pit zips, which is a huge downfall for me, but not a show stopper as it's still quite breathable. The length is good for sleeves and torso, but it's pretty bulky in the torso (I'm 6', 185 lbs, and have this jacket in large.) The bulk does help when layering with down underneath, so I wear this jacket in all conditions. But as a shell, just a bit large in the torso for my liking. Overall, would still highly recommend this jacket, but you may want to consider stepping one size down if you're slim and don't need the length.