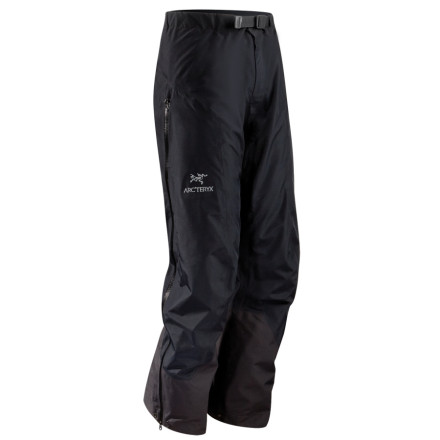 What do you think about this product?
Have questions about this product?
What can you say about a 400 dollar pair of climbing pants?.. They better be PERFECT in every aspect that a pair of climbing pants can be perfect. I do think that the price is obsurd, but every big name company that makes a 3-layer shell pant seems that they should charge 300-500 dollars for them. I feel like there should be a chunk of gold in the box when they come... Anyways, the pants are flawless, but could use an add-on or two (which would add a few ounces i suppose). First, a pocket.. any pocket, anywhere would be great. Second, built in snow cuffs (as in the AR's). The seams and construction are superb, not a stitch out of place. BUT, the main purpose of these pants is for superlight suckas like myself that dont want to notice them in the pack on the approach up the mountain. Then, morning of the summit comes, you can whip them out and put them on (with a medium base under) and take to the summit being fully protected and warm in most every condition. Other pants might be more durable (and WAY heavier), but these are a great combo of light and durable. As light as most rain pants with 3-layer construction. They are well tailored and move well with alot of articulation. A slight stretch in the fabric helps also. Warm when they need to be and breathe great. I would not use skiing only because of the absence of snow cuffs. I use gaiters anyways so the absence of snow cuffs is not a big problem. Gore-Tex Pro so you know they are watertight (better be for 400) and very durable for such light 3-layer construction. Overall, amazing pant that can be used in a slew of applications.
I know these are lightweight pants but I...
I know these are lightweight pants but I hate wearing heavy pants when I ski. These seem really lightweight but will they really keep me warm in 15 degree weather? I have good underwear to go underneath, I just don't want to have to put 2 or 3 under layers on.
I'd recommend the Rho AR under these or if you're really active a thin baselayer might cut it. These are a shell pant so don't provide much insulation, but are really light.
Are these pants being discontinued? I...
Are these pants being discontinued? I noticed that Arc'teryx updated their website recently and these are no longer listed.
The Arc'teryx Beta LT pant has been revised (added Keprotec instep patches and a powder cuff) and renamed as the Beta AR. The 2010 version of the Beta AR is lighter, but still super durable, and has an improved pattern from the older version.