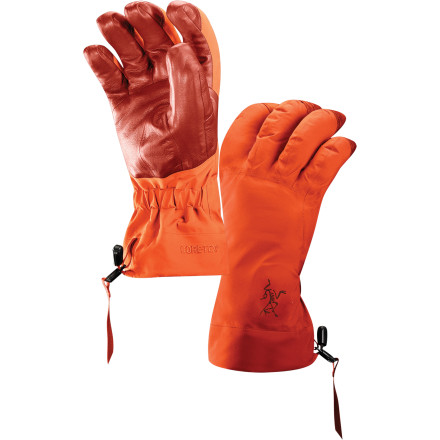 Community Images
Arc'teryx knows you would really rather not have to pull off your gloves to adjust a clip, tighten a buckle, or perform any other winter-sports fine-motor tasks, so they made the Men's Beta AR Glove. It was designed to keep you bone-dry with its waterproof, breathable Gore-Tex Pro membrane, tightly-woven the proprietary N80p-X shell fabric, DWR finish, and fully taped seams. Functionality is given a boost with the supple Lezanova goat leather overlay on the palm and tops of fingers, because it's highly breathable, washable, and doesn't require special leather treatment. Elastic at inside wrist snugs the glove against your hand without requiring adjustment, and the short gauntlet length lets you wear it over or under your jacket cuff so the white stuff stays out. A removable wrist leash allows you pull off the glove without worrying about dropping it.
Dexterity was also on the mind of Arc'teryx designers with this glove, so you wouldn't have to pull off the glove every time a buckle or a zipper needs a bit of adjustment. Tri-Dex construction patterns each finger individually for exceptional precision, and smooth, seam-free fingertips let you pick things up without seams getting in the way. The removable liner features a thinner fabric on the palm, you'll be able to put your gear to rights without exposing your fingers to the cold. The liner is made with premium high-loft Polartec Wind Pro on the back and lighter-weight Polartec Thermal on the palm side to balance warmth with maximum dexterity.
Gore-Tex Pro Shell membrane (3-layer)
Leather palm overlay
Tri-Dex Technology
Short gauntlet
Removable fleece liner made from Polartec Wind Pro and Thermal Pro
Self-adjusting elasticized wrist closure
Removable leashes
great glove, but a little cold
Gender:

Male

Familiarity:

I've put it through the wringer
Bought this glove and absolutely love the dexterity, but it isn't the warmest glove out there. Do youself a favor and get an inexpensive pair of very thin, snug-fitting glove liners . . . makes all the difference in the world!
Cold fingers
Familiarity:

I've used it once or twice and have initial impressions
I used these gloves once on two winter hikes. On the first hike temperatures were right around freezing and the hike was strenuous. My fingers were oddly chilly. This worried me. Temperatures on the second hike were in the high 20's. I generally use mittens below 20F and gloves >20F. My fingers were freezing in these. I was pretty terrible. After an hour or so I swapped them out for light, fleece gloves. My hands quickly warmed up. Very disappointed with the warmth (or lack thereof) of these gloves. The fit and dexterity were outstanding. The construction seemed excellent, but I guess I won't find out how durable they are. Returned.
Warmness for your mandibles!
Familiarity:

I've put it through the wringer
These gloves really are great. Water-proofness is key, and but so is the ability to still feel what you're doing. TI've heard some say they could be warmer, maybe so - but then you'd be sacrificing dexterity, which these definitely do not. And they are WARM, especially if you're not just sitting there in the snow waiting to freeze to death. Any type of even minimal activity and you'll be the happiest person in the world with these gloves! GREAT quality, and the cuff (worn either inside or outside) is a cinch one handed. Really the best out there!
Great gloves. Reliable and warm
Familiarity:

I've put it through the wringer
I purchased these for ice climbing and skiing and am extremely satisfied. They are very dexterous and have been taking a beating from me for a while now. If its in the teens and single digits they can become a bit cold, but if paired with a liner they are the warmest I've used.
In what range of temperatures could you wear this in?
Best Answer
Hey Andrew,



Its hard to pin-point a temperature rating for gloves, its not like sleeping bags with an EN test. However, I would feel comfortable in these gloves with the Hi-Loft fleece liner in temperatures around or below 0 degrees Fahrenheit. Most importantly these gloves will keep you dry which goes a really long way with keeping you warm.
Here is the answer from user "Thorishere" on Arc'teryx's website(http://www.arcteryx.com/product.aspx?language=EN&gender=mens&category=Accessories&subcat=Gloves&model=Beta-AR-Glove), comparing the Beta ARs and the Alpha SVs (check my answer on those, by the way):

"A) The Beta's cuff is significantly smaller/shorter than the SV and don't go over the cuffs of my Alpha SV jacket as well.



B) The Beta AR feels a lot less substantial than the Alpha SV.



C) The Beta's do not have an adjustable wrist strap, which imo is a good thing because I find the wrist adjustment on my Alpha SV gloves really annoying.



D) The Beta's does not have leather covering the back of the fingers whereas the Alpha SV's do.



E) The Beta AR and Alpha SV gloves seem to share the same inner fleece lining."



That user seemed to do a pretty comprehensive comparison, or as thorough as I can find, but Wayne already somewhat told you the way of it - there is no particular method of determining a temperature range for gloves.



Hope this helps
Wearing Arc'teryx for nearly 10 years, my first pair of gloves.

Of course the fit and dexterity is great. Constructions is really a work of art. Besides that slick Tri Dex fingers construction. They use Gore Pro for the gloves. No loose Gore Glove liner floating around.

i never really liked Gauntlet style gloves, but their attention to detail and slick closure system is so easy.
Believe the hype
Familiarity:

I've used it once or twice and have initial impressions
Google search "best ski glove" and the Arcteryx Alpha SV is the top pick. The Beta AR is the younger brother to that glove having a shorter cuff and less leather (on top). The advantage to the shorter cuff is versatility: over or under the sleeve for wet snow or rain. The Beta AR also has the Tri-Dex construction, giving it the same articulation and dexterity of the Alpha SV. Another great feature is the carabiner loop on the finger tip (not on the Alpha SV), allowing these gloves to hang attached to your backpack/belt loop, without filling up with snow. Three reasons this glove stands out above the rest:

1. Amazing dexterity

2. Fully waterproof

3. Top quality (as you know from Arcteryx)

When I received these gloves I put the dexterity to the test by wearing them from home to the resort (including: starting the car, driving, putting on and tying my boots, etc). Not once did I need to take them off for dexterity! They also performed flawlessly for skiing/snowboarding, etc. Believe the hype!
Bomber gloves!
Familiarity:

I've put it through the wringer
I searched long and hard for a glove that was waterproof on the outside (not just a membrane on the inside) and a full leather palm, and these are the gloves! :) I actually have these in the women's, but they are the same. I use them winter rafting. They've got great dexterity for rigging and using my hands, and they are perfect for rowing. They stayed pretty much dry, but on a month long trip last year, the leather stayed soaking wet for like 2 weeks and it soaked through. (But that's understandable). These gloves obviously aren't as warm as mittens, but they did keep my hands pretty darn warm, and when they didn't, I just threw a heat pack in the glove on the back of my hand and it stayed in place. Love these gloves!
super stoked
Familiarity:

I've used it once or twice and have initial impressions
I just got these and I am excited to see how they do on ice. they are super warm and I feel like I have tons of dexterity and grip on my tools. I have run some laps on my ladder board trainer with them. the construction is like a work of art. so beautifully made. I will update this when I climb and ski with them more.