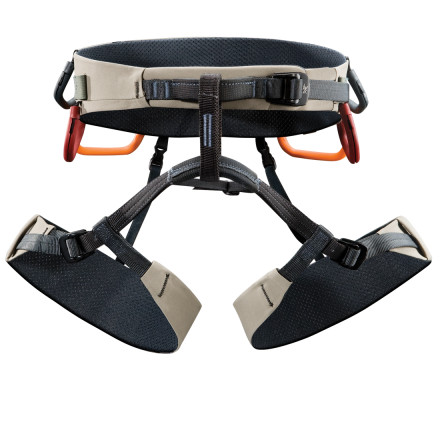 Community Images
Even the most gear-intensive climber will find ample storage space on the Arc'teryx B360 Harness. Built for big wall aid lines, the B360 features a generous helping of loops, and a haul loop. Hang everything but the kitchen sink off of this comfortable harness, which Arc'teryx designed with an extra wide swami and Supple Warp Strength Technology for all-day breathability and padding.
Wrap Strength Technology spreads out weight to increase comfort while shaving ounces
Safety wear markers on the belay loop and tie-in points let you know when to retire this harness
Adjustable leg loops for summer and winter use
Six gear loops to carry a big wall rack
Not well designed for marketed purpose
Gender:

Male

Familiarity:

I've put it through the wringer
I purchased this harness due to the significant weight savings over other bigwall specific harness. Unfortunately what you get is an oversized cragging harness lacking wall climbing specific features and with one significant design flaw. It's not uncomfortable and I use it but I would not purchase it again. It's a 3-star harness but gets 1 because for the price you should be getting 5-star design and production.



Excessively stiff tie-in point on leg loops results in sawing motion between tie-in point and belay loop. Annoying and potentially dangerous. The photo below shows the damage that results.



To long a rise between leg loops and waist belt for most people.

Gear loops are minimal attached and don't inspire confidence.

Lacks a hammer holster
Devils Advocate
Gender:

Male

Familiarity:

I've put it through the wringer
I like this harness.. A lot. I don't use it for big wall, I dont do much aid climbing, but I do love it for alpine, ice and trad. Its comfortable to me and LIGHT. Extra clothing probably helps. Plus the gear loops and ice clipper slots do add adjustability and options. I think if you are hanging out on a route carrying around a bosch, bolting, chill-axing, updating your status etc. then yeah its probably going to hurt. I havn't found a harness where that wouldn't be the case. But in this case light is right and I will go with it. Adieu.
I really like the B360.

I have a small frame, and find that the harness forms quite well to my body with a snug fit. The buckles are smooth and easy. When I hang in it, my weight seems to be distributed evenly and I don't feel any particular areas where the harness is digging into my body.

Still, the harness doesn't have a ton of padding--its not meant to--and I agree that it isn't necessarily the most comfortable harness to hang in for long, long periods of time--for example, if you are aiding a big wall--but on climbs like that, I essentially want a big-puffy chair of a harness.

Overall, I really like this harness. Its really light and is great for multi-pitch sport routes where you need to carry plenty of gear, or for those who climb big wall and prefer not to aid and want to save as much weight as possible.

Also, the harness looks really badass.
I have had 3 other of the older WARP harnesses from Arcteryx and have enjoyed them, but was hoping the rolling and pinching would be solved...but alas, it is worse! I tested mine out doing tons of hanging in it for cleaning new routes in Squamish, and all I can say is PAIN! Not comfy, the excess straps from the leg and waist belts don't stay in and dangle everywhere, I have not complained about a harness this much ever I don't think. BUMMER!
Arc'teryx B360 gear loop configuration