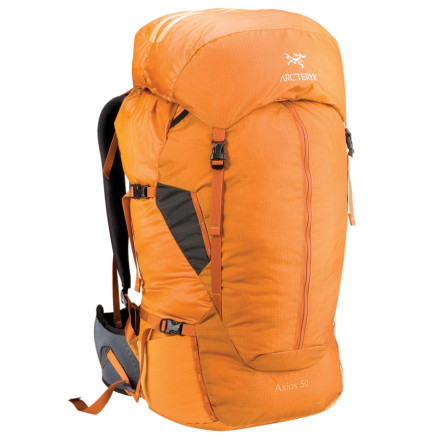 Community Images
For the hot summer overnighters, the expandable Arc'teryx Axios Backpack 50 with its mesh ventilated support system will manage your sweat and your gear as you ascend the ridge to the campsite. The Axios's light weight, multiple pockets, tough materials, and breathable mesh foam make it the top choice for backpackers in the warmer corners of the globe.
AeroForm (perforated foam) back panel has a Spacermesh lining that keeps air between the pack and your back to increase evaporative cooling
Breathable Spacermesh-lined foam shoulder straps and hip-belt are anatomically shaped to increase comfort and decrease sweat on the strenuous trails
Access the main compartment from the top and from the side zipper
Removable and extendable top lid (with two zip compartments) allows more room for essentials
Four compression straps make the Axios 50 compact and keep all your gear in place
Sternum strap secures shoulder straps for a snug fit so you can conquer the uneven trail with purpose
High-contact areas are reinforced with durable fabrics that last a lifetime in the bush
Micro daisy chains let you bring along your climbing hardware
Great bag, not meant for sandstone.
Familiarity:

I've put it through the wringer
I bought this back for my bro in law and we have hauled it down multiple canyons. It is still in good shape after 6 or 7 slots but it definitely has abrasion wounds all over from the coarse sandstone slots of Utah. He says the fit is great," it can holds a surprising amount of gear and it looks sweet in orange."
So I've had this pack for almost a year now and have used it on many multi day backpacking trips. At 50 liters it a great size to take with you out in the woods for 3 or 4 days no problem and could easily do longer in the warmer months when you aren't bring as much stuff with you. At first I wasn't sure if I liked the hip belt but I have to say I am impressed with the amount of weight you can comfortably carry in this pack. I wouldn't hesitate buying this pack. Arcteryx makes some pretty amazing products and this is one of them!
Axios 50 - Not as good as I expected!
I've had this pack on my wish list for over 2 years! So, when I finally bought it I expected much more...
To begin, the hydration pouch is on the side of the pack and, it's too small. Living in the desert, I need to carry ample amount of H2O at all times, typically greater than 3 liters. I haven't tried but I bet you'd have a difficult time getting just 2 liters in there, certainly no more and, there is no loop to hang the hydration bladder from. It is designed to suspend your bladder and that's it. Carrying my H2O bladder the other day, I had to rest my 4 liters of H20 on the bottom of the pack. As a result, my hydration tube could have been a few centimeters longer. I was also on a day hike, ended up being 17 miles overall, with plenty of gear including extra clothing, stove, fuel, food and my snow shoes, all of which fit in the pack - pack is very spacious. However, the snowshoes, awkwardly bulky as you can imagine, sat in the bottom of the pack, along with my hydration bladder and everything else, with a level of discomfort that extended below my butt. Yes, below, making it quite uncomfortable (I actually strapped the snowshoes to the outside of the pack for the ascent and reverted to squeezing them inside for the descent - I really couldn't tell you which was more uncomfortable). Possibly, you're thinking, "this is a summer pack, how do snowshoes fit into this equation?". Well, I live in the desert and needed a 50L pack and, love Arcteryx. Now, with all adjustments attempted, I could not find comfort with this pack. The back panel was very slightly uncomfortable, I could not keep the pack off my shoulders (I enjoy a fully-weighted pack riding on my hips only), cinching the shoulder straps tightly on my body was actually the most comfortable position (although certainly not my favorite) and, I could not get the hip belt tight enough. Also, with all gear as balanced as possible inside the pack, again considering the bulkiness of the snowshoes, I could not get the pack to ride balanced on my back. As I stated earlier, I really unpacked, packed and, made every adjustment possible. I wanted this pack to work for me! It didn't! On the brighter side, it's fairly lightweight, durable, spacious, with plenty of zipper access to gear inside the main stuff sack. Just couldn't make this one work for me.
I bought this pack for a trip to Ecuador over the upcoming holidays because I figured I may be able to cram two weeks worth of stuff in it and still carry it on the plane. Hopefully that works...

Anyway, I got a chance to break it in the other day on a 2 day, 30-miler through some scrub land and oak hammock in central Florida. It was 85 degrees during the heat of the day, and I was a sweaty mess, but the bag was the least of my worries. I have the 'tall' size, and at a long-torsoed 6'1" it fit me very well. I had about 27 pounds in it when full of water, and it felt like I was carrying clouds around because the weight was so easy to manage. As hot as it was, I knew I couldn't expect to keep my back dry, but I got some nice airflow back there too. It took a little bit of a beating climbing around on some live oaks and running through palm scrub too, but held up very well.

Also, the top pocketing with its multitude of zippers and compartments was fantastic.

So, for initial impressions I'm quite pleased. I'll report back after Ecuador and see if there are any updates that need to be authored, but I'm very happy with the purchase thus far.

-Mike
I was wondering how this pack's materials...
I was wondering how this pack's materials stack up to it's size and price-point competitors? Ive seen one briefly in person and thought the material was thinner/slicker than expected, but recently saw an Altra, which I think is made out of the same stuff (on the body of the pack) as the Axios. I've noticed the ripstop they use is a higher denier than anything on most of the competitors, but to my knowledge they also use no cordura. So... how durable are these things, exactly?
i have owned this pack for over a year, i have thrown everything at it, from climbing, to backpacking, even city use and the materials hold up quite well. the only problem i have encountered through its time is the DWR finish on the inside likes to rub off on areas of high use with blunt objects, like: books, tent poles, utensils etc. this can not be replaced with any waterproofing washes or sprays because it is the material its self. i really recommend this bag for just about everything, it is stronger than tihs for its price and arc'teryx did it again !
If rubbing off the laminate is a problem: Why not just use a pack liner?
I have a 3 liter Osprey bladder. Can...
I have a 3 liter Osprey bladder. Can anyone tell me where the bladder sleeve is located? I used to own Altra 65, it was located on the side of the pack which was annoying...
Hey, yeah this pack has the hydration pocket on the side as well, check out the pics...
So far so good. No change expected.
I'm not an ultra-lighter but I don't take things I don't use. However, I do lead backpacking trips sometime and that requires me to carry a little more than usual. This pack fits great and the front pocket is amazing. I especially love the center zipper on the front since things migrate to the bottom sometimes and I don't have to pull everything out. The range of this pack is also impressive. Remove the lid (which has tons of pockets for organization) and compress the collar down is all I have to do to take it from a multi-day to a perfect overnighter for hammock camping. I look forward to many miles with this pack, which won't be a problem because the straps are great. The only thing I changed was the addition of some p-cord and spring lock to hold my trekking poles. It was a breeze add this to the micro daisy chain down the side. One thing to note is the Copper isn't nearly as bright as it appears in the picture above.
Don't discount multi-day capabilities
This is not just an overnight pack. I'm surprised to find no reviews talking about the Axios' excellent multi-day credentials. So, I'm adding mine.

Not sure what catagory I'm in: somewhat light packer, light packer, probably not ultra-light or mega-superduper light. I can tell you this, I carry a lot less than I used to. This pack was my move away from using a Bora 80 on summer trips.

I've been on a pair of five day/four night summer trips into the high Sierra with the Axios 50, and I was mightily impressed. At the start of each trip, total pack weight was around 32-33 pounds, which I would offer is the most I could carry with this pack before the waistbelt starts to lose the battle against the shoulder straps. It's the only thing I would have loved to see: just a slightly beefier waistbelt. It's a very minor quibble.

By morning of Day 2 and a pair of big meals later, this pack came into its own. It shines at around 30 pounds or less, in my humble opinion.

In my Axios (I have the Tall), I can easily fit my MH Phantom 32, ProLite 4, half of a Hubba Hubba, cookset/stove/fuel, Crazy Creek chair (guilty pleasure), 2 liter bladder, clothing and food.

For shorter shoulder season trips, 2-3 nights, I can still take this pack. Warmer clothing and bag are the only changes I make.
Can this pack fit a 100oz camelbak antidote...
Can this pack fit a 100oz camelbak antidote bladder? I have the Axios 35 and it only takes the 70oz. I've heard that the 50 has a longer length compartment which would allow for the 100 oz (3 liter) but just wanted to make sure. Is this true? Thanks!
Best Answer
Yes, mine fits just fine.
Thank you! Glad to hear it!
I would really like to know the weight and...
I would really like to know the weight and volume (cubic inches please) of the pack without the removable lid. I'd like to use this as my primary pack for light overnighters with room to spare and for more gear intensive trips when necessary. Do you think it would serve my purpose well? I usually carry around 30-35lbs with water on a heavy day.
Best Answer
The regular pack:
1.55 kg / 55 oz
50 L
55 L max
(removable lid 5L)

The tall pack:
1.6 kg / 56 oz
53 L
60 L max
(removable lid 7L)

As a overnight/weekend pack I think this one is fine.
Does anyone have the dimensions of the...
Does anyone have the dimensions of the Tall bag? I am curious if this bag is under the requirements of 45 cu inches (L*W*H) in order for me to use it as a carry-on.
Best Answer
Axios 50♂ 27.75" x 11.5" x 10.5"(l*w*d)
officially, too big to carry on; realistically, it would be very tight...
I had never owned an Arc'teryx backpack before purchasing this one, and I have to say that now I understand what I've been missing! This pack has plenty of room for day hikes, or overnight trips. I can comfortably fit my sleeping bag, tent, clothes, and food into this pack. The fit is incredibly comfortable - way better than my Osprey - and the aeroform back panel kept things cool for me on a hike through the Smokey Mountains at 5,000 feet elevation in 93 degree heat.

This is the last pack you'll ever buy!