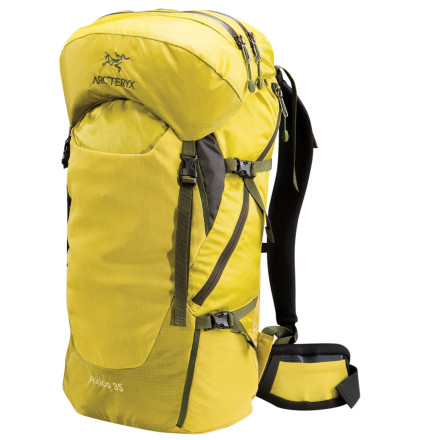 Community Images
If you're on the hunt for a cool, lightweight pack that holds just enough gear to get you through the warm summer night, the expandable Arc'teryx Axios Backpack 35 performs excellently among light-packers and trekkers alike. Its breathable support system and dual aluminum stays keep you climbing comfortably for hours, while the range of pockets hold all your necessary backcountry tools within reach.
AeroForm (perforated foam) back panel has a Spacermesh lining that keeps air between the pack and your back to increase evaporative cooling
Breathable Spacermesh-lined foam shoulder straps and hip-belt are anatomically shaped to increase comfort and decrease sweat on the strenuous trails
Access the main compartment from the top and from the side zipper
Removable and extendable top lid (with two zip compartments) allows more room for essentials
Four compression straps make the Axios 35 compact and keep all your gear in place
Sternum strap secures shoulder straps for a snug fit so you can conquer the uneven trail with purpose
High-contact areas are reinforced with durable fabrics that last a lifetime in the bush
Micro daisy chains let you bring along your climbing hardware
shoulder straps too narrowly spaced, fancy padding but uncomfortable
I see this pack works for some people but for me this was one of the most uncomfortable and awkward bags I've ever carried something in. I had about 10 lbs at the most in the bag today and was miserable. A jansport school backpack would of even been better.

I'll just touch on a a few points,

- The straps are too narrowly spaced where they attach to to the bag. No matter what I tried they dug into my neck. I am 5'11, 160, 15 in neck, with an average climbers build. I noticed they dont tapper outwards like a V shape such as other packs. They straps run straight towards the sides of my neck rather then being attached at an angle that tapers out and around.

- The straps each could be a little wider and the overly engineered padding does no good really, they just need to add width to distribute the weight and simplify them . The current ones are abrasive and feel bad against your skin.

- Also, I think the entire pack is too narrow which might be contributing to the design of the shoulder straps.

- The side pockets are near worthless. I dropped two things out of them minutes apart and had to backtrack to find a missing item. You can do water bottles but if you are moving around they will pop out pretty easily.

The only thing I really enjoyed about the bag was the removable top and the color lichen.
Almost perfect...
Familiarity:

I've put it through the wringer
I am 6'3" and own the tall size. fits very well! The pack works great for a lightweight overnight trip, but I have not been able to use it for anything longer than 2 days/1 night. The pack is very thin and tall for 2250cu inches, but when packed solid (which doesnt take a lot of gear,) it is very sturdy. Works great as a daypack too, and I use it to hold my rope/tarp/ gear every time i go out bouldering or sport climbing. The kangaroo pouch on the outside is great for stuffing my goretex jacket, but I would prefer daisy chains/ some sore of gear loops on the outside of the pack. Also, the back ventilation works pretty well, though I have had a few soaked backs in moderate weather. All in all, it is a great valued pack from Arcteryx that I would buy again and recommend to anyone looking for a solid daypack, medium sized pack.
Does someone know what the size difference...
Does someone know what the size difference is between the regular and the tall? Their website says the regular is a 35L (38 max) and the tall is a 37L (41 max) but I cannot find sizing difference anywhere. Thanks!!
For the regular it has a back length of 16-20 inches, the tall is 19-23 inches...

Here's the link to their sizing chart:
http://images.arcteryx.com/pack-fit-guide/PackSizingChart-PDF.pdf
I meant the actual pack length, not the length back that it fits, it lists a length of 22.5", however if the tall has greater carrying capacity (and, assumably, 'taller') than it would be longer (or at least have to make up that difference in some dimension change.) Thanks for the response tho.
Hi I can't speak ehglish very well;; I...
Hi
I can't speak ehglish very well;;
I wonder to mean size.
Reg? Tall?

Thanks~
Try www.freetranslation.com.

Axios 35 Torso length -
Regular: 16-20"
Tall: 19-23"

How tall are you?
I just got this pack yesterday so I haven't...
I just got this pack yesterday so I haven't used it yet, but the bladder sleeve on the side seems kind of awkward from a balance perspective. It also looks a bit small. Does anyone have any experience with it, especially with full 100oz bladders?
I've stuffed a 100oz reservoir in my Axios 35 and it fits but is tight. The side pocket may seem awkward at first, but it's so much easier to get it in and out for refill than having it wedged between the load and the frame. I haven't noticed it feeling un-balanced.
I took this pack with me to Escalante this week and used to carry a 100oz Camelback bladder. It fit tightly for sure, but i like that the tightness kept the bladder upright and didn't let it fold over on itself. As far as balance goes, when I first put the pack on, I thought it felt pretty weird, but as soon as I adjusted the shoulder straps and hip belt to account for the side weight, it felt perfect. I also have to say that the fabric (even though it is lightweight)was totally bomber and wasn't phased when I was dragging it through narrow sandstone slot canyons.
Adding on to what has already been said, the sleeve is small for a 100 oz Platypus (and with the insulation jacket on for the Platypus, there is no way you're gonna get it in); so I just keep the Platypus standing in the bag in the centre outside the bladder sleeve which surprisingly even with nothing else to hold it in position, remains pretty much there.
Mediocre pack at best, not at all what I expected from Arc'teryx
I brought this pack with me to the BWCA/Quetico wilderness areas of Minnesota and Canada for a week as a support/day pack. Right out of the box I was hesitant because the material felt so light and thin. With the pack being so narrow, it didn't really carry all that well on my frame and the buckles felt very cheap. The side pockets were much smaller than I thought and were made of very cheap mesh. Pack held up alright to abrasion but this one got returned right after I was home. I have since replaced it with a pack that without a doubt is the one for me. If you're on the fence with this pack, check out the Lowe Alpine Airzone Centro series. I got the 45+10 version and was blown away with build quality and thought that went into that pack....plus you're not paying Arc'teryx prices either.
The arcteryx rep just showed this pack to us and it was a hit. Sweet top-loader with more than enough room for quick excursions or even overnight for ultra-light folks. Lightweight, but hefty frame with horizontal support that keeps the bag from taking on the shape of a football if it is packed to the max. Back panel gives great ventilation while offering superior support. 10 thumbs up.
hi, is it possible to use it when riding...
hi, is it possible to use it when riding on a bike?
I would also like to use it daily and was wondering if the back panel would be in the way, thanks for the help
I spent an entire summer using this on my daily bike commute, and it was wonderful. Rock steady and the back is nicely ventilated.
Does it meet the standards for carry-on...
Does it meet the standards for carry-on luggage?
Best Answer
Hey Anthony,

The standards of carry on luggage are:

U.S. - Most U.S. domestic, non commuter airlines 22"x14"x9". Many allow a second smaller item as well such as a tote, cosmetic bag, briefcase, etc.
International - 18"x14"x9" - This is a recommended carry-on size and will very from airline to airline.

The dimensions for this bag are:
22.5" x 10.75" x 7.5" (depth). Based on the regular

hope this helps...
I've used mine as a carry on multiple times, with it stuffed to the max.
I've carried this bag many times (both domestic and international) as cabin baggage and haven't had any problems till now - just try to make sure that you don't strap on too many appendages like jackets, bottles, rain gear spilling over externally! Keep it inconspicuous!
I did a day hike yesterday with this pack and loaded it down with around 30-35 lbs. This pack felt awesome. I could not tell the pack was on my back. The suspension of this pack works extremely well. At first the packs shoulder straps rubbed my neck and was not real sure about it. Keep in mind I have a muscular build with a thicker neck. Then I loaded the pack down and adjusted the straps to my liking and they worked out perfectly. It sits different when its empty but then again it's made to be loaded down. Very light weight pack. Going to purchase the Axios 50 for longer trips. Highly recommend this pack! Thanks Arc'teryx for another great light weight pack. Keep up the good work!!!!
How would you compare the Osprey Talon 33...
How would you compare the Osprey Talon 33 to the Arc'teryx Axios 35? Is the Axios the extra 400 grammes worth?
Best Answer
Kristoffer, they are both great packs and I don't think you could go wrong with either one of them. I always buy Osprey packs but this is certainly a quality pack that will last a long time. It comes down to personal preference and which one fits you the best.
Thank you Mike, i'll try out both and see what fits me the best!
You are welcome Kristoffer. You are in a win/win situation.
I was crazy excited to try this pack out. So far, it's been all love. My favorite thing is that I tend to overheat on my back even when the weather isn't that hot; the Axios 35 is super breathable so my back didn't get sweaty even after several hours. I tend to over-pack, so I really liked how accessible this pack was. It was great to not have to unpack everything to get at a piece of equipment. I could just jump in through the side and get what i wanted.
, ☃bcs_badge_alumni_label☃
Best Answer
Made in China.
Arc Teryx welcomes Ultra Lighters
The reason that I am writing this review, is that so far, this backpack has not received the recognition it deserves as a an ultralight multiday pack. The pack is marketed correctly and carefully, it is a "day-trekking" pack, so as to avoid confusion. If you are not an experienced backpacker, thru-hiker, or "trekker," then this is a day pack. If you are, and have a reasonably light base weight (15-20 lbs.) I would suggest looking at this pack.

First, the pack weighs 2lbs 12oz, which, is right in line with the Granite Gear Vapor at 2lbs 5oz.

After finishing the Colorado Trail this past season with the discontinued NAOS 55, I felt my pack was too big at 55-60 L and 5lbs, I bought the AXIOS 35. The pack is meant to hold between 20,40L. It can do this. For a two day test trip, I carried a bivy, sleeping bag/pad, one set of clothes, down jacket, rain gear, misc. small stuff, and cold food. I had more than enough room. I'd say I could have carried a stove, hot food! with up to three more days of food.

The pack looks questionably waterproof. It is definitely not waterproof. After ten minuets of rain it needs a pack cover or liner.

There have been complaints on the suspension system, the shoulder straps being too close. This for me was not a problem. If the pack is adjusted appropriately the fit is comfortable. The hip belt is great.

The details: Arc' Teryx put minute attention into the design of this pack in order to keep it as light as possible. The buckles, clips, straps, and zippers, are smaller than any I have ever seen on a pack. The kangaroo pouch is incredible. It allowed me to carry my wet bivy, or wet rain fly, on the outside of my pack. Everything inside continued to stay dry. The brain. Two zippers! hate digging around for water treatment in a huge one zipper brain with clothes, hats, or other bulky items in there? No longer; bulky goes in the front zipper, small items in the back. Easy. The hip belt which is quite comfortable has very secure stow pockets on it too. To you more dedicated ultra-lighters, the brain is removable, and a sleeping mat can certainly fit buckled atop the pack. There is even a side access zipper. Luxury. I find it bit a unnecessary for such a small pack. But it's there, and still the pack weighs just over 2lbs!

So for those of you with UL solo tents, 30 degree down bags, and 3/4 length sleeping pads, consider this pack your standard go to for overnight trips.
Nice pack. I was looking for a new climbing pack, and this is not it. No ice axe loops (as seen in picture). Gap between shoulder straps seemed small, the straps threatened to squeeze my neck excessively. I did not hike with the pack, so perhaps it is not an issue. Nice details overall though. The zipper glide very smoothly. Everything is miniature to keep weight down (buckles, straps).
moosejaw, backcountrygear, campmor and...
moosejaw, backcountrygear, campmor and many others sell this pack for $175. Do you price match?
Best Answer
Hope on Live Chat and they can usually hook you up as long as everything is the same and the other places have it in stock!
Is this pack waterproof or resistant?
Is this pack waterproof or resistant?
'all the zippers on this arnt sealed either' Do you mean that none of them are? Because the two on the lid are waterproof...where your going to need it most. Just thought I'd clear that up if you meant that only some are waterproof, but not all
The Axios series is water resistant. Not a seam-sealed waterproof pack. will keep your gear dry in a drizzle, use a pack shelter for downpours.
The lid of the Axios 35 pack uses the "watertight" zippers which are not totally waterproof, and the seams are not sealed. Don't leave your electronics in the top in a downpour expecting it to be totally dry. It will bounce light rain, but if it's pouring, cover it with a pack shelter.