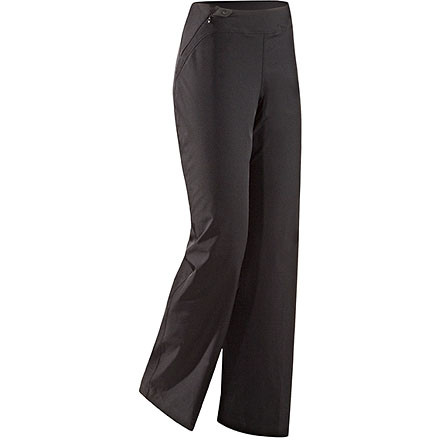 Detail Images
These pants are nothing like the description. They have no side zippers. No draw cord in the hem. No adjustable waist. No front pockets. But other than that... they're fine. Just a basic, lightweight hiking pant. At first I thought they had sent me the wrong pants - so back they go.
The description of these pants is different than what the pant actually offers. There is only ONE pocket total (the pocket with the red zipper on right rear) and the waist is NOT adjustable. Decent fit, although based on the measurements I am a size 4 (27" waist, 38" hip). I found the waist to be a little tight, while the hip, leg, and overall length were perfect. Also found these to make a rather loud "swishing" sound when I walked, and my legs felt hot just trying them on. I ended up going with the Columbia Mumbai Mover pant in an 8 x 32 which DOES have 2 front zipper pockets plus 2 regular back patch pockets, plus belt loops if I ever want to wear a belt, and made less of a "swishing" sound.
I am wondering about waist and hip dimensions...
I am wondering about waist and hip dimensions of the size 12 Arc'teryx Aura Pant. Also, please, what is the inseam length?Thank you
Best Answer
i ordered these in a 2. I am 5'5" and about 112 lbs. They were way too big. Some arcteryx items run a bit smaller than other brands. This is NOT one of them. The length was about right on me. It is a sleek good looking pant. They waist is not adjustable -- can not really tighten it. Though the material gives, there is not really any elastic around the waist. The sleek fit is achieved by the asymmetrical zip. I don't think much alteration would be satisfactory. If this pant fits, it seems like an awesome choice!
These pants don't look like much coming out of the box; the material at first is kind of meh...however! Like every other piece of Arcteryx I own ( a lot), these get thrashed and come out in the wash looking brand new. I wore these throughout Central America, during eight hour slogs through mire and rain up and down volcanoes, through forests, in hot and cold and when I came back home for their first 'real' wash, the fabric sustained not a scratch or stain. Somehow in the humidity the fabric always breathed, never felt sticky or sweaty. The pants are actually flattering and can be worn out at night as well as during a climb.