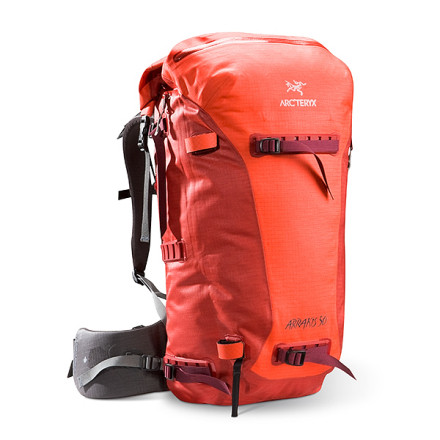 Community Images
Description
Durable and comfortable carrying, 365 days a year.
The Arc'teryx Arrakis 50 Backpack is your year-round pack for heavy day trips and light overnights, from cragging at Indian Creek to ski touring in the Colorado backcountry. The unique rolltop design and seam-sealed, weather-resistant fabric make for drybag-like protection with the added comfort and support of aluminum stays and a padded MonoFrame backpanel. GridLock shoulder strap adjustments give you the perfect fit, and Arc'teryx's Pivoting Load Transfer allows the hips to move independently. Exterior compression straps hold skis, boards, or camping gear, and a full side zip gives you quick access to your gear.
Share your thoughts
What do you think of the
Arc'teryx
Arrakis 50 Backpack - 3057-3661cu in
? Share a...
truly a great bag.
Familiarity:

I've put it through the wringer
used for over a year in Fiji to protect professional photography and video equipment. worked its magic and still does to this day.

No complaints at all.


Im planning on a longer summer hike this...
Im planning on a longer summer hike this year and i want to tweek up the carriage volume a bit and was wondering if someone know any good combinations of sidepockets for the arrakis? i got the arrakis 50 tall. I was thinking of two pockets on the side of the bag each about 10-20 litres
Ive owned the 50L reg and the 65L tall version Arrakis first off lemme tell you if your built in the back or chest area and are around 6 feet don't get the 50 it is too small you can't get that proper 45 degree strap alignment no matter how much you adjust unless your built like Pee Wee Herman. The 65L is still a bit tight in the underarm area of the strap my only gripe. This bag could hold up to a blast of c4 and still be waterproof. I use it as my B O B bag, it will outlast me and the earth. Theres no need for compression straps unless your carrying gold bricks even then doubtful. Now if you plan to use it as a flotation device it will barley let a drip of water in at the end of the zipper so don't hold it at the bottom of a pool. Quality is incomparable. I lucked out and got an orange one. Best part made in Canada still.
Looking to buy a new pack but I don't know...
Looking to buy a new pack but I don't know whitch to choose: The Arc'teryx Arrakis 50 or the Osprey Variant 52. I'm planning to break it in on an 8 day long crosscountry skitrip in Norway (sleeping in snowshelters and mooving all my stuff on my back.) Not planning to pack heavy it's definitley this size I'm looking for.
Thanks.
The Arrakis is essentially waterproof, so that seems like a huge advantage for a trip like this where you will be constantly exposed to moisture and drying won't be easy. The other difference is the fabric on the Arc'teryx Arrakis is really durable due to the lamination treatment on both faces of the fabric. I also like the pivot hipbelt for skiing as it keeps the pack from swaying.
What are the dimensions for this bag...
What are the dimensions for this bag (heightxweightxdepth)? I'm travelling for a month in China and Tibet but I'm limited to bringing one carry-on and I need to know if this will meet the size requirement. Thanks.
about 75x50x40cm. stuffed to the lid, but with rolltop closed.
I took this pack to, around, and from Thailand for a month, and always carried it on with me. No problems fitting it into overhead bins, and never got questioned.
Is the material fully waterproof are highly...
Is the material fully waterproof are highly weather resistant?
it's fully waterproof, although I would not call it a drybag . . . the difference being that you could take this in the shower and not worry about anything getting wet, but if you submerged it in a river for an extended period of time, it may take on water.
Helicopter Long Line Rescue training
Video of some training i did for winter rescue. The pack is attached to a lanyard, and we're both hooked up to a helicopter and slung into the rescue location.
Great pack, hydration sleeve could use a little more slack
As with the other reviewers, I absolutely love this pack. It's definitely on the pricey side and I found myself ratcheting up to finally pull the trigger on this bag. I like everything about this bag except for the hydration sleeve, which is pretty tight if you're trying to fit a full 3L hydration bladder (Platypus).

I have to remove a lot of stuff from my bag before I can pull the full 3L hydration bladder down far enough to avoid tubing kinks when the bag is all packed up -- I say pull because I literally have to pull the end of the bladder down into the sleeve. The sleeve is that tight. Would probably work a lot better with a 2L bladder, but why would you get a 2L bladder with a 50L + 10L bag?

UPDATE August 3, 2011: Still a great pack, comfy for skiing (thank goodness for Timberline!). However, the hose clip on the right shoulder strap broke when I carried skis over my right shoulder. Arc'teryx sent me another clip via Express Mail after I told them I need it by August, 12. Great warranty service.
Has anyone considered this pack for an...
Has anyone considered this pack for an A.T. thru hike? I know it is on the heavy side but I figure with the weight saved from not using dry bags/pack cover plus the durability this pack has would make it a reasonable candidate. Any thoughts?
I have been on the AT many times, and rain can dump on you for extended periods. My pack was NOT weather resistant, and my rain cover leaked like a sieve. Next time I would definitely go for something weather resistant. So, yea, it's definitely worth at least looking into.
Good luck!
I use it for trekking on dry climet and I cant fill the weight of the gear inside!!!
The "Pivoting Load Transfer of the hip belt" geave me the power to walk for day on day and have no pain!!!
How much expansion is there with the roll...
How much expansion is there with the roll top if you are not totally concerned with rolling it 5 times and keeping the high water resistance? I am trying to decide between the 50 and 65. Is there enough room in the 50 for a 3 night winter ski trip of a moderate minimalist?
Take the 65L I use it a winter 3 day and night with a tent and more...
I know that this pack got its start as a ski mountaineering/touring pack, but I find it great for backpacking also. Many of the ski specific features that set it apart from normal packs can easily be used for general backpacking gear. The probe pocket is a great place to store tent poles, or an ultralite camp stool. The huge kangaroo pocket on the front of the pack is great to stash wet gear like rain clothing, tent flys, tarps, and because it is totaly seperated from the main compartment it won't get the rest of your stuff wet. The side zipper access to the main pack is real nice to grab items on the go, and the roll top closure is fast to adjustable to handle any size load. The pack isn't submergable, but other than that it is totaly waterproof. My has withstood five hours of heavy continuous rain without leaking. The suspension is the most adjustable pack out there, not only adjusting for torso length, but shoulder width as well. This baby will handle even the most heaviest of loads, and shares the same suspension as some of Arc'teryx expedition packs. It will move with you almost as if it is part of you thanks to the swiviling hip belt. It a little heavy, it isn't the pack I use all the time, but when all hell is about to break loose I go for this baby. Its stated volume is very conservative, I think they only count the main compartment, but the kangaroo pocket is at least one third of the main compartments size. I mainly use this pack in winter or for longer trip due to its size. I tend to be a light weight backpacker, and I can fit four season gear and food for a week in this pack. Hands down this is the best pack I have ever owned, including some of the best offerings from Osprey, Gregory, and even other Arcteryx packs like the Naos and Altra.
good alpine climbing pack?
good alpine climbing pack?
Best Answer
The Arrakis was originally designed as a ski pack, but does have a bit of a fan club in the alpine climbing world. Reasons: super durable, totally waterproof (maybe not submersible), super comfy harness system with a rotating hipbelt, and a narrow profile. It is a bit heavier than some of the Arc'teryx alpine specific pack like the Khazri and Khamsin, but certainly works in the alpine-going up or down.
Not for a climbing more for ski...try a BlackDiamond packs
the Naos 55 was design for more that area, same roll top and load disk, but taller and with a trad top lid. They nixed it how ever because it was the first pack with a load disk and the full water tight material in the narrower format was harder to pack
The Naos 55 was designed more for that area, same roll top and load disk, but taller and with a trad top lid. They nixed it how ever because it was the first pack with a load disk and the full water tight material in the narrower format was harder to pack made sure it had not the greatest sales
Hi. I'm still wondering whether it is more...
Hi. I'm still wondering whether it is more waterproof than the Naos...

I'm looking for a whitewater drybag / hiking pack combo.

Right now, I paddle with a 115L seal line pro drybag and I have an 80L Bora for the winter. Both are too big for many trips and I'd like a solution that'll be both my summer hiking bag and my dry bag. I basically would like a hiking back that withstands my occasional (getting rarer) swims in rapids and keep 100% dry (it's cold at night in the spring up here).

Am I looking at the wrong bags? Or could one of the Naos or Arrakis do?

Thanks in advance!!!
Best Answer
The Arc'teryx Naos will be more appropriate for submersion (pockets aren't submersibly waterproof) I took my Naos down Cataract Canyon (and up the Grand Teton) and it worked great. The Arrakis has a bit easier access, but that's the trade off for total waterproofness.