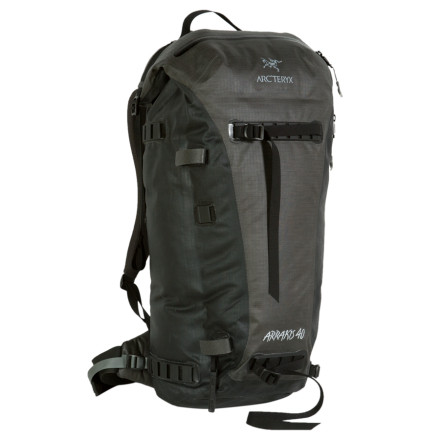 Detail Images

Community Images
With a seam-sealed, functionally waterproof roll top closure, the Arc'teryx Arrakis 40 Backpack protects your gear on everything from a backcountry ski tour to a multi-pitch rock climb. A high-density polyethylene foam back panel and aluminum stays give you comfortable support without added weight, and the GridLock adjustable shoulder straps help you dial in your fit. Strap your board, skis, rope, or pad on with the external compression straps, and store your avy gear in the side pocket or internal sleeve.
High-density foam back panel and two aluminum stays keep the load solid on your back during sketchy moves or approaches
Adjustable GridLock shoulder harness features radially formed shoulder pads for customized comfort on the mountain in any season
Lumbar pad and adjustable, removable sternum strap increase comfort and security
Roll-top lid provides easy top loading and seals off your gear from winter or summer storms
Two front molded, super-durable AC2 Fusion Points with lash-ladders and removable straps enable a vertical ski carry and vertical or horizontal snowboard-snowshoe carry arrangement
Solid pack can carry all the necessary gear for long tours, hut trips, multi-pitch climbs, and overnight backpacking, while weighing 4lb 3oz (Tall: 4lb 7oz)
3D shaping and one main compartment reduces fabric and weight for efficient climbing and skiing performance
Main compartment features drain holes for the times you have to haul around wet gear and clothing
Durable, fully taped 420ACT main outer fabric sheds snow and rain while withstanding abuse from mountaineering and big-wall climbing
WaterTight external zippers prevent vulnerabilities during wet storms in any season
Hydration compatible pack with a internal sleeve, zippered hose port, and shoulder hose clip let you pipe your water reservoir (sold separately) to your mouth during backpacking or warm-weather tours
Side pocket and internal sleeve hold your avalanche probe and shovel where you can get to them quickly
Top zip pocket stows a map, headlamp, or snack during long approaches
An ice axe attachment features slide-proof loops to secure your tool to the pack when not in use
Four side durable AC2 Fusion Points feature side lash ladders with removable straps to hold skis, hardware, or other gear during more vertical alpine ascents and backpacking excursions
Reg or Tall packs (depending on availability) let you choose your correct size and storage capacity (Tall provides 183cu in or 3L of extra storage space)
Wish I could...
Familiarity:

I've used it several times
Wish I could give this pack more then a 5 star rating.

It is the most "fit-for-purpose" pack I own. waterproof, hydration compatible and very solid. Comfortable from the minute you put it on till the end of a long day on the hill.
The pack you were looking for!
The Arrakis 40 is an ideal 2 - 3 day pack. The straps are the most comfortable and adjustable i've used and the padding is just right. The AC2 material feels like plastic and looks like it will last a lifetime. The pack comes with twin aluminum stays, but i removed them to add a bit of pliancy to the backing. The large kangaroo compartment on the outside of the pack is easily accessible and is used to keep my rain jacket (Alpha SL Hybrid) The fabric is very water resistant and so are the zips. I spent 5 hours in a heavy downpour, but the contents were still bone dry. Even the contents in the top pocket were dry.

The only cons i can think of are, the pivoting belt does squeak, but only after it gets wet. Because the material is so thick, when the top is rolled down, the fabric folds on the side become sharp edges, so you'll need to be careful when taking the bag off.


I own a Naos 55 in size tall. I'm interested...
I own a Naos 55 in size tall. I'm interested in purchasing an Arrakis 40, but Arc'teryx's size charts have me right on the edge between regular and tall [19"/48cm]. Once I bent the the stays in my Naos 55, the fit was excellent. I plan on bending the stays to fit on the Arrakis 40 as well. I'm 5' 11", broad shouldered and an athletic build. Any thoughts?
I would get the tall....the shoulder straps may be too short on the regular.
Can anyone recommend a hydration reservoir...
Can anyone recommend a hydration reservoir to go in this pack?
Best Answer
Osprey, Osprey, Osprey! They Make the best hydration reservoir I have ever used. I used to hate that style of hydration until they showed me the way. http://www.backcountry.com/osprey-packs-hydraform-hydration-reservoir
the 3/4 cap is finicky. you have to be careful to get the threads lined up. otherwise the cap will tighten and look secure, but water will leak out. also, the plastic ring that hold the cap to the reservoir makes it hard to tighten on mine, so I had to cut it.
Unanswered Question
I ordered this pack from Moosejaw.com last...
I ordered this pack from Moosejaw.com last week and was very disappointed to find it had the same defect as R. Biser had in 2010--the hip belt rotates, but not beyond horizontal on one side. It was the Tall version, and I think that might have something to do with it. That was over 2 years after his review, however, and it turns out there is still bad stock (it's quite possible this is only Moosejaw's problem... I've been noticing lately they have a lot of old or random stock from last years model)



I have a trip in only a few weeks and I can't afford to keep ordering faulty packs and sending them back because I have no way to ask the warehouse crew to check this before they send it out with the 100s of other orders they perform. Has Backcountry.com done a recursive check of their Tall inventory to make sure they have no more defective packs?
can i carry a rope under the roll top or...
can i carry a rope under the roll top or somehow on top of the pack?
I try more then one time to carry a rope on the top and have no success
guy is correct that it's not really a good pack for that. you could tuck the rope under the side compression straps and tie a loop around the top strap, but it would be a hassle.
What are the dimensions for this bag...
What are the dimensions for this bag (heightxweightxdepth)? I'm travelling for a month in China and Tibet but I'm limited to bringing one carry-on and I need to know if this will meet the size requirement. Thanks.
Arrakis: 40l 23.5" x 12" x 11"
You can definitely stuff this into overhead bins, even if it is a bit bigger than official regulations.
Is there a max width for the ski carry? A...
Is there a max width for the ski carry? A pair with a 140mm tip fit?
with the adjustable straps you can carry a snowboard, so skis are no problem.
The picture shows that the pack has lumber...
The picture shows that the pack has lumber padding, but the hip-belt does not seem to be padded. Is it padded fairly thick, or is it really thin?
It does not have padding on the belt. The Arrakis 50 does have a padded belt. The lumber support on the 40 does bend around an provide a little padding.

It is an amazing pack, and carries incredibly well.
Lumber padding? Now that's a scary image
Does the Hipbelt offer enough support? ...
Does the Hipbelt offer enough support? Don't the shoulders get extra tired because of the smaller hipbelt, compared to for example the arrakis 50?
Yes you are right, this pack has a smaller hipbelt because its only a 40L pack, meaning it can't hold that much stuff and wasn't designed to carry a lot of weight... its mainly a dayhike/back country ski pack...
Good ask whether Canada does make?
Good ask whether Canada does make?
Best Answer
I think the answer you're looking for is "yes" if the question is "is this pack made in Canada"
much of their packs are still made in their Vancouver factory where as much of their soft goods are from outside of North America, the easiest way to find out is to look for the label on the inside of the product or they will often have a maple leaf on the outside, for packs this is usually on the hip belt.
Update, replacement pack received and tested, rating changed
Backcountry.com was able to get me a replacement pack in time for Mexico (their customer service was excellent, the customer service from Arc'teryx not so much) But am just now getting around to changing this review because as soon as I got back from south of the border an opportunity arose to go to northern Greenland. So having had the opportunity to put it to good use:

The replacement pack is great. Comfortable, bombproof, and elegantly simple.

Negatives:
I wish it was shipped with two more webbing lash on straps. There are six webbing attachment points on the pack (besides the tool loops) but only 4 straps included, for the price of this pack Arc'teryx should toss in enough straps for all attachment points.
Some people may like it, but I think they should get rid of the hydration port. It has a waterproof zipper, but there is still a little hole even when zipped shut, which means this is not a drybag if you are going to be on or crossing water. (I don't like water in the main compartment, and put bottle holsters on the shoulder straps of this bag). However neither rain nor snow is going to get in.
The shoulder straps are comfortable but stiff, they make the pack difficult to shove in the luggage rack of Mexican buses (aforementioned holsters add to this but that is my own fault).

I recommend it. If you are going to buy a pack, get a Gregory (love my Makalu Pro) or an Arc'teryx (despite my frustrations having to return the first one and the negatives [especially the manufacturer trying to increase the margin on this pack by 2 dollars by including 4 lash on straps instead of six]).

Original Review:
+++++++++++++++++++++++++++++++++++++++
I am currently working with backcountry.com and Arc'Teryx to resolve a manufacturing defect. I had read about some others having the same problem before I purchased the pack but figured it was isolated and wouldn't affect me (maybe it is isolated and I am one of the unlucky few).

The Arrakis 40 Blackbird Tall that I received has a defective pivoting load transfer disc. The disc is glued in place rotated relative to true. The result being that I can't rotate the hipbelt right at all without the hipbelt disengaging from the pack. I should be able to lean equally right or left.

I would have expected quality control at Arc'Teryx to check this.

Backcountry.com graciously offered to refund my money and cover return shipping, however I do want the pack and would prefer an exchange but they are now out of stock. I have contacted Arc'Tyrex for a warranty exchange that they are happy to do but shipping is on me. I have contacted them requesting that they pay for the shipping since the pack is brand new with a QC failure on their part and am waiting to hear from them.

Depending on resolution to the problem rating might change.

Flying to the Yucatan on Dec. 16th want to resolve it before then.

Contacted Backcountry.com again as after submitting this review I noticed that they had six size tall in stock. They gave me a shipping label and are sending me another. If the new one is in good shape I will change the rating.
Fantastic pack. This is my go to pack for ice climbing in the Pacific NW, due to all the crappy wet snow we get. The fabric is super durable. This pack is a little heavy, but carries wonderfully. The pivot hip belt may sound a little gimmicky, but it actually does help on those high steps. The pack really does stay put. This is a pricey pack, but I really do think it will outlast many other packs, due to the thick material. Now... I just have to figure out a better way to attach my ice tools. (it only has one ice axe keeper)... oh, for all you that care... this is MADE IN CANADA.
Would this be a good pack for attaching a...
Would this be a good pack for attaching a pair of snowshoes to?
Best Answer
The Arc'teryx Arrakis 40 has the two cinch strap that would be perfect for carrying snowshoes (or skis and snowboards).And it's waterproof, so the gear inside will stay dry when you're out and it's dumping. It's not shown here but the shoulder harness attaches by a "gridlock" which give you a wide range of adjust-ability, making it super comfortable to carry.
For all crazy uninhibited expeditions..
I have used the Arrakis 40 and 65 extensively. Other Arcteryx packs used is a Bora, I was somewhat hesitant at first at changing to the unconventional pack design, but I am so glad I did.

For a full idea of pack size, the 40 is perfect for day trips, and single day snowboard or cross country ski trips, while the 65 is more of an expedition pack, that I have thus far crammed 1 week of supplies and sustinance into.

This pack does not have a side zipper like the larger models, this makes it a TRUE drybag, so for full submersion activites, ie, deep water soloing, kayaking/rafting..etc this is the backpack of choice. The side zip on larger models will not leak during downpours, (tested in the monsoons of southeast asia), it will slow drip in full submersion.

Material is tough, and I mean, REALLY tough. I take very good care of my gear but have never had any inhibitions or worries when tossing this bag around. My Arrakis 65 has been tossed of small cliffs, dragged in the water, left in the snow overnight, for 2 years now, and still looks brand new. Also the material is very easy to clean.

Pack Design, originally my main worry, now I can't imagine having ever used a different pack, while most hiking packs have a stacked design with the pack space becoming narrow at the bottom, the arrakis is slightly wider at the bottom and allows the pack to be organized in such a manner that you can pull items from the bottom without unpacking the bag. This is very convenient.

The pack does not have compression straps, nor could it really, the material wouldn't compress much. The pack design inhibits the flopping around a normal pack would have if underpacked and not compressed. And the "3D" molding design of the pack makes the pack pretty much sit and look the same regardless of what's in it.

The rotating hip waistband is everything arcteryx claims it to be, wonderful. It moves with your body like a latin dancer. From a past of everything in packs from jansport to northface to marmot, it's the comfort that keeps me wearing arcteryx on long hikes.

Straps are sufficient, I only say this because I personally added some more and sometimes tend to strap too much to the outside of my pack. But for the normal person, the 40 accomodates a snowboard or ski's wonderfully along with a mountaineering axe or other small accessories. Or if you climb it's easy to strap a rope to the outside.

Hop on the Arcteryx site for the detailed size charts, everyone I know (including myself) that has followed the chart has been happy with the outcome.

Great pack, you'll love owning one, in any size.
Hi, does anybody know if the Arrakis 40...
Hi, does anybody know if the Arrakis 40 shares the same side zip entry as the 50?
Best Answer
The Arrakis 40 does not share the full length side zip of the 50 L version.
hi, Im interested in this Arrakis 40 or...
hi, Im interested in this Arrakis 40 or the 50
Does anyone have the L x W x D of these 2 bags (Arrakis 40 and 50) I would like to be able to use it as an airline carry on bag /travel bag..
(I like something high performance,durable..comfy backpack/travel bag)
Anybody use these two as their carry on bag..
are there that much difference between these two (SIZE WISE)?
Are the hip belts removable?
Thanks much
Here's the dimensions for the Arc'teryx Arrakis packs:
Arrakis: 40 23.5' x 12" x 11"
50 25" x 12.5" x 12.5"
These are certainly durable, comfortable and high performance. The only consideration for using these as a travel bag is access-they aren't panel loaders. Both have pivoting hipbelts that are super easy to remove (shoulder harnesses, too). I'd guess the 50 is a bit big as a carry on. I find the Arc'teryx volume measurements tend to be conservative compared to other brands.
Just received my blackbird in tall, I'm 6'1 with an athletically stocky build and a longer torso than normal. And It feels like the pack was tailored for me. Luckily i read the reviews below regarding the arc'teryx sizing because i was torn between ordering tall or regular. here's the link for sizing http://www.arcteryx.com/sizing-charts.aspx . I have yet to use the pack in the field, but it will be used in Niseko Japan in two weeks. From what I can see, the bag is up to arc standards, and the skin seems completely waterproof and indestructible, plus it holds all of my hydrator system, first aid kit, avalance gear, shovel, probe, etc. and still has plenty of room for other mountain essentials. Arc stuff is expensive, but Murray's laws are true, you get what you pay for, and if it seems too goo to be true its probably just another great product from Arc'teryx! I'll keep you guys filled in on how it holds up this first season, but from the looks of it, it's not going anywhere.

Just wanted to add this to the review. just finished a trip in japan and the hip suspension disc contraption really worked well while i was snowboarding, as long as the fit of the pack is right and you have the load supported by your hips, it really allows the bag to move with your body and not contort while you're trying to grabs or hard turns.