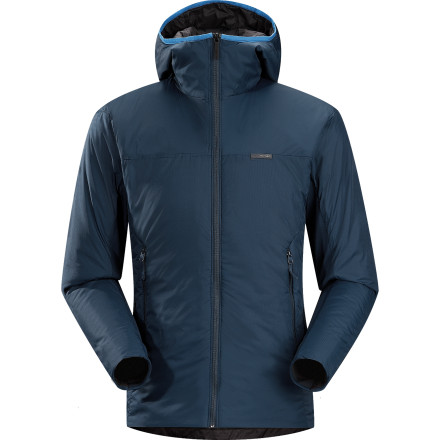 Videos

Community Images
At the heart of the Arc'teryx Men's Aphix Insulated Hoodie lies Coreloft insulation, which provides enough warmth to fend off the chill on the skin track, lift, or high on the rock. This jacket compresses down easily so as not to waste valuable pack space, and side stretch panels give you ultimate mobility so you can reach for holds or reach out to plant a pole in deep powder. Reach for the Aphix Hoodie when you need a layer lighter than your bulky insulator jacket, and a more versatile one too.
DWR coating shrugs off light moisture and precipitation so you can depend on this hoodie as a stand-alone jacket or a cold-weather mid-layer
Coreloft synthetic insulation is lightweight, and the insulation compresses and regains its loft quickly so you won't have to worry about cold spots after tightly packing this jacket
Stretch side panels allow full range of motion at your core and underarms so you can reach or stretch without feeling held back
Cuffs stretch over light gloves in order to seal out the elements
Insulated hand pockets and a lined collar complete the toasty-warm package
Unanswered Question
I would like to know if this jacket is...
I would like to know if this jacket is waterproof and if it can provide me enough warmth(combined with a mid layer fleece sweter).I am intend to use it in mid mountaineering expeditions and in cold weather conditions.As I will spend the next winter in Northern Europe I would like to know if it is suitable for the purposes I need it for.
Aphix Hoodie
Familiarity:

I've used it several times

Fit:

True to size
This is my new favorite insulated jacket. It is warm yet breathable and does not make you feel like you are wearing a straightjacket. Back length could be a little bit longer but the pros of this jacket definitely outweigh the cons. I have a medium and I would say that it fits true to size.
AWESOME JACKET??
Familiarity:

I've put it through the wringer

Fit:

Runs large
IT'S MY NEW FAV JACKET FROM ARCTERYX??.LOVE THE ATOM LT BUT THIS ONE IT'S WHAT I REALLY LIKE. THE SIZE RUNNING BIG/LARGE?THANKS TO ALL PREVIOUS REVIEW ABOUT. WEARING MEDIUM ON ATOM LT??BUT FIT JUST RIGHT ON SMALL SIZE ON APHIX. I'M 5'6" WITH 39" IN CHEST, AND THE SLEEVES JUST RIGHT AS WELL?.PLANNING TO GET ANOTHER COLOR THOUGH.
So sweet!
Familiarity:

I've used it several times

Fit:

True to size
this jacket is nearly perfect. breaths well but warm when it needs to be. yes, the arms are long but i have long arms so it works for me. i don't layer with it, just wea it around town and winter hiking.
If I wear a Medium Atom LT and a Small...
If I wear a Medium Atom LT and a Small Atom SV, what size should I get for the Aphix?
The Arc'Teryx Aphix is going to figure right between the Atom LT and SV for fit, weight, and warmth. Close call but I would have to lean toward the medium in the Aphix.



That being said, a chest and sleeve measurement always goes a long way in sizing a jacket properly. If you are not sure what these measurements, just pop into your local mens suit store. They will be able to take these measurements very quickly and will remove some of the guesswork from your next outerwear purchase.
Aphix vs Cerium? I like the ideal of the...
Aphix vs Cerium?

I like the ideal of the versatility of the aphix but I'm just wondering how it compares warmth wise with the cerium or thorium jackets?

As well as wearing it as a stand alone, I'd plan to wear under my goretex stingray for skiing.
Best Answer
Wai,

As you have probably noticed, a lot of people a agonizing whether to get the Atom LT or the Aphix. The Cerium vs Aphix question is in some ways a much easier one to answer because there are so many more differences and those differences are big ones. First the obvious: The Cerium LT is a 800 fill down trim fit jacket weighing 9.7 oz that can pack into a sack not much bigger than a Nalgene bottle, where the Aphix is an 80g Coreloft athletic fit jacket weighing 17.6 oz and is packable but not nearly so much as the Cerium.



There is also a fairly substantial difference in center back length. The Aphix comes in at 30" with sufficient length to fit under a pack or harness. The Cerium on the other hand is approx 26". The Aphix will probably be better for techincal use during activities like ice climbing or AT skiing where you are exerting yourself, both because of that longer body length as well as because it is synthetic and will both breate and withstand moisture build up better.



For me the bottom line is intended use. I love the Cerium LT and I would highly recommend it as a good outer layer or midlayer when you need something toasty and lightweight. It will keep you warmer than the Aphix during low intensity activity. However, if you are doing high intensity activities and need both mobility and an insulator that doesn't mind getting wet, I would turn to the Aphix every time. In the end it is going to depend on the type of skiing you plan to do.
Arc'teryx Aphix Insulated Hoodie - Men's
I am trying to decide between the Aphix...
I am trying to decide between the Aphix Insulated Hoody and the Atom LT Hooded Insulated Jacket. My main concern is "packability", I travel alot and need to fit it in my roll-a-board. The Atom weighs less, but does it pack more efficiently??



I would really appreciate any input with regards to which one takes up less space in my roll-a-board.



Thx.
Best Answer
Hey there, I don't have this Aphix, but my Women's size Small Atom rolls up tightly to about the size of a Grapefruit. The men's would obviously be a bit bigger, but the Atom in my experience is very packable. I've just LOVED my Atom, it's so incredibly versatile, I wear it nearly every day in the fall and winter.
Arc'teryx Aphix vs. Montbell Thermawrap...
Arc'teryx Aphix vs. Montbell Thermawrap Pro



Does anyone know how these two stack up? I've had a Thermawrap Pro (and loved it!), but am now looking for a new poofy. I've pretty much narrowed my search down to the Aphix, Atom LT, and Thermawrap Pro, but I've never seen the Aphix or Atom in person. Anyone have helpful knowledge? Thanks!
I've owned both the Aphix and the Atom LT (ive only tried on the thermawrap). You will most likely find the Aphix the warmest of the bunch (ive found coreloft and primaloft to best the best insulation/weight) and will have the toughest face fabric (40D nylon). Both Arcteryx jackets mentioned have breatheable side panels which work extremely well. I also found the articulation to be much better in the arcteryx than the montbell. The aphix is also but a little more generous and is a touch longer in the front than the Atom. You cant go wrong with either choice
Excellent standalone or layering jacket
Gender:

Male

Familiarity:

I've put it through the wringer
Excellent coat, very warm, very versatile, lots of bang for your buck. I got this in a medium to replace my size large atom LT hoodie after it got ruined in an accident. It does fit slightly bigger than the atom LT hence my sizing down from the atom, most noticeable in length (i first ordered a large and had to exchange). The material is a bit more resilient and it holds up to moisture a little better than the atom, but is by no means waterproof. The only negative I can report is the cuffs on the sleeves- the atom LT has a nifty elastic like material which seals around your wrists and helps block out any cold air. Unfortunately, this feature did not make it onto the Aphix, which I would have loved, but the extra coreloft they put in the aphix over the atom makes up for it. I've been wearing this as a standalone jacket for around town or layering the Aphix under my Alpha SV for everything snow/alpine related and it is one sexy combo that I'd recommend to anyone. Although the aphix material is a bit heavier than the atom, it still breathes nice and also has the same pocket structure. Highly recommend!
Arc'teryx Aphix
Gender:

Male

Familiarity:

I gave it as a gift but have feedback to share
The Arcteryx Aphix is overall a great coat. I brought this coat more for casual wear and less as a midlayer. The core loft insulation is great and much warmer than my previous softshell for bumming around. The synthetic down in the Aphix packs small on flights and travel. I chose this over other puffys because of its flat color exterior color and its lack of ribs that most down sweaters have. I really like the athletic cut of the coat and details that Arcteryx provides. The Aphix has 2 hand pockets and one inside chest pocket. The sleeve length is long, which I could see being great for in the backcountry with gloves, however I like to roll the sleeves up a little to keep the ends from dragging on everything, since I am afraid the cuff may show signs of wear after sometime. Couldn't be more happy with the Aphix
Atom LT or this? What is better, the...
Atom LT or this?



What is better, the Aphix's shell material is 40d, That is 20d more than the LT, but I really like the LT fabric. I wonder if this is more comfy. Is this shiny? One thing this has going for it is the fleece arm panel and more loft. But the cuffs are not as good as the LT,
I've seen the Aphix in person and the finish on the fabric is matte like the Atom LT. I have to admit that the cuffs on my LT work seamlessly under my winter gloves. Not sure if the same could be said for the Aphix. Pretty much anyone who has an Atom LT loves theirs. You will too!
tough call, if you'll be doing stuff in colder climates, the aphix for sure. If you'll be layering more or in 'not so intense cold' then the atom. I have the aphix, (had the atom) and the cuffs on the atom are f*&*% awesome, not as awesome on the aphix,but its still a great coat. The finish is similar, but the aphix is a bit tougher and definitely less susceptible to damage/tearing. You'll love either
I am considering this in non-hood as an...
I am considering this in non-hood as an alternative to my atom LT. Really want something for daily use and also as a base insulation for cold ice days or skiing. Want similar to the MH compressor idea. Anyone compare this warmth yet to say 100g primaloft? I also have an atom SV so I want something similar but shorter and no hood.
Best Answer
Go for hood - for sure. It would be very difficult for me to consider any poofy that doesn't have a hood. The hood is like a jacket, hat, and scarf, all in one, with no seams....
I love my Atom LT, but sometimes require...
I love my Atom LT, but sometimes require more insulation while at a stop. How well would this work as a piece over/under the Atom LT?
Best Answer
Not the best over an Atom LT as the Aphix is vented as well and a slim fit. Better a SV to layer over the Aphix or the LT.
Thanks for your very complete response, Dane! You are a man who knows his gear!
How warm is this compared to the Atom MX...
How warm is this compared to the Atom MX that I have? Really loving the the MX, but looking for something a solid step more toasty, as a complement for really cold weather.



I'm finding the fleece panels on the MX -- while awesome for ventilation -- also cost a lot of insulation. If the Aphix is not significantly warmer I have to look elsewhere.



Thanks.
The Aphix is quite a bit warmer as it has more insulation (20 grams) than the Atom LT. The stretch panels are a bit smaller on the Aphix and run down the arm instead of the sides of the body.



If 80 grams isn't enough look at the Atom SV, which has 100 grams of Coreloft and no stretch panels.
How packable is this compared to the class...
How packable is this compared to the class of (synthetic) down jackets that are so popular now? Thanks.
Best Answer
Its very comparable if not better as it can pack into its own own sleeve. Some other pieces with 80g of insulation come with a stuff sack and do not have this feature. Options such as the Patagonia Nano Puff can pack into their own pocket but does not offer as much insulation, about 20g less.
ARC'TERYX Fall 2012 Aphix Hoody
To those who have purchased this, what...
To those who have purchased this, what kind of adjustments are on the hood? How do you like it compared to Atom SV if you have had both? Thanks.
Hello hegaveitall, (Awesome name btw!)



The hood is 12 in. long from the bottom to the top. It is not a tight fit. There is enough room to wear a small toque under the hood. There is no adjustment feature. It is not a very large hood like on the hard shells, but not as tight as the Gamma MX hoody.



I hope that is useful to you in making your next purchase.
So what is the difference between this and...
So what is the difference between this and the Atom LT?
Three items I noticed:



Trim fit (Aphix) vs Athletic fit (Atom LT)

Hand pockets on the Aphix.

Small tag instead of a huge dead bird on the chest.



Looks to be a really usable piece of kit.
The Atom LT has hand pockets too...



Other differences: The Aphix seems to have a longer cut or at least less of a drop-trail than the Atom, and it seems to be made from more a traditional "shiny" nylon fabric that are also potentially more wind-proof? Also it has 80gsm vs. 60gsm Coreloft, so it's warmer.



So in summary I would say: warmer, heavier, shinier, more windproof, less breathable?
The stretchy side panels are on the body, and come all the way down through the arms, to the wrist cuffs. The atom lt just has the stretch panels on the sides of the body.
On Arcteryx site it now says it is a Athletic fit?!
I just tried on both the Atom LT and the Aphix. Here were my takeaways:

* Aphix is longer than Atom

* Aphix is a slightly trimmer fit than Atom

* Aphix has longer arms than Atom

* Aphix is NOT as stretchy as the Atom

* I could not feel a weight difference when holding them



I'm going to stick with the Aphix since it fits me better (6', 175lbs, long arms).