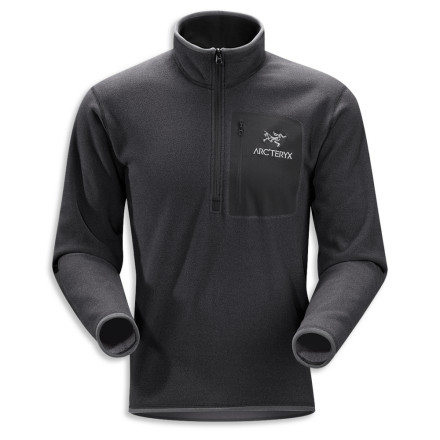 Community Images
Arc'teryx designers created the Men's Apache AR Zip Fleece Pullover as an ultimate lightweight layer. High breathability, superior warmth, and great water resistance make the Apache AR ideal for everything from ski-touring and climbing to chilling out at the bar. Arc'teryx added laminated elbow patches for extra abrasion resistance and no-lift gusseted underarms for unrestricted movement. Easily compressed and packed the Apache AR has an incredible warmth-to-rate ratio to fit your needs in a myriad of different situations.
Great technical layering item, as well as a wear around wherever you go. I am 5'10" 165, the medium is spot on. real nice athletic fit, but not restricting at all. Ive had it on the mountain, in frigid temps, and paired with my Sidewinder SV, a thermal, and long sleeve t-shirt, I stay nice and toasty.
Best Fleece pullover I have owned - great base layer underneath the Gamma MX and awesome to wear casually alone - Very soft and comfortable, Form fit with the large - 6'1 205 LBS - Stay completely warm with good breath ability.
This is a REALLY good fleece, and I'm a fleece freak from way back. 5'9" 185#, fits great. Neck is roomy. Length is just right, but I hope they make a tall for those taller than 5'11". The material is denser than the TNF polartech 200 top I have -- almost reminds me of felt, and that's what the texture is as well. Was expecting something more tweedy from the description, but this works. SUPER warm. Yeah, it costs more, but I'll be enjoying this for a long time to come. The elbow patches are a nice touch because that's where they go thin first. STOKED :-)
I take this fleece almost everywhere I go. I have it in last years Habanero (green).

Polartec tweed looks ridiculously awesome. Much nicer than standard 100wt fleece. I get a compliment almost every time I wear it. Haven't experienced much pilling, which is nice.

Pricey, but you can't really compare this to other fleece pullovers, it's much different (and better)
5'9 169llb Medium fit well up top but way too short at the bottom. Black was not true black had grey outlining. Overpriced, material didn't seem any better than the others.
I own 2 of the pullover and 1 of the full zip jacket. I love this fleece, very soft, very warm and the DWR gives it a nice touch also. If the fact that I own three isn't enough, try one on. I got them on sale at another store for $100 each, I believe this was worth it, 140-150$ for a fleece seems a bit silly.
This is a solid mid layer. There are no hand pockets, which is good because it reduces bulk, but makes this jacket less likely to be worn as a stand alone in warmer weather. It's very good looking, and very warm. Like all Arc'teryx tops, the arms allow for fantastic movement. Arc'teryx builds their clothes for athletes, and this is no exception.
Nothing magical here, but there's not much magical to expect from a mid layer. Overall, it's a pretty good value from Arc'teryx.
can I use click2pay to pay?
can I use click2pay to pay?
Sorry, only credit and debit cards accepted.
Oh, no. Don't do that--Not on the rug, man...
I wish they made the Apache AR in more colors. It is the perfect pullover
such a great pullover! has great mobility, is uber warm, not bulky and looks sweet too! i love thing thing, its so easy to throw on in so many situations. i wear it to soccer and lax games, throw it in my bag for short hikes when i might get chilly, around the fire and just re;axing at home. it is incredibly versatile, durable and just plain awesome! about to pull the trigger and get another one (im thinking orange since i already have the green!)
Great fleece! It's very light but shockingly warm.

Pros: warmth, weight, athletic fit, chest zipper behaves, breast pocket works nicely.

Cons: a little short (I'm 6'0", wear the medium), collar is a little big (doesn't do well under shells with narrow collars; I have a bit of a problem with my Stoic 2.0).
People think I am wierd cause I never take it off
Love this thing. Great fit. It is cut short which works great when layering and just looks good. I went with the large cause I have a large chest and wanted it to be looser. I am 5'7" 185 I really like the fit. If I had to say one thing negative is like all fleece it is a lint and hair magnet. The tweed type of fleece seems to really grab a hold of the lint, fuzz and hair pretty good. Not enough of a negative to give it less than 5 stars. I would buy another one - probably will.
The older version was listed as a 200...
The older version was listed as a 200 weight fleece. This one says 100 weight. Did it change or is it still 200?
I'd say more of a 200 weight. Just got one and it's thick/pretty sweet. I have a TNF TKA 100 and the Apache is much more warm.
I used this as a mid layer skiing in Colorado in February principally on cold days instead of a patagonia R1: the Apachie is much warmer and somewhat "stuffy" but didn't feel too heavy. It will probaly be too heavy for backpacking unless it is the only insulating layer.
This is a good time to tout the Rho LTW as an excellent base layer: after a couple of washes, it seems to soften and is not quite as "itchy" as when new.

mhnedmorsking
This is the second Apache AR fleece pullover I got-because I loved the first one (in black)so much.
Just to let you all know-this is a great fleece midlayer-the fit is perfect and this one is coffee bean.The color is not what I would call coffee bean-I would say olive drab or Ranger green.I love it.I was expecting some brown type color but was pleasantly surprised to see this more drab color.I will continue to buy these when they wear out.Arc'teryx totally has their game down!!
perfect fit and tough to boot
I got this AR fleece after returning the RHO fleece which did not fit at all.This fleece fit perfectly and it was extremely warm in some ferociously cold weather (12 below 0)under my Alpha SV shell.All I was wearing was an under armour t shirt with the AR fleece and it kept me warm.That says a lot.I am ordering another!
SO WARM!! amazing repellency!
I would give this a 4 star rating because it barely fits on the torso, however, i love it sooooo0o0o0o0o0o0o much that i got TWO of em! the green and orange one. they're both darker in person. i'm 6'2 and it just doesn't extend long enough. i have a runners build and got a small and it fits PERFECT in every other dimension other than the torso. however, its SOOOOOO warm and water/ mud repellent! i've gone on so many offroading and hiking trips with this beaut and it's hands down the most unique and glorious material. SUPER high quality.