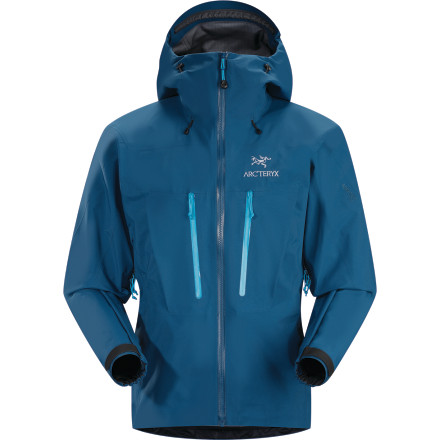 Detail Images

Community Images
Description
A mountaineering-worthy winter shell that'll put a smile on even the most seasoned veteran's face.
Arc'teryx has earned a reputation in the outdoor industry for making some of the toughest gear available. Arc'teryx doesn't pull any punches when it designs its gear. Nowhere is this more evident than its SV line of clothing—the burliest clothing that Arc'teryx makes. For 2013, Arc'teryx redesigned its venerable Alpha SV Jacket around a high-density nylon face fabric with a Gore-Tex Pro 3L laminate to make it just as tough as before, but now quieter and more supple.

To earn the Arc'teryx SV (severe weather) moniker, the Alpha SV jacket had to be tough. And, of course, this is Arc'teryx, so when we say tough, we mean bulletproof. The jacket's main body fabric is N80p-Gore-Tex Pro 3-layer. N80p is a high-density nylon weave. The high-density construction minimizes the yarns' exposure to abrasion, which reduces damage to filaments to maintain surface integrity. A durable micro-grid woven backer reduces weight and further resists abrasion. What all that means is years of guaranteed waterproof breathable service, even in the harshest conditions.
The Alpha SV is more than tough fabric, however. It's designed to work in perfect harmony with climbing harnesses and backpacks. This means the chest vent pockets and underarm zipper vents are designed out of the way of waist belts and shoulder straps, and the removable HemLock inserts keep the jacket in position when worn underneath a climbing harness. The hood and underarm zippers are designed for one-hand use for easy operation in tight spots. Of course, the Alpha SV is equipped with stormproof zippers throughout.

Gore-Tex Pro 3L
Ultra-durable N80p high-density nylon weave
Athletic fit, waist-length
Underarm zipper vents, chest pocket mesh vents
Fixed, helmet-compatible Storm Hood
Waterproof zippers throughout
Adjustable hem and cuffs
Question is, if I wear a large in North Face Jackets, I have plenty of room for multiple layers, which is what I am trying to get away from, would you think I should order a Medium based on the comments of purchasers, my arm length is 34-35, 5' 11' - 170 lbs?

Thank you,


Maybe! I have this in XL (Which is my normal size) and it's a little baggy without the layers. But then again, I'm not sure I ever have this on without the layers.
Hi there. I am currently living in Sydney. I am wondering whether you can ship garments to Australia? How long will it take? How much is the shipping cost?
Hey Claudia,

While we can definitely ship to Australia, we can't ship Arc'teryx products outside of the U.S. because of Vendor Trade Restrictions. Feel free to contact me directly to discuss your options.

Kyle L. - Expert Gearhead
Most durable coat out there
Familiarity:

I've used it once or twice and have initial impressions

Fit:

True to size
I have owned this coat in black size large for around a month now and it has quickly turned into my favorite jacket I have ever purchased. You can truly notice the warmth compared to how breathable it is with the Gore-Tex material. I have a bit of room from the shoulders to waist area due to being only 150lbs but I go with the large to have that extra room for an under layer or even hoodie. Ends up having a perfect snug fit with those layers involved. Sleeves run to a perfect size still in the large version for this height and average arm length. Arc'teryx holds a very high standard to there products and it definitely shows in this jacket.
Best of the best
Gender:

Male

Familiarity:

I've used it once or twice and have initial impressions
You can buy an expensive hardshell from the others that might be flashier or fancier, but the Alpha SV is the benchmark Gold Standard. I am a 41 R suit/sport coat, 5'11" with a 35 sleeve and the "athletic fit" which Arcteryx calls their standard fit is excellent: Room for a mid layer and insulating layer with unrestricted freedom of movement. If you need something expedition ready and out of GTX Pro, get this jacket.
Built For a Purpose
Familiarity:

I've put it through the wringer

Fit:

True to size
This jacket is perfect....for the right situations. If you need a jacket for Mountaineering or long expeditions, this is the jacket to buy and the best on the market. If you want an all-around shell that you can wear into town or at the ski resorts, it works, but isn't the best. The Gore-tex is thick and burly and meant to be punished. I took this on my second trip to Denali and it worked great.



This jacket has an Expedition Fit and is meant for layering. It fits bigger than most other Arc'teryx product but is true to size. I don't recommend sizing down.



I have it in Magma. It is as bright as a traffic cone, and I love it.
Hi,
I am thinking of getting this jacket but I am not sure about the size. I am 148 pounds, around 5' 9" (175 cm). Not 100 % sure about chest size, but around 94-95 cm (about 37in). A stated in the size chart, that would be between an XS and S, but not sure when it comes to layering.

I would like to get one or perhaps two layers under the jacket. My main activities are backcountry skiing, nordic (touring) skiing and hiking in the summer and fall. So a year round jacket.

Thankful for any input!
Hey C. Jenk,



The Alpha SV Jacket is Arc'teryx's Athletic or Standard fit. It is designed to accommodate some layering underneath. Based on your measurements I would recommend a Small so you can layer a Down or Synthetic insulating jacket easily.



Feel free to contact me directly with any more questions about the Alpha SV or if you are interested in setting up an order.



Kyle

Expert Gearhead

klivingston@backcountry.com

801-736-4337
Thank you, appreciate it! Going to think about it!
Bombproof
Familiarity:

I've put it through the wringer

Fit:

True to size
If you're looking for a bombproof jacket then look no further. The Arctery'x alpha SV jacket is as solid as they can come. Due to the price and durability, this jacket is focused for people who buy their gear to use it. I have used this jacket going on four years now and have not had a single problem with it. This jacket is cream of the crop for multiple reasons! Using the Gore-Tex pro shell is like being in a breathable bubble. It stops and beads all water that hits it; given, I have reapplied waterproofing due to how often I use it but even between longer stints of not waterproofing the fabric, it still has stopped all rain and snow. Living in Wisconsin and Iowa it has been put through a pretty solid test of the elements.
Next, the pocket setup is second to none. It is slightly difficult to get used to having a climbing/backpacking pocket set up as there is not a spot for your hands but once you get used to it, it is great. The two chest pockets are unbelievably large; I can fit a large winter hat, a glove, sunglasses, and wallet all in just one of the chest pockets with room to spare. The pocket on the left is great for a quick access location for items such as an ID card or a few dollars. Moving inside, the pockets are awesome for the small things again. I keep less needed cards, some cash, and anything that could be important in there. I have travelled the world with jacket and it has held up through everything.
The fit of this jacket is great as well. I am 5'11", 175lbs and a large is perfect to wear just the jacket and add a few layers for the freezing days of winter. The hood is also very adjustable to accommodate helmets, hats or anything you decide to wear on your head.
If you are looking for the best jacket on the market then this is it. It will keep you dry in any condition you could ever imagine yourself in. The SV stands for severe and this jacket can handle anything that I have and hopefully you will throw at it!

I have a Cerium LT hooded jacket in XL ,....will this Alpha SV fit well as a shell ?....In an XL size ?
Hey Gregory,



The Cerium LT is a trim fit and will work perfectly as an insulating layer under the Alpha SV since it is an athletic fit. Especially if you are using both in an XL.



Feel free to shoot me any questions about Arc'teryx Jackets:

Kyle

Expert Gearhead

klivingston@backcountry.com

801-736-4337
If you haven't already heard...
Familiarity:

I've put it through the wringer

Fit:

True to size
This is pretty much just piling on at this point, but this jacket truly does rock! This piece has been my partner on so many adventures I couldn't even count. Truly a bomb proof jacket that seems to find its way in to my pack every time I head out for a bigger adventure.



The fit on the jacket is one of the best features. I'm 5'10" x 165 lbs. (slightly trim build) and have a size small. This leaves me more than enough room to get a couple of layers underneath the jacket and still have full ROM when raising my arms or turning my head. I wouldn't say the cut of the jacket is generous but it does have some room which seems to sit nicely on the body with or without layers. Lots of comments on the massive and perfectly adjustable hood, and for good reason. The hood on this thing is so nice! It can cinch down in 3 different areas to really customize the fit based on your activity. Pockets on the jacket are unique and take some getting used to, but once you start using them you realize it is so easy to reach across your chest to grab things out of the cavernous pockets. Do I miss hand warmer pockets, yeah, sometimes when skiing, but for the most part, you quickly forget them because of the usefulness of the chest pockets. My only tiny complaint is on length of the jacket in front...currently the jacket tapers from just below your belt in the front to the bottom of your butt in the rear. I'd love like another 1-1.5" in the front to make the jacket work slightly better for skiing. I know skiing is not the intended purpose of the jacket, but a little more coverage should still be ok for tucking the front of the jacket under your harness for the technical ice climbers out there and make it work better for skiers as I'm sure many customers cross this jacket over like myself.



Materials are 1st class GoreTex Pro and seem like they'll last forever. Another big improvement is the handle of the material which is now much less noisy and easy to stuff in your pack.



In the last 5 years this jacket went from being great to amazing. It became less noisy and pack weight went down. I use the jacket for mountaineering, bc skiing, and a myriad of other outdoor activities. If you're looking for a do it all jacket that you'll have for years to come this is the best option IMO.
Best Jacket Ever
Familiarity:

I've put it through the wringer

Fit:

True to size
Is $675 expensive for a jacket? Yes. Is this jacket worth every penny? Yes. This is hands down the best jacket I've ever owned. I've owned Arcteryx stuff for over 10 years, and obviously the made in Canada stuff is the best. This is one of the only remaining pieces made in Canada and is probably better quality than some of my older stuff was. Useful for everything, this jacket is the best. Do not let the price affect your decision on buying this jacket. Medium fits well with room for one layer (800 fill down or smaller). Great articulation in the sleeves so they run a little long and wide to not pull the jacket around on your waist while moving your arms.
Lives up to the hype
Familiarity:

I've used it several times

Fit:

True to size
Was on the fence about this vs a ski specific jacket. What sealed it for me is that it is the ONLY jacket made in Canada. For this alone I was willing to buy it. Functionally it is flawless. 6' 175lbs and medium fits perfect. Fits a light fleece to a thick fleece without restriction of movement. Quality is top notch. This is the ultimate all-around alpine and severe weather jacket.
Perfect design, effective
Gender:

Male

Familiarity:

I've put it through the wringer

Fit:

True to size
In the last 2.5 years, if I've been traveling, this jacket has been with me. I've used it camping, hiking, fishing, kayaking, snowboarding, skiing, and for general daily wear as a rain jacket, windbreaker, etc. I've never wanted another jacket or noticed a problem or flaw.

The product couldn't be designed better, the materials are top notch, and I've never had another hardshell function as well as the Alpha SV. It's an athletic fit that will allow base layers to be worn comfortably. I'm of an athletic build and usually wear a 38 to 40 suit jacket.

Why not 5 stars?
1) Expense.
2) After 2.5 years of regular use, the fabric inside the sleeves that covers/retains the elastic has separated and frayed. This is unacceptable and perhaps warrants 3 stars instead of 4. Still waiting to hear back from Arcteryx.
I'll get it over with: this is the most amazing piece of gear I have ever owned. The price is nothing to scoff at. Is it expensive? Yes. Is it worth it? More than you can imagine. If you can't afford it then save for it.
I am looking between the beta AR or alpha SV. How are the fits different? For the Beta, a medium was a tiny bit too small and a large was a tiny bit too big. Would a medium SV be a bit bigger than a medium Beta or should I go a large? I have nowhere to try one on.
I've found that the Alpha SV will be a little longer than the Beta AR. The sleeves and rest o the body will fit almost the same, but you will notice more length.
I'm wanting to pull the trigger on this Alpha SV but hanging in the balance between the Small and Medium. My body characteristics are the following:

5'9, 175lbs, very toned physique

Normally, I purchase chest sizes at a 38 and usually Mediums shirts.

Any assistance would be great and I'll pull the trigger to purchase.



Thanks so much!



Jay
Jay,



Most definitely go for the medium. I'm 5'9" 140lbs and my small Alpha fits me perfectly with a thinner layer like an Atom LT underneath. If I were any bigger, especially in the shoulders, I'd size up to a medium.
Great jacket
Familiarity:

I've used it several times

Fit:

True to size
This is an awesome jacket. It's roomy and very functional. The articulated elbows fit perfectly allowing movement without an restrictions. The jacket keeps warmth in but breaths so you don't over-heat. Zippers in all the right places. I do wish Arc'teryx would design hand pockets with this jacket. It would be perfect. Great jacket, highly recommend.
Great durability and exceptional fit
Familiarity:

I've used it several times

Fit:

True to size
durability 9/10

fit 10/10

weight 8/10

breathability 7/10

value - depends on how you use it

overall 9/10



Excellent durability. Hiked through rough thorns and bramble for many days... Only one thorn managed to poke through the face fabric. Most jackets would have been ripped to shreds. Climbed on rough sandstone for about a week... Still no evidence it has been climbed in.



Fit... Excellent range of motion while climbing. Never felt like I was restricted in my motion. Wish it was about 1/3'' longer overall for more protection while going for really reachy holds.



Breathability- Wore this in temps up to 45F with the pit zips open. Its comfortable for any kind of climbing and hiking up to moderate output. For colder weather below 30 you can push much harder. Above 45 it starts to get clammy unless you are going really easy.



Weight... Super light and packable for the amount of durability.



Sidenote: I think the higher durability fabric used throughout the body of the Alpha SV vs the AR is worth it if you are planning on climbing in the jacket (especially trad).
The best waterproof jacket on the market
Familiarity:

I've put it through the wringer

Fit:

True to size
I've put this one through the ringer. Size first: I'm 6' and 150#; athletic and trim. Medium fits me perfectly.



I've worn this as a casual rain jacket, I've worn it skiing (with or without layers underneath), climbing, hiking, camping, and everything in between. It's been drug through brambles and thorns, scraped over rocks, and slid down ice and snow. It still looks like new.



This is the most waterproof jacket I've ever had, bar none, and comparing to many, many goretex jackets that are on the market. I have to say...I thought the price was ridiculous, until I tried it. This is a jacket I'll have for 20 years.



I can offer no constructive criticism of it. If you want more pockets or a longer cut, look at some of the other options. For me, the length is perfect because of the versatility and flexibility that it allows.



This is a jacket that forms the basis of my outer layers year-round. In cold conditions, I layer up under it. In warm conditions, I wear it alone. I can't say enough good things about it. This jacket is worth it.
ARC'TERYX Fall 2012 Alpha SV Jacket
ARC'TERYX Fall 2012 Alpha SV Jacket
Arc'teryx terrible warranty service
Familiarity:

I've put it through the wringer

Fit:

True to size
I really liked this jacket until some strange discoloration happened. Contacted Arc'teryx and they told me to contact gore. Really? It's like Apple telling me to contact the battery manufacture. I did anyway and Gore said that it was a manufacturing defect. Arc'teryx tells me they don't agree. Now I have this $700 jacket that has a bunch of strange spots on it. I have been a fan of Arc'Teryx for sometime but will never buy it again. If you buy this jacket just hope it isn't an outlier with a defect or you're out of luck. I have never had a problem with gear for over 30 years (except for a North Face jacket the Gore-tex de-laminated but they replaced immediately. They didn't have the same jacket in stock so they sent me a check) this was very disappointing. I would never recommend anything Arc'Teryx again on the small chance there was a defect. They just don't care.