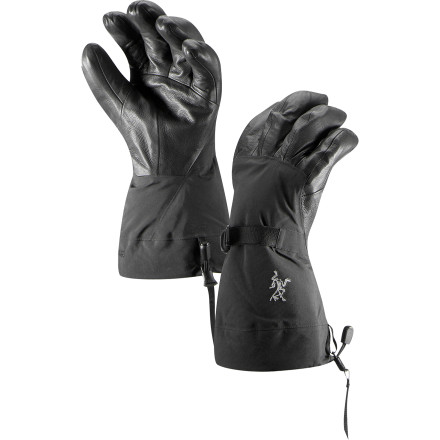 Detail Images

Community Images
When you're guiding, be it tourists in Nepal or three-year-olds in northern Minnesota, you need all of your digits to be warm and in working order. The Alpha SV Glove, Arc'teryx's heavy- hitter in the winter glove division, was designed with you in mind. Crafted from guaranteed waterproof, windproof, breathable N80p-X Gore-Tex Pro and lined with Polartec Wind Pro, this glove leaves no question as to who is the leader of the winter glove pack.
Arc'teryx applied its innovative Tri-Dex design to the Gore-Tex Pro and Polartec lining, and molded them into a glove that lets your fingers flex naturally, flipping birds or finding stable ice for climbing. The Lezanova leather palm overlay stays soft and adds a bit of grip to minimize the chances of you losing your grip on a tool or ski pole. The fully-articulated Gore-Tex Pro outer glove slips over the removable Polartec Wind Pro high-loft fleece liner. Wear the liner alone when you're trekking to basecamp in afternoon sun, or pull on the Gore-Tex shell when your guiding in temperatures hovering close to zero.
It's easy to get caught up in the fabric, but the Alpha SV glove has more to offer besides superhero-level materials for when you're going big in the backcountry or teaching the telemark tune-up clinic in January. A removable wrist leash prevents glove loss, an external wrist cinch with ladder lock buckle secures the glove in place, and a wide gauntlet slips over most jacket sleeves for an extra layer of protection against the elements.

N80p-X Gore-Tex Pro 3L shell
Lezanova leather palm overlay
Removable Polartec Wind Pro liner
Tri-Dex technology, precision touch and dexterity
Elasticized wrist cinch, removable leashes
Thank God
Familiarity:

I've used it several times
Have been using these gloves snowboarding in NZ where ice patches are abundant, temperatures around -5c , and lift rides take almost as long as the ride back down.

So first the good. Great dexterity and protection.
The bad. Price is a pretty obvious one, especially for a pair of gloves that are deteriorating quickly after maybe 5 uses. The tips of the fingers are loosing their color and soaking up mositure, the leather is starting to look pretty bad, not sure if they'll make it to the end of the season.
Thank God I payed them half price, so I guess you get what you pay for...
Great design dexterity wise, super natural feel but definitely not a long lasting one.
Bombproof
Familiarity:

I've put it through the wringer
I adore these gloves. My sport is skiing, both in and out of bounds, and we've had a really strange and wet January in Alaska this year. I took these out for six hours in the driving rain and skied hard and my hands stayed dry! They are also quite comfortable temperature-wise for the activity level I generally pursue. There's a lot of intelligent design features, they're extremely dextrous, and seriously the waterproofing is the best I've ever seen in a pair of gloves. My hands are dry in these long after my companions' are soaked. I don't use them for normal daily activities or super-cold/sedentary outdoor tasks - belaying for ice climbing or cold nights outdoors, I prefer well insulated mittens.
Dry and Warm in the Ice Water
I cant attest to the warmth of these as I havent used them in the winter. I am going to give them a try this year to ice climb in as they have incredible dexterity. A test like this impresses me, I promise my hand stayed dry, it was warm but, the glove was only in there for 2 minutes. As an instructor I do have a client that swears by these gloves and has had his for the past three years I have been working with him. You get what you pay for, I know nobody else is putting in as much effort to their gloves as Arcteryx.
In what range of temperatures could you wear this in?
Best Answer
It appears, from the reviews on the Arc'teryx website, that people have pretty mixed reviews concerning these gloves, but a general consensus is that they aren't particularly warm. For instance, one person said that they were "flexible, well built but cold."

People discuss usage in temperature ranges, asserting a number of opinions, but overall, the impression that you end up with is that they would perform decently in temps as low as 10 degrees Fahrenheit (~ -12 degrees Celsius), but one person stated that conditions colder than 25 degrees Fahrenheit result in chilly hands for the user. Another gentleman, while discussing his summit trip of Mt. Rainier, says that "[a]bove 13,000' with 20-30mph winds, snow and temps well below freezing my hands did get chilled," but goes on to say that these are intended more for backcountry outings than expedition-status trips.

These are meant, as one member of the Arc'teryx staff states in an answer to the user, "for cold and wet conditions where you need ultimate dexterity. If you are looking for a glove for really cold temperatures, the Zenta AR gloves are going to be warmer."

In summation, these would probably be good if you don't intend on facing prolonged temperatures in the single digits or teens (brief periods of exposure and endurance, probably, but nothing extended). However, if you expect to encounter excessively gelid situations where you need maximum warmth, these may not be ideal.



Hope this helps! Also, check out the Zenta ARs if warmth is your goal.
My uncle has these and we were snowshoeing in -15F temps. His hands got really cold and he was complaining so I switched him my BD Squad gloves and I wore his. We both agreed the BD's were easily warmer (Squads have insulation and Arc's only have fleece) and cost 1/3 the price. Note that dexterity is less with the BD's in this case.
Not the Alpha of gloves...
Familiarity:

I've used it several times
I am thoroughly disappointed with this glove and Arcteryx for their lack of quality and detail when sourcing the Lezanova leather. The dexterity, the articulation...all perfect. I won't even complain about warmth or lack thereof. My problem is durability. I am a HUGE Arcteryx advocate but this is the second pair of Arcteryx gloves I have had to return this season alone. First the Caden and now the Alpha. Both for durability issues. And both after only 2 days on the slopes. Not mountaineering or climbing...but snowboarding. The problem I have had with both pairs of these gloves is the leather sourced for the palm of the glove. Simply put...it falls apart and wears quickly. Also on the Alphas specifically the color faded immediately once exposed to melting snow. The leather splits quickly and this is after only 2 days. What is going to happen after a full season? I don't want to find out. My Cadens have been sent back for replacement and my Alphas are being returned for a refund. I spend the majority of my time praising Arcteryx and the many exceptional products they offer. I own over 20 products from Arcteryx and use and love them all. Unfortunately this is not the case with the Alpha SV glove. I only wish it were half as bombproof as the Alpha SV jacket.
Not worth the money.
Familiarity:

I've used it several times
I've had these gloves for the past few winters. I barely wear them when it gets really cold because they can't keep up with the Chicago winters at all. My fingers start to freeze in them. They're just nice for the show but not at all warm when you really need the warmth.

Backcountry should read all our reviews and contact Arcteryx to resolve this commen concern since these are not at all cheap gloves.

My wife has a pair if gloves. Not sure of the brand, which she bought on sale at Marshall's for $4.00. They're extremely warm compared to these gloves. I believe they're by Mountain Hardware.
I bought these gloves couple of winters...
I bought these gloves couple of winters ago. My fingers start to freeze in them after few minutes of Chicago winter. I keep reading about extra layering would work in 'em. My question is where to buy the extra layering? Does Arcteryx make the extra layering or heavier/ warmer one? Should it be worn over the existing layering or underneath it?
Best Answer
When people talk about layering the Arc'teryx Alpha SV Glove, they are most definitely referring to an under layer, typically in the form of a glove liner. I would recommend looking at models such as the Arc Phase Liner or Arc Rivet AR.



However, you are not commited to an Arc liner and other brands will work quite well. The Alpha SV comes with a liner, but if it proves to be too cold you may look for something beefier for more insulating power.
Mike is spot on here. Another great option is the Delta AR but you might sacrifice a bit of dexterity.
Best Dexterity and Weatherproofing
Familiarity:

I've used it once or twice and have initial impressions
This glove has the best shell and weatherproofing on the market. I am probably going to keep the size large and I am able to use the wool liner from my guide glove in this. I don't think this is a great glove for very cold weather but for the weatherproofing and dexterity there seems to be no other. Think I will need to go for the warmer liner or use another glove when gets really cold.
Great functionality, could be better
Familiarity:

I've used it several times
OK, lets get the price issue out of the way. Yea, these are stupid expensive in contrast with many other gloves on the market, however if you look for all the features in these gloves, you might find 2-3 comparable pairs.



Even though the medium would have been a better fit, I went with a large under the assumption I would wear a thin wool liner under these gloves. This has always worked well for me in other applications.



Good - Probably the best gloves in the market right now. Full use of waterproof Gore-Tex, ultra small seams of the removable liner glove, super form fitting goat leather, allowing really good dexterity. I also really like the wrist strap, the gauntlet functionality, and the fact they have leashes.



What could be better? - The back of the thumbs could have the critical nose wipe material. Nearly all cycling gloves have this feature and I've become accustomed to having that on ALL my gloves. Some mountaineering and skiing gloves also have this. These don't. Secondly, the wrist leash "keeper" is crap. The strap is OK but the keeper is a silly button you slide to your arm. How effective is it? Not. For 300 bucks I would expect a 2 cent, standard barrel cord lock on the keeper strap.



My finger tips usually get cold, hence my use of an additional super thin liner in these gloves and sizing one size bigger, so I can ball up my hands to make a fist inside the glove. That has worked really well. These gloves are good, but they are not as warm as a mitten.



I've skied in these every day for a couple of weeks in pretty blustery weather in the 20s and teens. They seem really good. Let's see how they are @ the end of the season.


Warmest Gloves Yet
Familiarity:

I've used it several times
I have gone through a ton of gloves. Once again Arc'teryx came through. I could not be more happy with my purchase. They are so warm and with the zip cords they keep the water out when boarding.


I received my new Alpha SV's today, and I am very impressed!! These gloves are true to size, made very well and very warm.. I bought the Cygnus color, ( the leather is a very dark black/green )

very cool looking. I can't wait to try them out..

Arc'teryx makes great products!!!!
Fine pair of gloves
Familiarity:

I've used it several times
This pair of gloves works like the normal outerwear layering system. It has goretex pro outer shell (which is why it is so expensive) and a removable polartec windpro fleece mid layer. To get the best out of this pair of gloves you need to get the glove size right so that you can layer different liner according to weather condition. Wear the gloves alone is definitely not warm enough in really cold condition. Extra liner is required for additional warmth and that is why the glove fingers have a short wide fitting to accommodate extra layering.