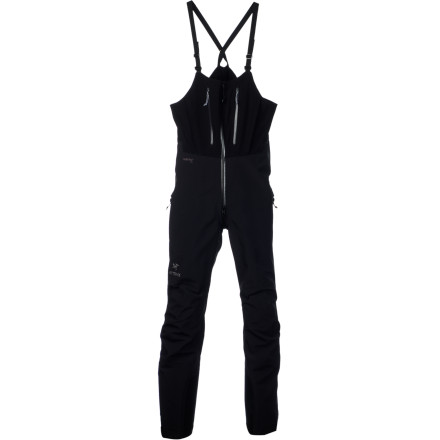 Detail Images

Community Images
As the burliest mountain pants in the Arc'teryx lineup, the Men's Alpha SV Bibs keep you bone dry in the worst mountain storms thanks to three-layer Gore-Tex Pro material. Not only do these waterproof breathable pants fight off horrendous snowstorms with ease, they also keep you from overheating with an ultra-breathable Schoeller Dynamic softshell upper. Waist-to-ankle side zippers provide ventilation and allow you to put on these pants even when you're wearing mountaineering boots. Arc'teryx added a through-the-crotch zipper to the Alpha SV Bibs to make answering natures call a little easier.
Ideal multifunctional winter gear
Familiarity:

I've put it through the wringer

Fit:

True to size
I purchased these last winter and have used them skiing, ice fishing and winter camping in windy -20 or more conditions. They offered great movement while helping my daughters learn to ski. The knee pads are a nice bonus as well. During cold conditions, a set of fleece long underwear was enough to keep me comfortable(proper boots and upper layers needed of course). The continuous zipper from chest to back makes it almost possible to enjoy a book while pooping in the winter woods. The zipper does allow some water to seep through if you sit in some slush. Overall, this was a great purchase going on year three and they are basically like new.
I've had these bibs for about 4 years now and couldn't be happier. Construction is solid, and I only have a few small tears from crampons and skiing into tree branches accidentially. I'm a big fan of the articulating knees and kneepads. No problem lifting my legs when I'm climbing, and the kneepads add some protection when ice climbing and keep the knees warm when kneeling on snow. The full length side zips are a must for me, great for ventalation, but mostly allows for a speedy approach in just base layers and a quick layering process without removing boots. I'm 5'10" 190 lbs and athletic and the L reg fits just fine.



As a product tester for Gore, I'm keen on the Gore-tex line of products and am a big fan of their pro shell material. I typically wear a single base layer under the bibs and have no issues with breathability or temperature regulation. As always, they keep me dry, even when snowmobiling. I alway end up repeatedly getting snow on the seat, and melting it with my bum. With other pants this results in a cold and wet bottomside, but problem solved here.



What would I change? The full zipper between the legs is a good thought, but really cumbersome to manage going #2 while wearing. I've done it plenty of times, but your other layerscan only be pulled down to the crotch of the bibs regardless of the zipper being open or not. Other than that, those sneaky little chest pockets must be zipped at all times if you don't want to lose the contents. I've managed to lose a camera in one instance, and ID, credit card, and 40 swiss francs in another.



I will definitely get another pair if mine ever die.


Super Hero Bibs!
Gender:

Male

Familiarity:

I've used it several times
These bibs will make you feel like a super hero. They simply deliver. These are going on sale now because Dead'Bird is coming out with an updated version in Fall 2013, which makes the current version a steal at these prices. Everyone knows what Goretex Pro is all about so let me give you a review of the fit.



I'm 6'1" 185 and wear XL in all Arc'Teryx jackets--for the pants I go XL long. I have very broad shouders and a 45" chest. I wear 36" waist and 35"/36" leg pants. For these bibs I went XL Long and the fit is tailored to perfection. I was concerned there might be too much dead space in the chest/stomach area of the bibs, but with the athletic fit stying that wasn't a problem. With a single light base layer on top the fit is roomy but not baggy. If I add another light layer it feels very comfortable, not too tight and not too loose. If I add the Atom LT under the bibs and base layers (probably not going to use them like that most days out) the fit is still near perfect. The stretch material in the torso area of the bibs really allows for you to put a few layers on under the bib, but it doesn't mean the fit is too baggy, with just a light base layer on.



I have plenty of room in the crotch while wearing tights and fleece pants and the leg length is pretty good with my boots on--maybe an inch too long. My advice is if you are 6' and over go with the Long option, you will appreciate this when your pants are clipped into your boots and you have to make high step maneuvers--you won't have any pulling or tightness in the crotch, which is how they should fit. When in doubt always size up on the pant lengths.



You will need to adjust the suspenders some to find the sweet spot, but once you get dialed in these should fit like a finely tailored suit.
What is the inseam in the short version?
What is the inseam in the short version?
The Arc'eryx website doesn't specify, but typically, short is 30" reg is 32" and long is 34"
If you click on the size chart above (by the price), it tells you that short is 28.5".
Do I need to take off the pants to take a...
Do I need to take off the pants to take a dump? I suppose the zipper between 2 legs can be opened?
It has the through-crouch zip goes all around. No need to peel off for taking a dump. You can take a dump with your harness on.
I usually have a base layer and a fleece pant on underneath for cold days. Just the base layer in the Spring and have the zippers open a bit. They are great.
Just leave them on. The Gore-Tex will do its job and keep you dry!
No way... Not possible, unless you are going commando under the bib. There is no way to pull down your mid-layer pants/boxers etc when wearing the bib. Not enough to do anything but a standing pee.
So I'm really interested in how these pants...
So I'm really interested in how these pants do in the really cold temps and in the really warm temps. can anyone help tell me? im more interested in how these perform in warmer(spring) days
They're made from Gore-Tex Pro Shell.. You have a pro shell jacket, it'll be about that warm. I think for spring it's alright, but I find it strange that you'd want to wear a bib through spring. In the winter, you'll need a base and mid layer.
Hi, I see these have no internal gaiter....
Hi,

I see these have no internal gaiter. How do they keep out the snow when I'm trudging up the untracked trails?


how come no one answered this question? I am wondering the same thing
Pockets great! No gaiters bad! WTF anyway?
Arcteryx's Alpha line is designed for climbing and alpinism. I've never tried ice climbing but I have done a glaciated summit and I didn't need internal gaiters for that. The layout of this bib is designed to be used easily with a harness. I believe the reason Arcteryx left out the internal gaiter is because it isn't common in winter climbing or alpinism.
I have the older model. It has two holes at the hem, you can thread a bungie cord through the holes. After you put on the bibs, you let the bungie cord go under the sole of your boot. It is sorta like the fastener on a gaiter. The leg openings are smaller than the ski pants because it is not really for fat ski boots. So when you secure the hem to the climbing boots using the bungie cord, the snow can hardly get in. I use them for BC ski and winter ice climbing and found no snow inside.
Amazing Pants!!!
Gender:

Male

Familiarity:

I've put it through the wringer
These pants are amazing!! They are very heavy weight and durable. I use these pants for everything from AT to strait Alpine. You do have to layer since there is no insulation but my Arc'teryx pants and some wool long underwear make life beautiful. I am a gore mountain tech that believes that these are the best that Gore has to offer. An added perk is the pockets in the torso area. Great place for wallet. You will not be disappointed here.
I'm 5' 8" 155 lbs. Do I get a small or a...
I'm 5' 8" 155 lbs. Do I get a small or a medium?
If you need others to judge sizing for you, you need to quote waist size and inseam--this is how pants are sized. Probably a Medium, which is ~33" waist. Then you need to get the length for your inseam, S=30", M/R=32", L/T=34". Search for "size" on this page for Backcountry's fitting help.
I have used these pants extensively, from mountaineering trips to Mt. Olympus, to backcountry, multi-day snowshoeing trips in the Cascades. These pants are exceptionally well made. The fit is fitted without being tight, and not baggy. The ProShell holds up like a champ and the full length zippers are a great feature as well as the crotch zipper. Highly recommend. *note: I was given these pants as part of the MountainTechs program. However, even if I was not, I would have written the same review as I truly believe in Arcteryx products.
Hi guys, Planning on getting these bibs...
Hi guys,

Planning on getting these bibs for winter alpine climbing, ice, and also ski tours where I will be waist deep in powder.
I am trying to chose between the Alpha SV, Theta SV, and a few others like the Patagonia Super Alpine.

How do the Alpha SV's go with trudging through the powder? Does anything get through the hems? I can't wear any external gaiters as this interferes with the touring boots I wear when I put them in walk mode.

Also, what makes these bibs more purpose built for climbing than the Thetas? If the Theta has everything that these pants have, plus the internal snow gaiters, I would just use the Thetas.
These are a bit burlier than the Thetas, which are more meant for Skiing. I have heard great things about the Super Alpine bibs, personally. They're made with the same fabric as the SV, and the fit is supposed to be fantastic. That said, the SV is a classic, so honestly, you could flip a coin, or just go with whichever color scheme you like better...
Bought the large, fit perfectly. I have an average inseam and length was perfect as well.
Tough as nails and very versatile
I bought a pair of these bibs in 2005 to be worn as a do-it-all outer layer for wear in the mountains while performing law enforcement duties,including crawling over rocks,through brush,over and under vehicles while winching people back up onto the roads after they had slid off in the snow. I bought them larger that needed to allow for wearing mid-layers as needed depending on how warm or cold it was,and still allow me to wear by body armor inside to keep it dry. The full length chest to lower back
waterproof zippers come in handy for when nature calls...I don't even have to remove my gun-belt from around my waist.The side zippers from hip to ankles make it easy to allow for built up heat to escape and to stay cool inside my patrol vehicle. The elastic cinch-cords afford a quick and easy means to snug the pant legs tight around the ankles of your boots when in deep snow or when on snowshoes,skis,or crampons.With the small grommets on both the inside and outside lower edges of the legs,attach a piece of elastic cord to go under the arch of your boots,and you are as close as you can get to a gaiter.They're going on seven years of full-time winter use,and they look almost new. Clean and waterproof them with Nikwax or similar products designed for gore-tex as needed, and they will as warranted,last a lifetime.
I think I tried on every bib BC sells, and these by far had the best cut/fit. In reality they've been super functional as well. An extra pocket or two might be handy, but that's splitting hairs in my book. Arc'teryx nailed it with these puppies.

I'm 5'7, 150, and the small is perfect. Shoulder straps are adjustable seemingly to any frame.
Great Bib, But The Zippers...
I have had this bib for a few years now and have used it in many severe weather situations. I have found that it works perfectly as a ski pant, rain pant, sailing bib, and all around tough pant. The only beef i have with this particular design is the excessive use of zippers, I know that this is built for intense ice climbing, but this is also the only high enough arcteryx bib to work for ocean sailing. The zippers are far from waterproof, even though they are laminated they still leak quite a bit when in contact with driving water or rain. This is a big problem since zippers run all the way down both legs and down the crotch and up the butt(this zipper looks very funny and will get alot of awkward remarks).
My go to piece when I need full weather protection. Well cut and easy to climb in.
fantastic, if you can afford them!
These bibs are fantastic for anything mountain. I use them above my soft-shell pants for mountaineering, ski-mountaineering, telemark skiing & ice climbing when weather & conditions dictate. The double zipper on the side zips are perfect as you can open them up to get great ventilation and breathability when chugging up-hill, and quickly close them if heading down-hill in powder when you don't want a snow drift as one of your layer's. I did replace the cords on the zipper with some longer accessory cord I had so that I could more easily pull them with heavy gloves on. Also love the keprotec on the inside of the ankle's. Could use that on the seat as well. Mine have an inner snow collar, so not sure when the version changed for the fellow who commented on that below. The only reason I don't give these 5 stars is the price tag.