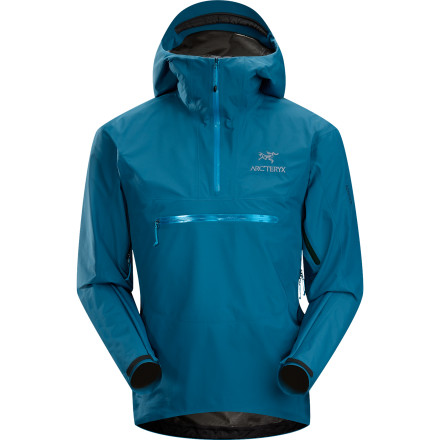 Community Images
The Arc'teryx Men's Alpha SL Pullover epitomizes the light-and-fast ethic. This 11-ounce shell features Gore-Tex Paclite shell fabric for waterproof breathable protection on lightweight backpack trips and alpine rock climbs. The jacket's underarm vent zips let you dump heat when you need to, and one vent zip extends all the way down to the hem for easy-on and -off even when you're wearing a helmet. Fully watertight zippers eliminate leaking. The adjustable storm hood fits over your climbing helmet, and the jacket stows in the front kangaroo pocket when the weather clears.
Almost great
Familiarity:

I've put it through the wringer

Fit:

Runs small
As others have already stated in reviews, this is a pretty great jacket in a lot of ways. It will keep you dry and out of the wind. No question about that. So as far as accomplishing its intended purpose, it does the trick. However, a 100 rain shell will accomplish that as well, maybe with a little less breathability. So what makes this shell so expensive, even on sale? A lot of reviewers have said that the fit, the fabric, the attention to detail, and especially the dead bird on your chest are reasons. Here's how I feel about each of those.

Fit: Good, not great. I'm about 5'10, 165 lbs, I got the small, I wanted something that fit close to my body for summer hiking, biking, all around wear. It fits pretty well, the arm length is perfect, and the back length is good, but the thing comes above my waist and belt buckle in the front, and I have a short torso. It's just too short. When riding a bike, it's nice, but when just walking in the rain, a t-shirt hangs out the bottom. The proportions are just a bit off. I also have a medium in another Arcteryx alpha jacket (full zip), and the length is much better in the torso, but pretty long in the arms.

Finish: Amazing. Worth paying extra over budget shells. The fabric is awesome, more durable than other options, zippers work, seams are sealed perfectly, it's just great. The attention to detail is also impeccable, down to every stitch. It's hard to put it on and go get it dirty, it's just that good looking.

Performance: Good. It's gore-tex, and performs like gore-tex. Semi-breathable, ultra waterproof.



The main thing I dislike is the pullover. I thought it would be great, you keep more water out and it's lighter, but it's annoying after a while. I prefer a full zipper. Unless you're going to keep the jacket on for hours on end in rain, it's nice to have a full zip to vent, remove the jacket easily without pulling over your head, and just makes it more comfortable.
Is it possible to get this jacket in the...
Is it possible to get this jacket in the Platinum color here?


Unfortunately we are now sold out of the Platinum and do not have any more on order.
3 years old
Familiarity:

I've put it through the wringer

Fit:

True to size
I got mine about 3 years ago. It is the most universal piece of equipment I own!!! I keep it in my pack while commuting to work. I have used it inthe dead of winter in 20 degree weather and in the summer during a rain storm while commuting. It has a nice generous cut and poncho mode is amazing. You could vent this jacket like you would not believe. I even worn it skiing in a blizzard once. I just layered accordingly and the pac lite kept the elements out. I am beyond happy about this purchase and can't wait to buy a new one in a different color!
Great Alpine Jacket
Familiarity:

I've used it several times

Fit:

Runs large
This jacket is extremely versatile and stows into the hood. The hood itself fits over the top of a helmet very easily. The side zippers are convenient to prevent overheating and easy on and off access. Verdict: This is a jacket I bring on all climbs and hikes and will certainly be getting more gear from Arc'teryx in the future.
Love this jacket. Super lightweight and still pretty durable. The very adjustable hood is a key feature as well. It's big enough to fit over a helmet but can be adjusted down to fit well without one also. The jacket has a bit more of a tail on it than I expected, but that is very nice for biking. I am 6'2" ~180 and the Large fits me well.
Trying to decide between a Medium or Small....
Trying to decide between a Medium or Small. Will be using it mainly for cycling and hiking. At the very most will probably have on a tee and lightweight mid layer underneath. I'm 5'9", 155lbs - athletic build. 38"chest and wear a 29" in pants.
Best Answer
I'd definitely go with a Medium. I'm almost exactly the same size as you and I wear a Medium in Arc'teryx. It's a pretty athletic fit, but certainly leaves enough room for a 100- or 200- weight fleece underneath.
You could probably get away with the small if you like the length. The Alpha SL fits pretty wide in the chest and if you have a very thin mid layer it would work. It will be a trim fit but it really depends on how you like your stuff to fit. You could always order a medium and a small from backcountry and try both on. Return the one you dont want (backcountry has the best return policy in the business).
Thanks for the replies - I don't want too much excess material that will just flap in the wind. How big a difference is there in the length between a Med and Small? I went over the size guide on their site and I sit right on the numbers listed for small. But I've never found many sizing charts useful. I'm in Australia so returns are something I would want to avoid. The only other Arcteryx gear that I own is a Rho AR fleece top in a Med - pretty comfy fit, not too tight. But from the reviews I heard they run small so I ordered a Med.
I have a small in this jacket, and I'm 5'9.5", 165lbs, about a 38 in the chest, 32 waist size. With just a t shirt or two on, it fits well, the length in the arms is just right, and the body fits well. If I put a base layer on that's any thicker than a t shirt, it starts to feel a bit tight. The length in the front is short, it sits right around my belt buckle, but in the back, it's a good bit longer. For bike riding, it would work, especially if you want a tighter fit, and the drop hem will keep your crack covered. If you're looking at wearing a base layer and a t shirt most of the time, I'd probably size up to a medium. Both will work. If you want a tighter, slimmer, more stylish looking jacket, get the small, it will fit well. If you want a little more room for layering, get the medium, and just expect that it will be a bit baggy through the torso and a bit longer in the arms.
I love this jacket so much I bought a second one. I'd been searching for the right jacket for a long time. Onre that performs as well as it looks and I have found it in this one. I needed a jacket that performs well in hot and wet conditions and in cold and wet as well. This jacket meets my requirements perfectly.

The first one was great but a fraction small for me and other than that, I can't fault it. I'm 6' and 185lb and the medium was a little tight. I've since ordered the XL as I want extra room to wear warm bulky gear underneath the jacket. The full zip down one side is brilliant for getting the jacket over bulky warm clothing and then zips up nice and neat

We have had a really wet summer down here and this jacket has kept me very dry and never let me down in some extremely heavy rain.

The hood design is fantastic and there are a number of adjustments that can be made to get the fit just right. I've never had a jacket with a hood that fits so well. Even in heavy rain it never leaked and I could maintain visibility and full movement.

The jacket also performs well in hot, wet conditions. The zipper vents under the arms allows for plenty of ventilation and the jacket breathes well when zipped up.

The Kangaroo pouch is great too and access is very easy. I like to keep snacks in there and it does the job and I barely notice anything is in there.

If you're undecided, just buy it, you won't regret it.


This lives in my pack, first thing in every time. Day hike, camping with the family, or Phish concert in Colorado, I know if a sudden storm comes up I am covered.
Wallet, phone, keys, knife, Alpha SL
... this shell comes with me nearly every single day. The weather shifts fast here and the Alpha is so packable, it's stupid not to bring it along. I've never owned a garment that fits so perfectly - I'm 5'7", 135 lbs, climbing build, and the small looks like it was made for my body. I can wear it with low-loft down layer underneath with no issues at all, and the spacious hood accommodates every helmet I own, even my bulky ski brain-bucket. The DWR wears a bit after a few years of almost daily use, but while the beads don't fall off like they used to, I have never gotten wet wearing this piece. Beyond that, I constantly get compliments on the jacket, which is hard to believe given everyone in Boulder is a gear-snob like myself. I can't think of a single bad thing about this shell.
Nice jacket, fairly light, simple, clean lines. Not sure it's worth the price tag in all honesty. Got it on sale and I'm happy, but it's not all that special. That said, no regrets. Be prepared for: oversized hood (great over a helmet, ok without when cinched down), baggy fit (nice in winter), long sleeves and hem (love), asymmetric pit zips, arc'teryx logo (it's what you're here for).
Im 6'4, 215lbs athletic build. The Alpha...
Im 6'4, 215lbs athletic build. The Alpha SL full zip fits very short in a L, but is way too baggy in an XL. Anyone know if the pullover is any different? Should I go with a L or XL?

Thanks
Best Answer
Hmm. I'm 6'2" 170lb with the large pullover. My house mate has the medium full zip. Based on those I'd guess the pullover and the full zip fit pretty similar for a given size. The pullover is pretty baggy through the chest, and fits pretty long. I could easily have gone medium and given up some layering room without worrying much about length. All that to say, go with what you'd choose in the full zip.
I'm 5 8 ', 160, should I go with the medium...
I'm 5 8 ', 160, should I go with the medium or small, I'm planning on using it for my 64 miler race in January, I'll definitely have a layer or two underneath.
I'm 5 11' and I have a medium and layer an ibex indie wool hoodie underneath, and a down hoodie under that while in camp no problem.
Not sure if you're still in the market or not, but I agree with jusp (above). The medium should be a perfect fit, even with a few layers underneath.
Alpha SL-Bombproof and simple
Gender:

Male

Familiarity:

I've put it through the wringer
Pull it over your head, zip it up and go. Is it raining? Pull the hood over your head and use the cinches, the visor is absolutely perfect. Hot? Pull the 8 inch pit zips all the way open. The GTX Paclite even feels good next to skin, add that to the pit zips and a breeze and you've got a good temp regulator system.



I've taken it through 50 yards of thorns (nasty Devils Thorn), sat on it, dried the inside over a fire (had ice form overnight in it, oops), and guess what? Not a scratch on it..bombproof.



I'm 5 11', 160 lbs, have ape-like arms, I got a medium and routinely layer a puffy underneath no problem.



This things a workhorse. Buy it. It's that simple.
Does the job
Gender:

Male

Familiarity:

I've used it several times
perfect for layering
great simple jacket
Gender:

Male

Familiarity:

I've used it several times
I bought this to be my go to hard shell and I'm not disappointed. Very light weight, great fit, ample venting, and pack ability. With the hood was not so big but I was designed for helmet use, and you can get it tight enough on the head to not be a bother to much when not wearing one. overall if you don't need hand pockets and you like simple effective designs then this coat may be for you.
i want to buy this. im 5'11 and around 165...
i want to buy this. im 5'11 and around 165 pounds. i plan to layer a bit under it with maybe a sweat and a long sleeve flannel. which size should i get?
Go with a Medium if you want an athletic fit. Go with a Large if you want a more baggy fit.
Hey I was just wondering if this jacket...
Hey I was just wondering if this jacket would be suited to the city environment and at uni? I have a TNF venture jacket and it's peeling like crazy and is no longer waterproof after 6 months
Best Answer
Arc'teryx's SL jackets are made from Gore Paclite. It's a lightweight material that sacrifices durability for weight savings. If you plan on wearing this around campus, look at the Pro Shell (AR or LT) models or Hybrid models. They'll take a bit more abuse than a pure Paclite jacket.
The Alpha SL is a minimalist Paclite rain / wind jacket in a great cut with nice features. I love the one sided zipper. The front pocket takes some getting used to, but once you easily reach in there and pull out your cell phone/Cliff bar/GPS while wearing a pack I think you'll appreciate it.
The colors are unique as well. Keep in mind that this is a Paclite jacket. It will take a beating but it is still a light weight garment. And it's crinkly.
I have used it as a wind breaker while rock climbing and have yet to permanently scuff it, but I've been semi careful. Wearing a 20 lbs pack for 3 or 4 miles at a time has done nothing to it at all.