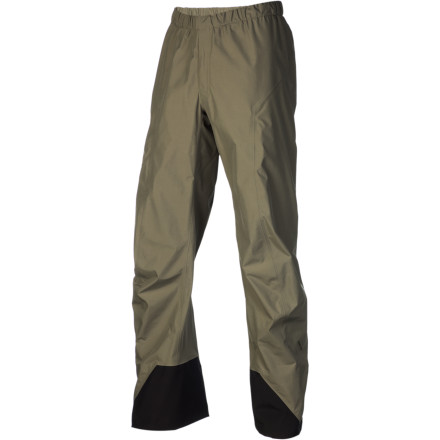 Detail Images

Community Images
Whether you need shell bottoms for an ultralight alpine climb or for a backpacking trip, the Arc'teryx Men's Alpha SL Pants fit the bill with their minimalistic design and low 9oz weight. Waterproof breathable Gore-Tex Paclite fabric gives these pants the performance to keep you dry through a mountain storm or West Coast downpour. The Alpha SL Pants include a gusseted crotch and highly articulated knees to provide total freedom of movement on steep, technical terrain and rocky sections of trail. Arc'teryx added three-layer instep reinforcements as an added bonus to anyone who has ever shredded a pair of pants with crampons. *Only Available for US Shipment.
Share your thoughts
What do you think of the
Arc'teryx
Alpha SL Pant - Men's
? Share a...
Stay Dry
Familiarity:

I've used it once or twice and have initial impressions

Fit:

True to size
Always stay dry but with great breathability. These are true to size. I have only used them a couple of time but they seem to be very durable.
Great pants so far
Gender:

Male

Familiarity:

I've used it once or twice and have initial impressions
Wear it one time on glacier travel in Patagonia Austral... breathability was great on normal wheater.

Used it in Chalten on a rainy day for 2 hours... the alpha's keep me dry.

So far... so good.
I'm a big guy - but need a 30" inseam....
I'm a big guy - but need a 30" inseam. Does Arcteryx make anything for us in a wind/rain pant?

I have the same issue. Just found the Arc Teryx Alpha Sl pants in XL Short (30") fit me great. I am 31" inseam, 36" waist with thick legs. I found the XL Short is just the right length and leaves enough room to fit over hiking pants.
Good Product
Gender:

Male

Familiarity:

I've used it several times
I wore these on a 6 hours hunting trip in heavy rain, with much walking in tough terrain. The pants kept me dry all day. I did get moist from physical activity, but would say the pants is quite breathabel. I normally use S from Arcteryx, but bought these in M to be able to layer underneath.

I have also used the pants on several fishing trips with only base layer under. I find it to be a good windbreaker as well.
I wore these quite a bit on my most recent trip to Alaska as a wind breaker and for rain protection, even though we got quite lucky with the weather and it never poured cats and dogs.

I love the Goretex material! One day, my lightweight hiking pants got a little wet while canoeing. Back in camp, I just put on the Alpha SL pants right over my wet hiking pants and a couple of hours later, I was completely dry again. The entire time, I stayed quite nice and warm. Another day on a strenuous hike, it never got too hot - hooray for Goretex!

I also like that there's a fly. No pockets though!

For me, it was between the Alpha SL and the Marmot Minimalist Pants. I decided for the Arcteryx, because it had a little more room (allows for more layers underneath) and a fly.
Do not buy these.

Was mountaineering in Patagonia when the outer fabric delaminated from the goretex, and the zippers came unglued from the rest of the pant. So I found myself in a raging storm with negligible protection because my equipment failed. What happened was the outer fabric delaminated and I literally glued the 2 fabrics together when the same thing happened to the zippers down the leg. Thought I might have torn them myself but... happened on both sides the exact same way, in the same fashion as the delamination occurred. The tears were resultant of the gaping holes caused by this failure.

These are not suitable for alpine environments, ice climbing, mountaineering, backpacking, rock climbing... I would trust them to walk around a golf course in. Maybe.

If you are buying these to actually use them go elsewhere. Mountain Hardwear, Patagonia, OR, pretty much anything other than Arcteryx since they moved to China without adjusting their prices and letting their quality slip. Really guys???
Arc'teryx still holds the torch
I own the black in a large and I am 6'1''/180 lbs athletic build. I went with a medium first and they fit a little snug and I definitely couldn't wear anything underneath them, so I returned and got a Large and they are great. All Arc'teryx gear is top of the line but sometimes their price tag is a little perplexing...I wore these for a month in the Seward Peninsula/arctic circle region of Alaska and if it is warmer with rain (with pants on underneath) they are a little hot which may be expected but it isn't unbearable and the gore-tex breathes very well compared to any other non-goretex rain pants. They shed water nicely and with the alpha jacket in black you also look pretty badass as well!
Great pants, but as mentioned previously in reviews here the zippers are the weak point.

Zipper on the right leg tore away from the pant three days into a 10 day trek!
Performace A+, Durability C-
Got these pants primarily for backpacking in the PNW and some light summer skiing.
They are very comfortable, pack very small, and are average weight.
The waterproofing is 100%.
BUT, both zippers tore away from the fabric at the ankle. Even though Arc-teryx hooked up some different pants on warrantee, I was bummed because I liked these so much.
Bottom line: excellent pants, not durable enough for skiing.
No they are men't for alpine climbing, ice climbing, backpacking.
Can these pants realistically be worn...
Can these pants realistically be worn during March on Springer Mountain GA? I am looking for hiking pants that can serve multiple purposes during a thru hike on the AT which includes cold snowy weather in the mountains of GA, NC TN.
The Alpha SL will keep you dry for sure. If you're going the for the whole deal, another option is the Alpha LT pant, made with Gore ProShell, which will get you better durability and breathability, as well as full side zips.
How do you adjust the pants around the...
How do you adjust the pants around the waste? It does not look like they have belt loops.
There is a drawcord in the waist and elastic as well.
I am undecided between M and L - my jeans...
I am undecided between M and L - my jeans are 33", but if I measure my waist it's way more than 33", closer to 36". Now, I also got Arcteryx Gamma AR pants, and couldn't fit inside M size (just slightly too tight) - anyone know if the measure from the waist is the same between these two pants? As I am slim, I would prefer size M for less baggy pants, if they would fit from the waist.
The size of the two pants should be the same. The one difference with the alpha is the fit in the waist. The alpha comes with an athletic fit which allows it to stretch, compared to the Gamma pants which have a trim fit.

Based on you having a 36" waist I would go with a Large. Also if you are tall ( 5'11 and up) you should go with the tall inseam, but if not just go with the regular inseam
Hi,
Could you please tell if Carbide color...
Hi,
Could you please tell if Carbide color pant is like a light beige?
Thanks.
I'd say more like a standard beige. It's not too light so that every speck of dirt will show up. The color on my monitor looks just slightly lighter than the real thing.
I am very tired of carrying separate...
I am very tired of carrying separate waterproof rain pants that feel and look like the ones off an MC Hammer video clip. I want ONE pair of pants that feel ultra comfortable that I can use as my permanent (rain or not rain) hiking pants. They must be totally water proof and tough enough to wear at all times. Any ideas?
These look like they may fit the bill....
These would work great and have reinforced bottom cuffs, but like any waterproof pants, you're going to be pretty hot if it's warm weather. You'll get better breathability and durability by going with something made from Gore ProShell (of course, they're more expensive too) You could check the Alpha LT 1/2 bib for another option.
Fjallraven's bushcraft pants (about 40 different types!) have no equal in versatility, but they're hard to get, and pretty expensive. I'm wearing a pair of Kebs right now, and I could not be any more stoked about a pair of pants. They're -the- most comfortable pants I have -ever- had. If, after research, they're something you're interested in, www.route62.eu will ship to the US. I rarely carry rain pants either, stopping to put on -another- pair of pants has always seemed ridiculous. I'd recommend quick dry nylon RailRiders, which are tough enough for anything, but they're not completely waterproof, just water resistant.
Hey now! Just thought I'd let potential buyers know that these pants are sweet. Kept them in a shove it pocket for quick access which was needed frequently in July on the JMT. They slipped quickly over my boots without a hitch and not a drop of rain nor breath of wind got through them. I was concerned at first about ease of mobility when clammoring up high steps, but it was a non issue. I also found them to be bomb proof in material integrity in the slot canyons of Utah. Yeah, they are spendy...but worth every penny. Jeff Reid, San Diego
way too long for the size small. I don't know if there are people with such long legs and there is no way to shorten this pants. Otherwise I think its a good pair, I haven't tried it out.
Hi!

I am 6 feet and 31" waist and went for the size medium with tall inseam. I had tried the regular inseam in store and was finding it a bit too short. The tall one is a bit to long though but still work out. I kind of feel the perfect length would be in between these 2 inseam lengths though.

Medium fits me great... allow room to wear over a pant or not.

I am not a huge fan of the waist structure though. I would have preferred by far a proper zip and button to close the waist rather than this one piece "elastic" waist.

The quality of the goretex, seams, and overall finish apart from the waist is very nice.
I took these pants hiking, biking, canoeing and they sure do a fantastic job at protecting you from the elements. I haven't had any problem so far (like scratches). Though it's a lite goretex, it seems pretty strong but I am pretty cautious and aware of what's around when I move too.

Recommendation to Arcteryx for future improvements:
- change the waist system to a pant like with zip and button
- maybe re-enforced the knee areas the same way than the bottom.
- keep 2 or 3 different sizes for inseam- add 2 zip pockets on the side
These pants are tops! I am 5'11" - weigh in at 175 pounds and have a 33" waist. The size medium fits well with all articulations in place and room for layering. They perfectly balance lightness of weight and durability and pack down to nothing. I bought these pants (after returning the MH Typhoon) for a fastpacking trip across the island of Hawai'i and they have since become a permanent piece in my UL-Kit. They are classically Arc'teryx in quality and price. Worth the cost as these are pants I trust!