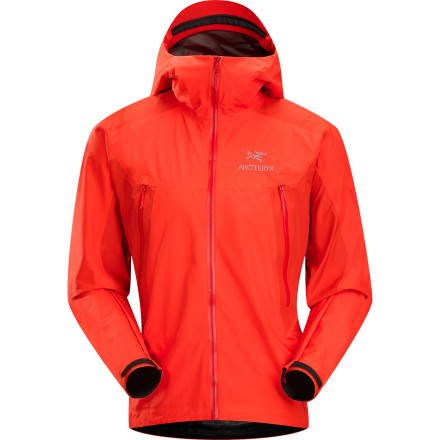 Community Images
The Arc'teryx Alpha SL Hybrid Jacket uses super-tough Gore Tex Pro Shell in areas of high stress, like the shoulders and underarms, to add durability. The body, sleeves, and hood of the Alpha SL Hybrid are Gore Tex Paclite, which reduces weight and increases packability.
Gore Tex Pro Shell on the shoulders and in the underarms for added durability
Helmet-compatible Storm Hood with volume adjustability
Laminated watertight zippers for complete waterproofness
Gusseted underarms for added durability and unlimited range of motion
Athletic fit is ideal for layering under or over
Lightweight and can do it all
Familiarity:

I've used it several times

Fit:

True to size
Had this shell for a while now and I'm really loving it. Don't want to reiterate everything else that's been said, but I will say that this jacket is light, fully-featured, packable, and comfortable. I've worn it hiking, around town, skiing, and I'm sure I'll wear it climbing. I've worn it over layers and I've worn it over just a t-shirt. Always fits/looks great. Helmet-compatible hood is great and easily fits over my ski helmet (Smith Variance, Medium).



I do have a few gripes and oddly enough they all are about the zippers:



- Front zipper is a single-pull non-waterproof zipper, whereas I would prefer a double-pull waterproof zipper on the front.

- Front zipper can be hard to zipper if the hem is drawn tight (just takes a little fiddling to zip up)

- The attached zipper pulls are very small cords that can be difficult to manipulate with cold or gloved hands. (However, this can easily be replaced at home)



All in all this is a great jacket if you're looking for a light all-rounder that isn't bare bones and delicate.


Great lightweight shell
Familiarity:

I've used it several times

Fit:

True to size
I needed a new rain jacket and I wanted something durable. I didn't want something as heavy as my Theta SV, it was just a light rain shell I was looking for. I was planning on going with just gore paclite but then noticed that the Hybrid shell had reinforced gore pro shoulders. This was the feature that sold me since I didn't want my jacket wearing out under a heavy pack. So far, I've used this jacket as a light back up to my softshell for windy summits and have used it a few times under rain and snow. Keeps the moisture out and breathes well (plus the pit zips)! What more do you want from a shell? The hood is also great since it fits it over a climbing helmet but also cinches down very well. Overall: great jacket with well thought out reinforcements.
10 Below
Familiarity:

I've used it once or twice and have initial impressions
Freezing...Fahrenheit. I bought this jacket as an outer layer for my Cerium LT Hoody. This is urban wear for me folks. I used this to tackle a mountain of leaves in my backyard. It works great with an insulation layer in an already harsh Michigan winter (fall). Nighthawk it's navy; you're welcome.
Great Shell, depending on what you want.
Familiarity:

I've put it through the wringer

Fit:

True to size
If you want a fast, light and quality rain jacket, this is the one for you. Being a rock climber, I need something that will keep me dry through a flash storm but also very packable and light. This was my solution and I find myself using this jacket almost every day. Not only is it a fantastic rain jacket, it is also a great wind breaker and a layering piece. I throw this jacket over my Atom LT and it keeps me dry and warm throughout my daily commute and when I go on weekend backpacking trips, this jacket stuffs into a water bottle pocket for easy access.



With that said, this jacket is made with Gore-Tex Paclite. At first, it performs well but after heavy use, the face fabric starts to bleed through. This does not affect the water-proofness factor of the jacket, but if the face fabric bleeds, it greatly reduces the breathability of the jacket. I've already treated my jacket with DWR twice in the last 6 months. Paclite is great but if you want a truly bombproof jacket, I would recommend a better fabric, something like the Alpha LT or the SV. These jackets use better face fabric that beads the water better.
Can anyone tell me why the pull tabs to...
Can anyone tell me why the pull tabs to adjust the hood are on the inside of the jacket? Seems to me that this makes hood adjustment a lot more cumbersome because it requires opening the jacket, rather than if they were on the outside.Help a brother out would ya Phil?
Best Answer
It's the kind of thing that's a pain if you have to adjust it on the fly, but better in the long run. Adjust it before you need it so that it'll turn with your head, and then you won't have to mess with it. The advantage is that 1) it can't get caught on anything or flap around in the wind and 2) there's no hole for string in the outer layer of the fabric.
Makes a lot of sense thanks Angus.
Yep, there you go. Angus nailed it.



"no hole for string" is awesome!




Seems good so far
Familiarity:

I've used it once or twice and have initial impressions
I'm giving it 4 out of 5 stars because I haven't tested it yet, but I'm pretty sure it'll perform to the standard that all my Arc pieces are at; we will see though. I was looking for a rain jacket and saw this on sale for 40% off in my size (medium) which is unheard of. I can't even begin to describe the knee jerk reaction to hit add to cart and checkout! I received it in the mail last week and super psyched. It is a hybrid between Gore-tex paclite and 40 denier proshell (the same material on most of my Beta AR) and the fit is pretty similar to that of the Beta. I'm 5'6" and 165 lbs and got the Medium, which fits very well. The alpha series has a wider disparity between length in the front and back, the back being an inch longer than the front. On the Beta AR it's about half and inch. I haven't used it yet, however I'm going on a 4 day trip next week and it's supposed to thunderstorm/rain every day so I'm sure I'll be able to evaluate it's water repellancy in an update that I plan on doing afterwards. The paclite material makes up most of the jacket (approx. 70%) and packs down to about 2/3 the width of a Nalgene bottle when rolled into its own hood. One thing I noticed that I was a little confused about was the pull tabs for the hood on the front are inside the jacket, which I thought was strange because it requires you to open the jacket and tighten the hood, whereas the Beta simply has them on the outside for a much faster adjustment. Maybe someone can tell me what's the reasoning behind that.
Anyone 6'4" ish wearing this and happy...
Anyone 6'4" ish wearing this and happy with torso and sleeve length?
Never mind, just tried on in a store (XL). Sleeve length just barely OK, torso a bit short, overall the thing is waaaaay too baggy, and I'm 220. Fits sloppy. Sticking with the EB BC-200 Large Tall.
For your height (with a longer torso) the Theta SL is a much better choice. THey are over an inch longer in the front and rear plus a tad trimmer in the chest. You could also look at the FL series of jackets. trimmer in the chest, longer cut arms (but about the same length as the alpha SL in front and rear drop).
If you are looking for a lightweight waterproof shell for use int eh backcountry, this is your go too. I like this much more than the standard Alpha SL do to the reinforced shoulders and underarms. These reinforcements are a much for anyone that will be wearing a pack over their shell. It also makes the pit zips more durable and easier to use. I am a fan and would recommend this to anyone looking for a bomber lightweight shell.
This is the jacket I've been looking for
Gender:

Male

Familiarity:

I've put it through the wringer
I'm not a hard-core trekker or even a monthly over-nighter but I do like good equipment. I've tried not less than four hardshells in the past two years, including some of the top-rated items from a variety of sources and magazines. I have found the perfect combination of features, construction quality, durability, function and fit in the Alpha SL Hybrid. It breathes, it vents, it closes down tight as a drum, it stays put when reaching and climbing, it is quiet when moving and it is reasonably priced when on sale. I'm 6', 220 lbs, 46" chest and the XL fits perfectly. Layers over merino top and Patagonia fleece or RAB down jacket perfectly. Hood is wonderfully adjustable over either beanie or ski helmet.
Looking into the Alpha, I'm 5'10" about...
Looking into the Alpha, I'm 5'10" about 150lbs should i go for the small or medium? i don't plan on doing much layering except for a thin fleece or base layer
i'd go with the small. the arms will fit, although the body may be a tad short. I'm 5'9.5", 160 lbs, and the small fits me well
Good minimalist design
Gender:

Male

Familiarity:

I've put it through the wringer
The jacket has worked well over the last 9.5 months I've used it. My only minor gripe is that the zipper pulls on the exterior pockets are all but useless. If you are wearing any type of substantial glove, they are useless. Other than that, the jacket functions quite well.
I am trying to determine whether this shell...
I am trying to determine whether this shell is sufficiently durable, windproof and waterproff for skiing in the Lake Tahoe area. We get lots of high 30's, low 40s type of wheater and I tend to run hot so i dont care for insulation. The temps can get in the high 20s, low 30s but rarely much colder than that in daytime.
Best Answer
I think this jacket would be fine unless you need a powder skirt (which the Alpha SL doesn't have). Other than that, I have used the jacket for about 9.5 months now as a raincoat and a winter jacket for snow and it has survived quite well. I frequently wear a backpack with it and it has shown no signs of wear in these locations at all. The only minor gripe is that the zipper pulls on the exterior pockets need to be bigger. You can't grab them with any glove thicker that a thin liner.
I've had it in 50 mph winds and 75 mph gusts on top of mount Cameron, it did just fine for me. I was wearing a mid weight baselayer and thermal underneath it too.
So Many Arc'teryx Models: Hello, I am...
So Many Arc'teryx Models:

Hello, I am looking for a primarily a ski shell that will be used 70% inbounds and 30% out of bounds . . . . there are some many Arc'teryx models with so many different labels - LV, SV, etc. Any suggestions on what might be the best one to consider.

Also, PacLite seems to be an interesting option, but unsure if it holds up in the winter conditions.

Thanks.
Best Answer
For starters here is what the two letter designations mean:
SV = Severe weather
AR = all around
MX = Mixed weather
LT = light weight
SL - super light
SK = ski touring specific
FL = fast & light
see http://www.arcteryx.com/naming-scheme.aspx?EN for more information

Next you will want to determine what features you must have: pockets and where they are placed, increased breathability of the softshell vs. absolute waterproof of a hardshell, more durable materials vs. lighter weight materials, etc. As far as pacLite goes it's water/wind proof so will hold the elements at bay as good as any material, but less burly and durable than the pro shell. It won't fair as well against encounters with branches, rocks, ice, etc. If you are only headed downhill in the jacket, the ounces you save with paclight aren't really worth it in my opinion.

Any of their hard shells are going to be fine for your stated purpose, and the Venta SV would be a solid choice as a softshell. Arcteryx jackets that seem to have skiing as their primary design (read: includes powder skirt) are the Sabre, stingray, vertical, and rush jackets. Good luck and happy gear hunting!
Another initial impression
I got mine last week and have gotten to get it out in the weather a bit since.

I was really just shooting for lightweight raingear for the late spring, summer, and early fall as I've already got a GoreTex Pro Stretch shell, a Sabre SV, and another 20k/15k ski jacket for cool/cold weather use. I was pretty set on the OR Revel to fill this role until I tried on the Alpha Hybrid (the beginning of the end). This jacket is just very well designed and constructed, as most would expect from an Arc'teryx piece. Weight wound up only a few tenths of an ounce more than the Revel and the fit and expected durability advantage of the Paclite/Pro Shell were enough of an enticement to start seriously considering dropping twice as much on this jacket over the Revel. Once I saw the Blue Galaxy colorway it was pretty much a done deal.

Fit is great in an XL, a little more volume than I need in the body and sleeves but it is in no way baggy and there's plenty of sleeve length, the front torso is long enough, and it has a slight drop tail that provides a little extra butt coverage. I can layer just about anything I own under it and would expect to be able to remain comfortable wearing this as a shell down to low single digits F provided I'm not relying on it for chin/cheek/nose coverage. My XL Atom SV actually fits under it very nicely aside from the front of the waist hanging out by ~1/2". The Atom LT pieces in XL fit under it w/ zero overhang. Between this jacket, my Atom SV, and my Sabre, I'm am now entirely convinced that art and science of ergonomic hood design has been completely perfected by Arc'teryx.

Haven't been in any monsoons in this of yet, but spending ~45 minutes in steady heavy to medium rain w/ stiff winds, it's performed exactly as I expect a GoreTex shell should as far as rain and wind resistance goes. It is much lighter weight than any of my other waterproof jackets and way more packable.

The only negatives on this one for me so far are the mediocre breathability when battened down and plastic feel against bare skin (but ~70% of it is Paclite so what do you want...), the somewhat fiddly/catchy/wimpy feeling pit zips (I'm thinking it would probably be pretty difficult to produce a jacket this waterproof and packable w/o this issue w/o it costing a lot more money however), and the price (but more often than not you do wind up getting what you pay for).

Another great piece of gear IMO, regardless of what factory it came out of.
Wow.

I received this jacket from Arc'teryx as a warranty replacement for an old jacket. It's phenomenal. Chinese-made or no (I'm looking at you, bow2852095) Arc'teryx is still the best in the biz. Hell, SkiLogik makes all their skis in China, too. No one complains about that.

Seam tolerance and attention to detail are spot on, as usual. I'm 5'10", 200lb with a 41" chest and I'm wearing a medium with room for a midweight fleece underneath. Actually, I'm wearing it right now over a medium Stoic Hadron anorak (despite the fact that it's still 78° in my living room - I suffer for you, Backcountry!) and it's completely copacetic. And, don't get the idea that the dead bird has started vanity sizing for the American market. The fit is still tailored in the torso and designed to fit the athlete. My weight is all in my legs and ass.

My medium weighs 12.77 oz (362g) instead of the 12.9 claimed. It's only a 3g difference, but it's nice to see a piece of gear weigh less than claimed, no matter how small the discrepancy. I really did weigh it, which reminds me that I need to update my spreadsheet. Don't judge.

New features include the plastic tooth zipper instead of the coil. Arc'teryx says its just as water resistant as the old zippers, but if you break a tooth, the rest of the zipper remains functional. Once you break a coil zipper, it's done.

The hood has the usual drawstrings to tighten around the face and behind the ears, but Arc'teryx added a third string at the base of the neck to pull the hood back. This fixes the problem I've always had with helmet compatible hoods: if you're not wearing a helmet and your head is not helmet-sized, even when you tighten the drawstrings, it still falls over your eyes. Bravo!

Tomorrow night will be the first night out. We're expecting rain to roll in overnight, so it should be a good test. I'll report back.
I am 6'1.5" with a 37 sleeve...Does Arc'T...
I am 6'1.5" with a 37 sleeve...Does Arc'T come in TALL sizes? It would seem to me that gear this high tech and of such high quality that it would fit perfectly, but the size chart doesnt seem to apply to my dimensions.
The only jacket they make in a tall size is the Alpha SV which was stocked on Backcountry.com for a short while. It is also one of the only pieces they still make in Canada. I'm 6'3" and have monkey arms. Arc'teryx sizing has always been hit or miss for me when trying to balance sleeve length and torso size. Your best bet would be to try some on or take a look at Norrona. Norrona has very long sleeves and a narrow torso (M's usually have enough sleeve length for me, but torso always dictates a L or XL) with similiar, if not higher, quality compared to Arc'teryx.
I'm 6'2" ~185lbs w/ a 36.5" sleeve and a 44.5" chest and the XL has a bit of length to spare in the sleeve (~1/2 - 3/4"), torso is just the right length to maintain belt coverage through full RoM uncinched. The Large was a better fit in the volume of the body and sleeves but the shoulders didn't leave much room for layering underneath in the cold, and the sleeve came up an inch or two above the wrist and the waist just shy of my belly button when lifting the arms over head.

There's a bit of spare fabric in the body and sleeves, but it still fits much better than any other lightweight shell/rainwear I was looking at, doesn't bunch up w/ a pack on, and should give enough space to wear it in the dead of winter for skiing/winter backpacking if I so choose.
6'0, 190lbs, what size am I buying?
Most of the high end Arc'Teryx stuff is made in Vancouver. This is probably the case. Whether or not it is, Arc'teryx has very strict quality control standards, and it'll be the same quality whether it's built in Canada or China.
The Alpha SL Hybrid is built in Arc'teryx' chinese factory.
Still sad though, for this caliber of company and how they started, wish they would keep all in Canada. Seems like everything is being made overseas now. I have a Rab jacket, company in UK and it is also made in China.
Best Answer
Is there really a difference in performace? The made in Canada vs. China is a common lament among Arcteryx fans and I'm not sure why. If it's politically motivated I get that however in terms of performance, I have not noticed one bit of difference between my Arc pieces that are made in Canada vs. China. The standard of the company seems to be uniform regardless of country of origin. Maybe I'm wrong, just my opinion.
is the blue galaxy more purple or more...
is the blue galaxy more purple or more blue
The paclite material on this jacket are more purple (same purple hue seen in shoulder/arm area of teh ALPHA/BETA FL squid ink). The Pro shell parts of the jacket are the blue (olympus blue hue like the theta SL)
So comparing this side by side to my Squid Ink Atom LT jacket the Paclite sections seem to be a brighter shade and are more definitely purple in hue. The Pro Shell sections seem to be an exact color match to my Squid Ink Atom LT (closer to a royal blue, but can still look purple based on lighting and your particular frame of mind at the moment).

I absolutely love this colorway.
I have both, as well, and I agree with Sid's assessment. Although, I have to say the squid ink color is my favorite of the two. Maybe the best color on a hard shell jacket, ever, in my opinion. And it surprisingly goes with just about any other color. It just needs to be able to take out the trash and do my laundry. That would really make my day.
Arc'teryx Spring 2012 Alpha SL Hybrid Jacket