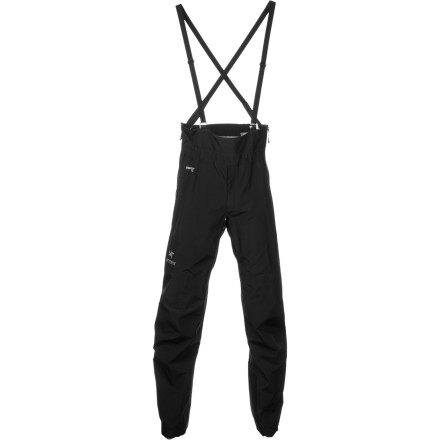 Detail Images
Arc'teryx built the Men's Alpha LT 1/2 Bib Pant to deal with severe alpine conditions when you're ice climbing, mountaineering, or backcountry skiing. Waterproof breathable Gore-Tex Pro Shell deals with the snow, sleet, rain, and ice, while reinforcements in the knees, seat, and lower legs hold up to repeated abuse from the mountain gods. The low bib, gusseted crotch, and adjustable suspenders provide smooth mobility and easy layering, while the full-separating side zips dump heat and make for easy on and off.
Just got this in overnight air and am in the lodge after hitting the slopes this afternoon.



Temp is 28 degrees frnht.



Hit the slopes with these, under-armour shirt, pat R4 fleece, Arcteryx Vertical Jacket, and boxer shorts. really warm, 110% dry, venting well. suspenders very adjustable.



Highly recommend. Picked them up for $269. STEAL. if it hits 15 degrees or less or your waist deep pow, than id suggest long thin base layer but at 28 deg, not needed.



6'5" 247lbs muscular, room to move and layer in the XXL, not baggy but plenty of room, good cut!



------------------

UPDATE



there is only ONE issue with this product...



there is not a back/bottom zip for using the restroom, it requires you to take the entire item down. I think the SV has one and will be looking for a similarly spectacular deal on that...!
Best Answer
The bibs will continue to function at that temperature. The comfort of the wearer will depend entirely on the layers underneath. If you wore the Alpha alone in -42° weather, you'd, at the very least, experience MAJOR shrinkage. Then you'd probably get frostbite.
Gets the job done - but expensive
It's not a burly bib, it's not a simple pant cut that would get all the snow into your thermals after an embarrassing moment on the powder.
Proper disclosure: used it only for ski touring/resort skiing and not for climbing (yet).
However the 1/2 bib feels rather "technical", I don't get much bulk. I wear a small (5'9", 145lb) and it's perfect.
The good:
* High enough to keep the snow out, not too high to make it uncomfortable.
* The reinforcements in the lower parts of the pants definitely protects against skis cutting your pants, however I'm not sure about crampons.
* Zippers go all the way up for good ventilation
* Altogether a really nice pair of pants for skiing (and probably also climbing), it doesn't feel cheap, the opposite actually, it's Arc'teryx after all
* Pretty lightweight I would say, packs nicely

OK, the good stuff, or actually - the bad - this is usually what I like to hear about gear:
* NO POCKETS - Why? - no idea. A little pocket on each side could have made it a bit nicer. Where am I supposed to put my phone while I'm BC skiing? (can't use the jacket pockets as they would interfere with the transceiver).
* Suspenders suck - they are not really detachable. If you need to go for a number 2, you'll have to supposedly strip down to your thermal shirt, pull down the suspenders, take a number 2, then do everything in the reverse order. Or perhaps maybe I'm missing something. In my old pants my suspenders could have stayed on me, could detach them from the pants - and pull the pants down. Not here - or maybe I'm missing something but I don't believe so.
* Black black black - I'm tired of stuff in the color of black. I don't need a zebra/tiger sample on my pants, but red/blue/green would have been much nicer than the boring black.
* PRICE - wooohoo, it's $450 for the retail, if you can get it for $350 then it's OK, if it's anymore than that - it's a ripoff in my opinion. It's a good pair of pants, but you don't need to take a mortgage for it.

So it gets 3 stars, mainly because it's not perfect (-1) and the price is ultra high (-1). The rest is perfect and I'm enjoying it.
We bought the pants for alpine climbing and used them two weeks ago on Mt Shuksan, Washington. The full size zips allow for easy on and off, even with crampons, and the suspenders were very comfortable. We saw a wide range of temperaturers and the pants were perfect.
Backcountry.com indicates these have no...
Backcountry.com indicates these have no pockets. Is that correct? I noticed one of the reviewers mentions 2 pockets. Seems like a big downside not to offer at least one pocket on these if thats the case...
i would also love to know this....
I ended up buying them anyway shortly after I asked this question. They do not have pockets, but I generally don't need to wear these anyway unless it gets really heinous out. I typically sport some OR softshell pants that have pockets.
great pants for mountaineering
It is very difficult to find shell pants that have Full zips on the sides. (Full... from top to bottom). These come in handy when it is just blowing sideways, and you are working hard. You want the full protection but also want ventilation.
I had an older pair of marmot precip rain pants that had this feature, but finally destroyed them on a glissade.
The alpha lt pants are the pants I have been looking for. Light, yet extremely durable. Gore pro shell is not quite as breathable as eVent, but for bottoms they work great. oh... and for those who care... these are MADE IN CANADA.
what exactly are the powder cuffs for these...
what exactly are the powder cuffs for these pants? how are they different from gaiters? will they work as well as gaiters for downhill skiing and ski mountainering?
Best Answer
Powder cuffs are just built in gaiters that will work perfectly for skiing.
no, these are not gaiters. The powder cuffs have a drawstring and a metal clip that you can clip to you boot laces. These are not sufficient for powder skiing or booting in deep pow.
Expensive, but first rate
I wanted tough, totally waterproof ski pants. These have measured up. They have taken some tree abuse and have kept me totally dry in a lot of wet snow (happily, no rain yet, but I am confident they would keep that out as well). They aren't insulated, but offer a perfect wind barrier, so all I have to do is wear underwear that is warm enough for the day's weather. I am 5'9", 160 lbs. and get a good fit from a medium. Powder cuffs fit snugly but comfortably over ski boots. The 2 pockets are reasonably good sized, though I wish the pants had one in the rear. I expect I will get years of good service from these pants.