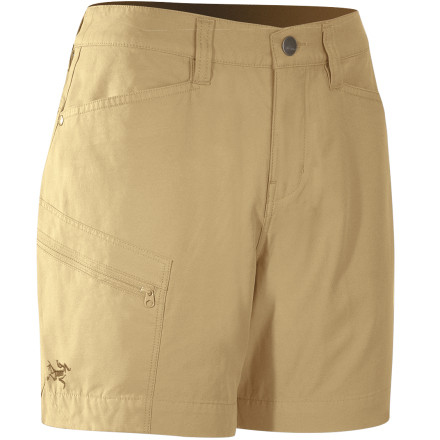 Detail Images
What do you think about this product?
Have questions about this product?
Super nice. These are kind of short shorts as oposed to the Gamut shorts which are a little bit longer. I find these to be a little bit dressier and more feminine, which works well for around town. The also have a zippered pocket, a little bit shallow but perfect if you don't want to haul a purse and you need a safe place for a few dollars or a cell phone. The fabric is nice and soft. I wear a size 10 and they fit I think true to size. By the way true to size to me means only that I have other Arteryx pants and I wear the same size in all their styles.
Best shorts in my closet!
I love 'em! Sturdy yet soft fabric. Waist rides lower than natural waist, but not so low I worry about my undies showing. The zip pocket keeps my wallet safe in a crowd. There are no back pockets though (as listed in the description) but the two front pockets are deep enough that I can get by without.
I gottwo colos for myself and just ordered another pair for my daughter.
Highly recommend them.
The Tech Specs say 2 front, 1 thigh and...
The Tech Specs say 2 front, 1 thigh and two rear pockets.
I don't see rear pockets in the photos. Do the shorts actually have rear pockets? I know the long pant does.
Must be a typo. There is definitely not any rear pockets.
Andrew
☃bcs_badge_alumni_label☃