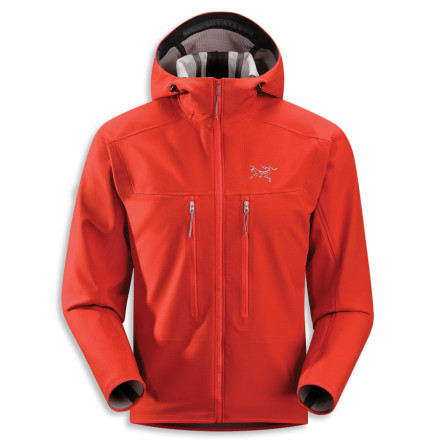 Community Images
Arc'teryx designed the Men's Acto MX Hooded Fleece Jacket for the fast-and-light crowd. The Acto weighs barely more than a pound and provides bulk-free insulation and a smooth, weather-resistant, easy-to-layer face fabric.
Outer nylon shell layer is wind- and water-resistant
Inner polyester insulating layer breathes like fleece
Laminated seam allowances for bulk-free seams
Low-profile chest pockets for bulk-free storage and ventilation
Articulated elbows for natural movement
This jacket is the best
Familiarity:

I've put it through the wringer

Fit:

True to size
I've worn this jacket on every adventure for the past 2 years. Light enough to wear during the summer months but still provides great protection from the wind and cold temps during the a moderate winter day. I would highly recommend this jacket to anyone who is looking for a nice hoodie to warm as your main piece to give that simple layer of protection from the elements. The fit is athletic, I unfortunately ordered a size that's a bit too big now but it seems it's meant to fit realitively snugly to the body.



Like I mentioned before I've worn this jacket during the summer months as well. The front pockets are lined with a highly breathable mesh that if you leave open a allows for air to travel through and cool your body. In a way giving you the option to dump some heat even if you don't want to take the jacket off your unzip it completely.



This jacket is by far my favorite Arcteryx piece and will use it for many more years.
The Jam.
Familiarity:

I've put it through the wringer
I completely love this jacket for backcountry ski touring. I wear this with a lightweight baselayer(Icebreker Merino 200 or Arc'teryx Phase SL Crew) and I'm golden. This is usually plenty for most days of touring. Not windproof, but the hardface fabric does well with abrasion and some precipitation. The breathability of the small waffle fleece is near perfect. I can throw it over my baselayer and call it good for the up and the down on cold days.
The Hits Keep on Coming!
Gender:

Male

Familiarity:

I've used it several times

Fit:

True to size
I recently got this hard fleece to add to the versatility of my alpine touring quiver, and it is delivering in a major way! I am 5'10 and weigh 170lbs, went for the medium and it is a perfect fit for what I am doing.

On non storm days my setup is an Arc'teryx s/s synthetic t-shirt, Patagonia Cap 4 hoody, and the Acto MX hoody for the torso. Down below I am using the Mammut Eisfeld pant over a Patagonia Merino boot top base layer and some light Icebreaker ski socks. That's it. IF it is a storm day I swap the Eisfeld for my Theta SV bibs and thrown my Beta FL shell on top of the Acto MX. I do pretty much always keep the Beta FL in my pack regardless in case the wind starts ripping.



Things I really like about the Acto would be the fact that it cuts just enough wind to be useful, but not so much that I am roasting. I also like the fact that each of the chest pockets are huge and easily fit my skins (1 on each side) when I am ready to ski. The hood has multiple adjustments so it is easy to deal with whether or not I am wearing a helmet without impeding my visibility. And lastly the main zipper is super easy to operate one handed without the piece moving around (some people feel that it opens and closes too easily and the zipper works its way down during activity, suppose that is the trade off for silky smooth action).

In terms of breathability under the Beta FL, I feel this is the best system I have encountered at this point for high output cardio. The Beta FL and the Acto MX both lack pit zips which gave me pause at first but the breathability of the garments working in tandem means you don't need them. When I am truly redlining i will open the chest zips or the main zips to dump any excess heat but generally I leave them closed. The only area that I end up getting sweaty in is against my back but that's because there is a pack there.
A soft shell returning to its origins
Familiarity:

I've put it through the wringer

Fit:

Runs large
I love this jacket. Super breathable. Durable face when sliding across rock. Super nice fleece interior with nice taped seams.



I own the gamma mx, gamma ar and gamma lt. This would be my favorite overall. It is the second most breathable next to the gamma lt. The gamma lt is more wind resistant but less warm. The gamma mx is warmer and more wind resistant too. The gamma ar is the most warm and wind resistant.



I've used this touring in the chugach on 20 degree days to days where it's 50 in Denali. It seems I always want a hard shell in alaska because it always rains or the wind rips so much- so I have used this the most while the gamma mx is near new. The gamma mx is just to warm for really high output unless its 20 degrees or colder IMO. But then the gamma mx gets to cold if theres any serious wind. This fills the void.



I would say this fits normal arc'teryx. The new gamma mx runs big/sloppy. This is more similar to the older gamma mx or the gamma lt. Even closer to the venta sv. I wear medium in all arc'teryx and this is about a perfect fit for me.



Bottom line. This is what a true soft shell is. Super breathable. Light wind resistance and warmth.
Amazing
Familiarity:

I've used it several times

Fit:

Runs small
I absolutely love this jacket. I am 6'1" 160 pounds and went with a large because the arms in the medium were just a little too short. I use this jacket mainly for aerobic cold weather activities, like snowshoeing. It breathes very well. I like the pockets, even they are reverse entry. It handles light precipitation well. In a stiff wind when I was snowshoeing, though, I was cold. Overall awesome jacket, thrives well by itself or under a shell. Feels light, room for layering, and smooth outer articulates well with other layers.
thoughts on this combined with atom lt?...
thoughts on this combined with atom lt? Atom LT too warm for high output...kind of at a toss up right now trying to revamp my layers. I have an alpha SV for shell and generally wear a rho LTW base layer.
ive got this, a patagonia R1, an atom LT, and an alpha SV as my main ice stuff. been rocking some subset of those all winter, down to 0 degree days at willoughby and frankenstein, and its been great.



this fits nicely in the highly-breathable, decently windproof niche, when its gusting a little but the SV would be overkill. if stuff gets really nasty, i'll just bust the SV out over the atom LT and this guy.



sometimes i wish i'd gone for the Venta or Gamma, but i think this is a lot more breathable than either of those (hard to say since ive only climbed one day in the Venta).
i have the same items, except i also have the venta mx and a patagonia nano puff, im currently trying to re vamp my system, but having a hard time trying to put the right stuff together. I think i am going to go with a smartwool micro weight wool t shirt, and then the r1 for my base layer, followed up by the acto. Im thinking for high output even down to about 15F that should be a good set up. After that im at a cross roads. Do i keep the venta mx, which layers fairly nicely over the acto and the r1, or return it and add the atom lt, or the nanopuff for my next layer. I was thinking of getting an atom SV for rest stops/belay jacket in moderate temps. let me know what you think. The ACTO fits fairly snug on me, so layering anything besides an r1 under it is probably not going to work too well. Anyone please chime in for some suggestions...?
i havent used the nanopuff myself but ive heard good things. i personally get super warm super fast, so im often just wearing a merino baselayer + the R1 on approaches, add the acto mx or atom lt while climbing, and carry a nice warm belay parka (just settled on the Rab Neutrino) for stops.



i find the merino layer + R1 + Acto/Atom LT will keep me warm in just about any weather if im moving (unless its super windy, in which case i put on the alpha SV).



if i were you, i'd probably keep the venta mx, and add a heftier belay jacket (the atom SV, Rab neutrino, or patagonia DAS parka, depending on your down/synth preferences) for stops. i wouldn't use the atom lt or nanopuff as a belay jacket unless it was pretty warm out.
which is warmer, the gamma mx or the acto...
which is warmer, the gamma mx or the acto mx? Also which one will breathe the best? I am looking to put a hardshell over either.
Though I have not bought the Acto MX, I am going to for christmas. I have done a tone a research on the Acto and Gamma. I was trying to decide between the two as well. I just totally revamped my system. I use to use Synthetic jacket like the montbell thermawrap and arc atom lt and would sweat WAY too much. Now...



New system:

Base Layer: Ltw meriono wool like Rho Ltw

Midweight: Acto MX

Outershell: Just got the Alpha FL to specifically go with Acto- I have the Alpha LT as well and I am going to most likely sell it. 3 Layer Gor is way tooo much. Excited to try this piece. The two layer will hopefully be breathable enough. If not I am done with Gor.

Pants: Gamma Lt - No gaitors, using bungee cords w/ grommets

Synthetic Belay Jacket: Dually, Kappa, Patagonia DAS type of jacket

Synthetic Pants: Atom Lt



Personally I am going with the acto. I have used the gamma a couple times and like it for trips to Ouray but not for alpine climbing, mountaineering it seems like acto is going to be a game changer for me personally.



Sorry I dont have first hand experience in the field. I have tried on the acto and it is a top quality jacket. Ill let you know in a couple months how it all plays out.
The gamma is warmer than the acto in my opinion. The gamma is a softshell, while the acto is a hardfleece, according to arcteryx. The gamma is more wind resistant, and the acto is not. But the acto breathes much better. If you are putting a hardshell over it, I say get the acto. The gamma can have a hardshell over it, but it is meant more to be a standalone piece. The acto, on the other hand, thrives both by itself and under a shell.
Best Answer
The Gamma is definitely warmer than the Acto. I have both and have had quite a few backcountry ski days in each jacket. I think of Acto as more of a warm mid-layer with enough protection for most conditions. When the wind picks up or it starts dumping I'll throw on a hardshell and I am good. If things are really nasty out I'll put a nano-puff over the Acto and then the hardshell and this has proved to be a bombproof combination (think 0 degress + wind). I use the Gamma mx as an outer layer for storm skiing where we are getting dumped on (more protection than the Acto) or very cold conditions with a Patagonia cap4 4 under. In your case, I'd go with the Acto.
Any similarities with this piece and the...
Any similarities with this piece and the Patagonia R1?
There are some similarities - the key difference being the Acto MX offers much more weather protection than the R1. The Acto features a stretch woven nylon face that offers a great level of wind and water protection in addition to some stretchy goodness. This is my go-to touring jacket, check out the attached pic of the Acto MX in action!
Thanks. Im looking into revamping my system. Any thoughts/opinions of a baselayer (synthetic or wool depending on weather), Acto MX, Alpha FL Hardshell and belay jacket (for rest stops, Im thinking Atom SV) a good system? Ill be doing high output activities such as mountaineering, alpine climbing and ice climbing on 14ers. Hoping to do some winter ascents as well.



Does anyone know how warm the Acto is compared to a piece like the R1?
Josh - that sounds like a great system for the activities you mentioned. I'd also recommend looking at the Alpha LT hardshell. While it's not as breathable as the Alpha FL it does have pit zips and a more durable face fabric. The Alpha LT also features harness Hemlocks that help prevent the hem of the jacket from creeping up past your climbing harness.
The acto mx is that good that you can ski in powder like that? It looks very fleece like, which just absorbs water, guess its not though.
Best Answer
The Acto is not at all like the R1. The Acto is almost like a very thin softshell with a bonded grid fleece backing (the back is more like the new expedition weigh cap 4). The Acto sheds water and snow very much like a softshell does. What makes it different from a softshell is that it breathes and is very very slightly wind permeable. I regularly ski powder and hike the bc in mind and haven't had it wet out yet. It is one of the two garments I've ever owned that provides enough breath-ability for the uphill and protection for the downhill. The R1 is a true fleece of a fleece that is very warm, comfy, breathes, and absorbs water like crazy. It's a great mid-layer whereas the Acto can work as a mid-layer and an outer even in foul weather. Want something to wear in fair weather to keep you warm while working? Edge, R1. Want something to keep you warm while working in colder snowy or windy weather. Go Acto.
Versatile
Gender:

Male

Familiarity:

I've put it through the wringer
I've used a variety of softshell jackets over the years and I've finally found my perfect one. This jacket certainly would not be perfect for everyone, but here is what I like about it... extremely breathable, warm for the weight, long length, close-fit yet still allows room for layers underneath.



Beware that this jacket does not block wind, like say a WINDSTOPPER softshell, but it breathes about a billion times better. It works best when you are working hard in cold conditions, like skinning or snowshoeing.



I'm 5'8" 155 and small fits me perfectly
Most Versatile Hard Fleece / Soft Shell
Familiarity:

I've used it several times
Faced with the choice of a warmer Gamma MX hoody or the Acto MX hoody, I favored the Acto due to the breathability and greater versatility.



Having worn this in zero degree Celsius, it's comfortable over just a thin base layer. The wind-cutting ability is great, with just enough air flow to keep high-output activity perspiration vented but without getting a chill from big gusts.



The trim fit permits just enough room to wear a base layer and thin puff or fleece underneath; but the cut is excellent as the lack of bulk avoids the jacket getting in the way during hiking or climbing.



Hood adjustments are great with or without a helmet. The helmet-sized hood seems large at times, but the draw-cords on front, and the volume-adjuster on the back side assist in minimizing volume and keeping it snug when necessary.



The Acto has now become my go-to hoody for minimalist layers both for the autumn and winter season.


I have the Polartec Powershield Gamma MX....
I have the Polartec Powershield Gamma MX. I actually love it and it is worn most often on a daily use. Though, for running in the cold, I wanted to try either the Acto MX or the new Gamma MX with the Fortius material. Can anybody compare the two and which one would be better for cold weather running, hiking, and layering. I think they are really similar and at the price points its almost negligible. As I already own a Gamma MX of different material which one would be best?
I'd suggest going for the Acto as a cold weather runner and a layer. While the new Gamma MX is sweet, you might as well broaden your quiver a bit.
Best Answer
For running, I'd say the Acto for sure. It breathes well but still resists weather. The Gamma MX might be more resistant, but rare is the runner who will be out in bad weather for hours. Breathability and comfort are more important. Although the Acto is less form-fitting than the Gamma MX, less of a pliable material, it nevertheless moves incredibly well with your body. I feel very comfortable with it while running (or running errands), and I imagine skiers and snowshoers would agree. I think Arc'teryx has done a superb job of tailoring this jacket for active use. It's a great jacket!
In the last month I've ski toured, mountain biked, and camped in this jacket. Breathes better than any layering piece I've ever owned and still blocks wind and moisture. I was weary of the chest pockets at first, but they're much more accessible than traditional side pockets near the hip. At 6'2" 185 lbs, the large is perfect.
This is my new favorite jacket for when it's not pouring. The most versatile piece I own, can wear it in everything from a light rain to windy bluebird. Breaths great on the uphills, and fits nicely under the shell for the ride down.
Extremely Versatile, my new go-to jacket for almost everything
I have come to love this jacket, though I don't think it's quite perfect. I'd give it 5 of 5 stars for the fabric, but only 4 of 5 stars overall. I'd give it 4.5 stars if that was an option. I personally think the cuffs, hem, and hood need a little work. I wrote a full review with pictures at
http://www.gearthirty.blogspot.com/2012/02/arcteryx-acto-mx-hoody-review.html
very close fit and impecable finish. the DWR is awesome and it works perfectly under my Alpha FL. gives nice layer of insulation and can pull double duty as an outer layer in dry conditions. perfect cross between jacket and hoody
Great jacket. I was a little weary of getting this at first, and honestly figured I would end up returning it, but in the end I will definitely be holding onto this. Since getting it, I honestly have not taken it off. The lining is buttery soft and extremely comfortable. The outer fabric is pretty stellar as well... has a bit of stretch to it much like a Gamma MX, but has less of a soft shell type feel... almost like a sturdy cotton texture. It poured today, and the DWR repelled the rain without any problem. The fit is a little closer than the fit of the Gamma MX, but not too close. The outer fabric seems to be pretty bomber as well... it should be able to take abrasions pretty well, probably even better than the Fortius material. Stitching is really nicely done, zippers are great, and the lining around the collar is REALLY soft and nice. The hood is perfect... great adjustability, and could accomodate a helmet easily, yet I was able to cinch it down perfectly on my head today almost like a I was wearing a ball cap. Perfect construction on the hood, very pleased. Wind resistance... not too bad really, but it is not windproof, nor does it claim to be. It breathes very well, without ever becoming clammy at all. Only two downfalls I noticed first hand... no side pockets. Yes, I know it's because it is for climbing and to allow access with a pack on, and yes, in that aspect the front pockets are money. But when not on the trail and out around town or around base camp it would be great to have two simple pockets to throw my hands in. Just sayin'... and especially at a 300 dollar price tag. And that brings me to the second downfall... the price is high. Yes, I love this piece, and yes, I will keep it... but is it worth 300? That's really something you will have to decide... for me, I can see myself literally wearing this almost everyday, and so while it hurts, I can cough it up. With that said though, I can honestly say it's priced pretty high for what it is, even though the fabric is top notch and the garment as a whole is amazing... it's still almost impossible to justify the 300 dollar price tag. The other downfall is the back... it seems to drop quite a bit lower than other Arc'teryx pieces I have. It's not a big deal, but in the future maybe not so long would be a bit better.

Overall, great product, though a little high in price for what you get... but then again, that's Arc'teryx. Top notch gear, with an equally top notch price. If you can swallow the price factor, get this... I can tell you you will love it and it will quickly become your go to everyday hoody/light jacket/etc. I honestly will wear this far more than my Gamma MX/LT or any other light everyday jacket, and as part of a layering system it's perfect. Great option for climbing in too as a result of the bomber outer fabric and nice stretch.
Hi, I'm 5'8 and 152 with 38"-39" chest,...
Hi, I'm 5'8 and 152 with 38"-39" chest,
should I get a S or M? Is this jacket
wind resistant?
The Acto is designed to be worn with a baselayer and very thin insulator, at most, and it's cut to be a close fitting jacket. It will block about 80% of wind, so if it's really blasting on a ridgeline, the Alpha or Beta FL (goretex active shell) is the ideal layer. Meant to be worn while moving, so brethability with some weather protection, as opposed to lots of insulation, are key elements.I'd guess a small would fit you most correctly according to the design.
I hear arc-teryx runs a bit large. Im 5'10"...
I hear arc-teryx runs a bit large.
Im 5'10" and 130. Will be the small be too baggy for me? I like a relatively snug fit.
Small should be great. Arc runs a bit large, but it's very fitted, so you should be fine.
Arc'teryx does not run large, and especially in this jacket. If anything it's a closer fit than other brands. A small will fit you well.
I'm 5-10 and 135-140, and I think it fits great. Trimmer than the Epsilon. The fit is more along the lines of the Tau or Atom LT. Arms aren't super-long, either, as they are with some garments (I think they're sized correctly as they are slightly long for my slightly short arms). The fabric has a great hand and is extremely flexible.
Arc has 4 different kind of fits, trim, athletic, relaxed and expedition with Trim being the smallest one. Atom LT and gamma MX are athletic and Hyllus is relaxed. Although I do feel that atom lt fits closer than gamma mx/ar