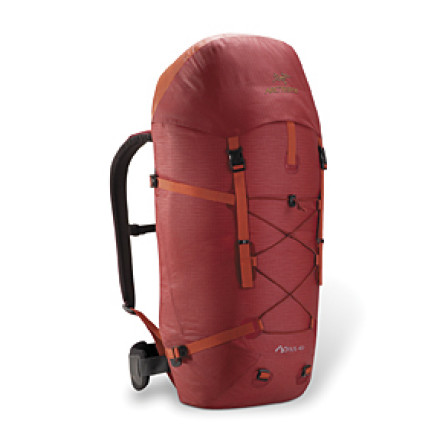 Detail Images
Haven't gotten a chance to take this out on the trail (or mountain) yet, but I have fully loaded it to try out the harness and waistbelt. While I was at it, I gave it a dunk in my tub, and everything inside came out dry.

The suspension on this thing is great. Really transfers weight to the hips well, and the hippod things (which look like they may suck) are the best hip padding I've had on a pack. The outside has a bunch of loops and lash points, which is always a plus. I've never had an Arc'Teryx pack before, but if they're all built to this quality, with this level of detail, then I'm sold on them.

My previous pack was a North Face Primero 60, which is definitely a nice pack. After 20 miles a day in the Eastern Cascade foothills, though, I was definitely feeling the pain on my hips. This pack has less volume, which I can definitely deal with, and a lot less weight. Being in the Pacific Northwest, the waterproofing is a killer feature, and this is going to be my go-to backcountry pack year round.
Waterproofing for less weight than the Naos series.
I once was in love with the Naos series of packs, and after owning one, I decided that it was too heavy for me (had the 70L). I came across a deal on the Acrux 40 and decided to give it a try. I have found that it has all of the features that I wanted in the Naos packs has but with less weight. I use it backpacking for all of my treks where water/rain is an issue. I am able to fit all of my stuff into the 40L of space, but I am not a Jetboil kind of guy so I would recommend that you experiment with packing it before you buy if you are thinking of using as a long distance hiking pack like me which is not it's intended use. I attach my z-lite sleeping pad to the back using the rear bungee. The only thing that I miss from the Naos was the strap that brought the top of the pack closer to my shoulders which made a noticeable comfort difference. So, if you are like me and you want a solid backpacking setup that is neither too heavy nor too cheap (quality wise), I would recommend this pack.
I wanted a day pack that was truly water-proof but also holds enough gear for short overnight hikes. This is it! I Love the advanced composite material (foam impregnated fabric ) it is tough, ( we now build airplanes with this technique) lite wt. durable and totally waterproof. Filled with 22lbs, I tossed the pack in my swimming pool and it not only floats but all my gear stayed totally dry. I use it for winter snowshoe treks, all-day rain treks in Scotland and have not had any moisture inside the pack. The only inconvenience is getting into and out of the pack quickly thru the roll top and bayonet fittings with the cover on. It is still my favorite pack ( I have four others). The Hybrid construction always draws OOOhhs and AAAhhs from my trekking companions.