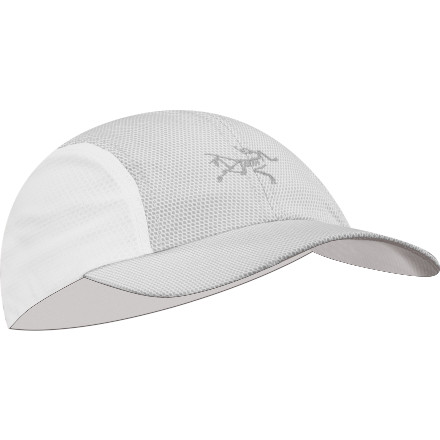 Colors

Detail Images

Community Images
Description
You'll forget that you're wearing a hat.
Toss on the Arc'teryx Accelero Baseball Hat and head out for a trail run. The Accelero has mesh side panels that ventilate your melon as you work up a sweat.
Got this for my wife..
Familiarity:

I've used it several times
Picked this cap up for my wife before a week of hiking in Utah. By all accounts she loves it, great ventilation and seemed to be UV resistant as the lighting bolt part she wears in her hair while on the trail wasn't red and raw. For the price you get the quality you expect from Arc'teryx. , though it wouldn't hurt them throw out a little gimmick of some sort. My wife once had a Cabelas outfitters cap that was very similar but had little sleeves on either side of the temple for securing the bows of your sunglasses. That cap was every bit as nice as this one while costing about half the price, but it met a tragic end on a canoe trip awhile back.
Great hat...very well ventilated and comfortable. The logo is reflective on the front as well!
Love this hat!
Familiarity:

I've put it through the wringer

Fit:

True to size
I love the fit and look of this hat. It is lightweight, breaths well, and is stylish. Keeps your head dry in a downpour.
My Favorite Hat!
Familiarity:

I've put it through the wringer
I love this hat. Super comfortable and it breath well. I wear it almost every day. It's also my backpacking and fishing lid. It has lost some of the color on top but I think that's just because of how often I wear it.
Awesome Lid!
Familiarity:

I've put it through the wringer

Fit:

True to size
I bought this hat given the brand's reputation for outstanding quality and after grueling conditions in western Colorado and Smoky Mtns National Park - it proved to be an exceptional product. I bought the darker color to avoid sweat stains and after several cleanings (in mild soap) - the hat retains its shape and color perfectly. It's very adjustable; has high quality material; and breathes very nicely. All around great value for the price.
Fits my melon-shaped head... dries quick
Gender:

Male

Familiarity:

I've put it through the wringer
Bought this hat for backpacking. Red hair and fair skin means I need to keep a cap on most of the time. And it keeps the rain off my glasses. (Wow, just reading my own writing here, it seems I'm much too delicate to venture outdoors!) On a recent trip, it rained and rained and my cotton ballcap soaked and never dried out. So, ordered the Accelero.



Fits very well... snug so it wont fall off your head, without the headache or discomfort. Sheds a little water, breathes really well, and dries fast. (Actually... it doesn't really ever get wet, per se).



I'd categorize this as a "shallow bucket" cap, but only just.



The clip and strapping on the back of the hat is perfect. Very Arc in its design: an open and close mechanism (that you can trust) with a nice tweakable fit (that doesn't loosen).



All the other wicking caps out there come in crazy colors and ugly designs. This one is really restrained.



Holding up well to lots of use.
Nice.
Familiarity:

I've put it through the wringer

Fit:

True to size
Really nice hat. Have worn it for a few months for running and strenuous hiking. Definitely recommend it for comfort. Can be a little warm in high temperatures. I have a larger head and it fits well.
LOVE THIS HAT
Familiarity:

I've put it through the wringer

Fit:

True to size
I love this hat. I was so upset when I lost my black one and it appears they don't make black anymore. But, I settled for a dark navy blue and it fits and looks great. I must have had an older model but this one is just as good. Lightweight, great fit for large heads like me and adjustable. It dries really quickly and the brim is perfect for sun and keeping rain out of your eyes. Fits nicely under a bike helmet and over ear protection. I want another one already.
Accelero in Nighthawk
Familiarity:

I've used it several times
This is my first Arc'teryx hat purchase. I like the fit of the hat, it is a "small bucket" hat which I like better than the taller baseball style hats. It feels very comfortable and does not have a rivet on the top of the hat. The sides are ventilated and are thinner than they appear in the pictures. The nighthawk color is definitely a dark blue vice the black/gray appearance on the web. The logo on the front is very reflective when a light hits it. Fit and finish is great. I have only worn it a couple of times, but so far it looks like a good piece of gear.
Decent hat, Nighthawk color is blue
The hat is pretty nice, but makes my head look a bit big. Also, I really wanted it in black, but FYI the Nighthawk color is definitely navy blue. The bill is a bit longer than a standard baseball hat, but it doesn't look dorky or anything like that.
I wear this while hiking, it is a very comfortable and well designed ball cap, with a startlingly water-repellant finish. The rear adjustment strap is stretchy and holds the hat in place even in windy conditions, without feeling too tight.
kgkelley
Gender:

Male

Familiarity:

I've used it several times
Great Hat! It is now a favorite running hat. It seems to repel water? Did not read anything about that before I purchased it. Have worn it on several runs now that its cooler out. No stink. No salt lines, washes up easily by rinsing in sink. Sweat band does not dry as quickly as some, otherwise its awesome. I bought it in black so it may be kind of a heat magnet on warmer days.... Fits my smallish head perfectly.

I'd buy it again in a minute... And yes it is a good looking piece of outdork gear.
The accelero hat is my favorite hat, its light,breathable and packable. Great for running, hiking, or just as a casual hat. Think I'm going to get another in red. I would highly recommend this hat.
Very nice and comfy hiking/running/post ride hat
Has worked very well for high output hiking and trail running and doesn't look too dorky for casual wear. No itchiness after a full day of wearing. Breathes much better than I was expecting after seeing the thickness on the top panels of the hat. It still traps some heat (getting the black one probably didn't help this a lot either) but much better venting than anything else I had. Seems to dry relatively quickly but can stay damp for ~ 1/2 hour - 45 mins. if you work up a good sweat in it. Doesn't seem to show sweat so far like other hats I've used for active endeavors would.

Stays put very well w/o feeling like you've got a vice on your head, thanks in large part to the stretchiness of the fabric and the elasticized adjustable strap. It is a form fitting and low rise cap, but covers down to about a 1/16" or so above my ears on my ~ 7 3/8 size head. Fits very well w/ any of my sunglasses/glasses on. The bill came w/ a nice shape and seems pretty beefy. It provides good coverage w/o being obnoxiously long/large.

Only complaints I have is that the sweatband could be a bit more absorbent (probably perfectly fine for lighter sweaters or those in more arid climates though) and the price could be a bit lower.
This hat has two sizes in arc'teryx's...
This hat has two sizes in arc'teryx's official website, S-M and L-XL. Why only "One Size" here? I have a really big head, and need a large size hat.
The official website is updated. Only one size now.
Is the Vermillion (red) color available?...
Is the Vermillion (red) color available? Can you add it to the drop down allong with the Coffee Bean color?
Currently it only is allowing the Wisteria.
Thanks
what you see in the drop down menu is all they have.
What are the details on the Accelero cap?...
What are the details on the Accelero cap? Is it like the Accelero Pullover in that it uses stretch polyester that is windblocker and has the bamboo charcoal lining?Thanks.
Yes, pretty sure. Although it's not a fully windproof fabric, and really, it doesn't stretch that much. This comes from having an accelero pullover, and being familiar with the fabric.