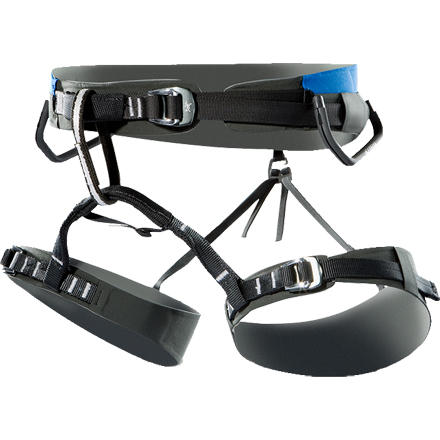 Detail Images

Community Images
Throwing standard design to the wind, Arc'teryx spent years at the drawing board to make the A300a Climbing Harness paper thin and lightweight without sacrificing comfort or alpine-ready features. Designed for fast-and-light routes on big mountains and technical ski-mountaineering trips, the A300a features adjustable leg loops that fit well even if you add or remove layers. Arc'teryx added two gear loops with injection-molded reinforcements that can be removed to create a lower profile that's more comfortable to wear with a backpack.
This harness is the top of the world, talking about the lightest. A little scary at first sight, prove to be resistent enough as you'll get used. Very easy to adjust. I've used to do hard alpine style climbs where weight is a big issue and less climbing time is safety.
I bought this harness for the ability to change the leg width not for the Alpine features. I use this mostly in the gym and I love it! This harness is so light, I hardly notice that it is on. If you are looking for a harness for the gym, look no further.
I bought this harness over others as it has the Alpine style leg buckles! I have a slightly bigger thigh from snowboarding. I don't think I will ever buy or use another harness! The only thing wrong with this guy is that because it so light, you sometimes feel that you are solo with no safety at all...
SO i wear a 32 in pants but some people...
SO i wear a 32 in pants but some people are telling me i need to go for the medium and some people say i need to go and buy the large but i dont know which size does anyone have any suggestions? this is for the arcteryx A300a harness
Best Answer
JBO - I am on my second Arcteryx harness and was told the same thing. I am also a 32. Buy the large. If you buy the meduim it will be very tight as soon as you add a layer.
I'm a 32 and the medium is perfect for me. While sport climbing with it I have it totally cinched up in the waist and with layers its about half way. Remember, it goes above the hips and below the ribcage... no muffin tops!
All I do is Alpine style and this is a perfect harness! It's wicked comfortable and is very easy to use. One of those things you might want to be a little extra anal about and this one hits the nail on the head! There's plenty of adjustment. Fits well so really there isn't need for much padding at all. Plus it fits very well over a Pro Shell! Great harness I'd recommend to anyone!
Awesome for alpine style mountaineering
I just wore this harness to the top of Cotopaxi and Chimborazo in Ecuador. Awesome piece of equipment. Super light, functional, comfortable, and has all the right parts with nothing extra to get in the way or add weight. If you do technical climbing at altitude and plan on carrying a big rack, this may not be the harness for you. This more of an alpine style harness.