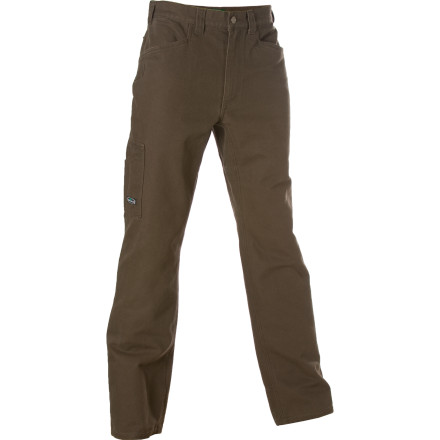 Detail Images
Description
Save your fancy jeans for something more appropriate, like shopping for new carpet.
There's no way you're going to fix fence, feed the pigs, and water the tomatoes while wearing a pair of pre-faded and ripped designer jeans. Set yourself up with a pair of the Arborwear Arbenter Pants, and start digging; made with durable ringspun cotton, these pants are constructed for real work.
Got these after I got a pair of the Original Tree Climbers and loved those. They have a lot of the same amazing design features such as the aggressive 3 piece crotch and quality pockets but they dont have the double knee so they look a bit more normal and could easily be worn in a public setting without looking like you just walked off a job site. Super great mobility, amazing comfort, just an overall amazing pair of pants. Would recommend to anyone.
I bought these to replace some Carharts that I've had for quite a while. I mostly wanted the articulated crotch for climbing which would make these more useful for me. They have totally delivered as a great climbing pant that can withstand abuse and not limit my movement. I'm 5'10, 155 #, 28ish waist and opted for the 30x32 and they fit perfectly while giving me a little room for layering or tucking in a shirt.
Used to be made in the U.S., but Arborwear soldout. Mine blew out in the crotch, which is supposed to be designed to last longer... No more arborwear for me.
My favorite pants for when I have to wear pants.
Best pants ever. My job takes me all over the Midwest where I can spend all day climbing in and out of ditches, over logs and walking miles to a remote location. These pants make my day that much better. The gusseted crotch and full cut provide freedom of movement without being baggy. The fabric is soft right out of the package yet tough enough to crash through briers without a hitch. Please note that they will catch on barbed wire.
Whether its 10 hours in the truck or all day in the field, the Arbenter Pants by Arborwear won't let you down. I'm going to buy more.
I am a bow-legged field engineer and prefer these pants to Mountain Khakis and Carhartt. The gusseted crotch is the second best solution for bow-legs, with the first being custom tailored pants. They are high quality, durable, and 100% cotton (required for fire safety). Some of the pockets are a little funky, such as the small outside one that everything falls out of, but they are the most functional work pants that I've found and they are reasonably priced.
Just got these for Christmas & they rock. Super comfortable, nice roomy fit, look great. Waiting to see on durability, but the construction is top- notch. Am going to use my gift card to buy another pair.