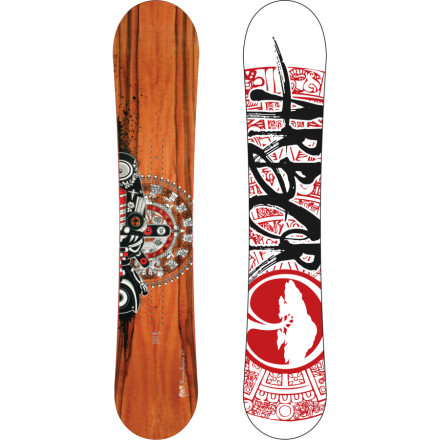 Like an old school kick from Chuck Norris himself, the Arbor Roundhouse Wide Snowboard will lay waste to anything that stands in its way. Don't let the wide waist fool you—this board is still quick like a cobra.
The Voodoo Core is Arbor's second lightest and most versatile core. Designed to take on the rigors of the park and the rest of the mountain, it utilizes sustainably produced TDS poplar to create a smooth and powerful flex
A structural wood topsheet(Power Ply) works like a third layer of fiberglass, adding extra response and durability, without all the nasty chemicals—it looks rad too
The Standard Progressive Sidecut is a blended tri-radial wonder that serves up tighter turns and quicker edge-to-edge transfers while maintaining stability at high speeds
Rhythm Rails sidewalls are made from ABS and urethane to deliver a clean, damp ride and solid edge performance
Carbon fiber is run down the center of the board to add more snap to your ollies and more durability to your board without negatively affecting spin initiation, landing recoverability, or turn initiation
Stone-ground Rocket base delivers bomber durability, great wax absorption, and ludicrous speeds
Recycled Steel edges deliver maximum control and durability
What do you think about this product?
Have questions about this product?
Unanswered Question
Could this board be used for urban terrain...
Could this board be used for urban terrain as well or would I be better off looking for a more urban specific board?