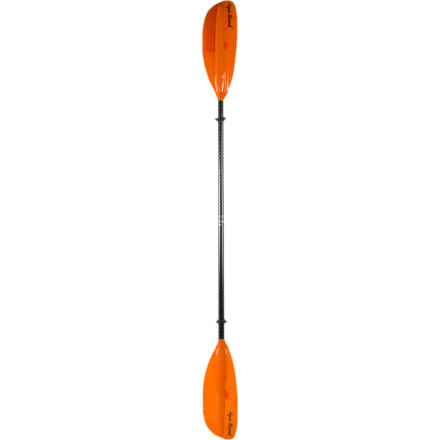 Detail Images

Community Images
Energetic paddlers who crave quick, high-angle paddling will fall in love with the two-piece Aqua- Bound Surge Glass Paddle. The Surge offers the widest blade of Aqua-Bound's performance paddle line and maintains powerful, flutter-free pulls even if steeply angled into the water. Aqua-Bound didn't sacrifice portability to create this technical paddle; the rigid yet forgiving composite shaft easily splits into two pieces for quick storage or transport.
Wide blade shape creates powerful pulls at high paddle angles without inefficient flutter motion that burns energy and causes fatigue
Carbon shaft offers a high strength-to-weight ratio without sacrifice to durability in or out of your boat
Round shaft shape rests easily in your hands for a secure grip on quick paddles or extended outings
Two-piece design splits apart by a button thumb-lock for storage inside the hull of your boat or the trunk of your car
Here's a vid of Aqua-bound's Surge in action.
And now, for the SURGE...
Gender:

Male

Familiarity:

I've used it several times
Huge Thanks to Backcountry.com and Aqua-Bound for hand-selecting me to review their Surge Glass Paddle for the benefit of the backcountry.com community.



Since paddle choice is based on a combo of the boat, the paddler, and the paddling style, I'll start out with the facts: I'm 6 feet tall and have a pretty average length torso, thus, I have a pretty average amount of upper body sticking out of my kayak. I paddle a Necky Chatham 16, which is a pretty quick and responsive sea kayak set up for play and short tours. My boat is 22 inches wide at the cockpit (relatively narrow), and my paddle style is pretty low and mellow- usually more of a low-angle paddler. Even with the combo of my height and the narrowness of my boat, I've gotten used to paddles that are a bit above the recommended size and have used mostly 240cm low angle paddles.



We'll start this off with the Bottom Line: Despite being advertised as a High-Angle paddle, the Surge is suited more to a low angle paddler's needs. Regardless, the Surge is a high quality, light weight addition to your kayaking experience. Whether it be an evening paddle or a multi-day tour, this paddle gets the job done and does it well.



Now for the Surge..



While this paddle is Aqua-Bound's high angle paddle with their widest blade, the blade is not much wider or longer than other brand's low angle paddles. The measurements for the blade are 6.8in wide and 19in long (17.27cm x 48.26cm), about an inch wider and two inches shorter than Aqua-Bound's Swell Paddle, their low angle piece.



The Surge is super lightweight for its class (not comparing to full carbon paddles), and for a touring paddle, weight is an essential thought. Reining in at a mere 29oz (822 grams), the Surge helps to combat fatigue. Think about how many times you pick up your paddle on any given day on the water. With its low numbers, the Surge is a pleasure to hold, lift, push, pull, and repeat for as long as your tour allows.



... Review CONTINUED in Comments Below...
Paddling.net customer review (RS)
The Aqua-Bound website doesn't do this excellent paddle justice and misses out on selling some of the best features. This is a phenomenal paddle for anyone that's looking for a lightweight, incredibly well designed paddle that is reasonably priced. When I first opened the package I fell in love with the bright green fiberglass blades. I'm not big on how my gear looks, but this is quite an eye-catcher. As I took a closer look at the shaft of the paddle, I noticed a checkerboard pattern. The surge shaft is checkboarded with a pattern that is glass smooth around the shaft (the direction to turn the paddle when using the feather angle) and is rough up and down the length of the paddle. The paddle turns smoothly in your hand, but prevents slipping; it's a great idea and is executed very well.

After I gripped the paddle I was VERY pleasantly surprised by two facts. First, the shaft of the paddle is a bit smaller than usual, making it incredibly easy to grip. This is a very comfortable paddle to hold and doesn't strain the hands. Secondly, the shaft is slightly ovoid. This actually makes it incredibly comfortable and lets you know exactly how the paddle is oriented in your hand. After taking the Surge out on a 14 mile paddle, I appreciated the careful design and construction of the shaft even more.



The Surge is hands-down the most comfortable paddle that I've used. I did some short and long sprints along the way and there is absolutely no flex in the blade; I dug as deep as I could but didn't detect the slightest flutter. Overall, this is an outstanding paddle, especially for a more high-angle touring stroke.
is the shaft on the Surge smaller than...
is the shaft on the Surge smaller than usual? i read this elsewhere but your product description doesn't mention that.
Best Answer
having just ordered this without a reply from BC, I now have to return it b/c I need a narrow shaft and this shaft is not.

can i just say for the record, this is a rocking paddle and light as hell.
Hi, Backcountry had a real good sale on...
Hi,
Backcountry had a real good sale on these so I ended up buying two. Problem was, they only had somewhat non-standard sizes for me--either alittle too big (240) or alittle too small (210)--SO I bought a 240 and a 210 for my tandem kayak.
I took a half from each and put them back together...now I have two 225s...I took some colored electrical tape to mark center on each (since the seam is no longer center). They fit fine...they look fine...they should be as strong or stronger than seam in the center...any downside to this approach??
It should work just fine for you with these paddles. I would caution others, that some paddles (like Werner) have slight elongation places for your hands. If you tried this approach with those paddles, your grips would be off center.
http://www.aquabound.com/productType.php?type=Performance_Paddles
I wanted something with a little more bite than my Werner Tybee so I tried the Surge.

I'm very pleased with it. It doesn't have the ovaled shaft at the grip area like the Werner but I don't miss that a bit. It doesn't have the more adjustable ferrule of the Werner, but I always set the feather at 45deg. (which the Surge offers) so I don't miss that at all, either.

It's light, flutter-free, pretty and has lots of blade surface; just what I wanted!

I'll check back in later when I rack up some more miles with it.