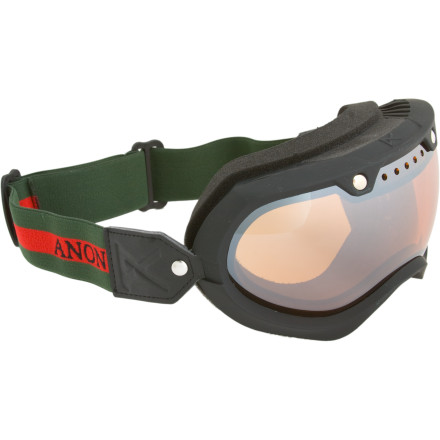 Detail Images
Anon designers went way back to when their folks packed them into the seatbelt-less family truckster and headed for the slopes; behold the Vintage Goggle. The classic leather touch on the strap hinge area of this mid-sized rounded frame goggle reminds us of when nobody wore helmets and mustaches weren't hip ... they were required.
Spherical lens technology mimics the curvature of your eye combined with a crafting technique that tapers the thickness at the edges for limited distortion
Solar Shield Hard Coating technology doesn't mean you should mistreat this crucial piece of gear, but it does off scratch resistance (mirror lenses only)
Full perimeter channel venting promotes air flow as warm air is pushed out by cold air as it flows in to virtually eliminate fogging
Low profile, lightweight frame design offers better visibility and killer style with more lens and less frame
Dual-layer face foam offers comfort without excessive and unnecessary bulk
these goggles are a little bit on the small size when it comes to fit, but the visibility is great and the look fantastic. i have had an old pair of oakleys that worked well but these were less expensive than the lens would be. if you have a longer face or a smaller face buy these you will not be disapointed
Great goggle, great look and design. However, I have not found these in stores locally, so I took a chance and bought them anyway w/o trying them on. I'm 6'1" and wear a 7 1/2 hat, these are way to small for my face. Kinda mad they don't fit, cause they are sick goggles.