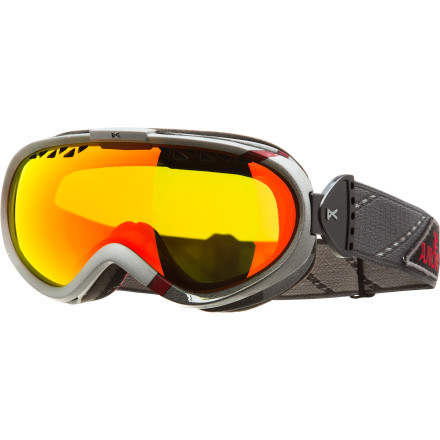 Community Images
Why deal with oversized goggles that encompass your entire face when Anon designed the Solace Goggles just for ladies and small riders? Its slim frame profile gives you that just-right fit you've been longing for. Panoramic goggle lens allows you to spot branches and rocks that threaten to kill your buzz, while the anti-fog tech keeps your riding chill and your vision clear.

Slim frame profile for small riders and ladies
Slime frame profile for small riders and ladies
Triple-layer face foam utilizes moisture-wicking fleece that produces a perfect goggle-to-face fit, seals out the elements, and provides hours of riding comfort
Injected Spherical lens combines de-centered technology with a lens curvature that mimics the curvature of the human eye for superior optics
Tru-V polycarbonate lens yields 100% UV protection and exceeds ANSI Z87.1 impact test standards
Dual lens construction and anti-fog coating help keep condensation at bay when things heat up on the hill
Helmet-compatible goggle with pivoting hinge creates a proper fit, eliminates gaper gap, and maximizes ventilation airflow for the goggle/helmet interface
This works wonders if you have a super small face. I had tried the I/OS from Smith, and it was still much to 'buggy' for my tiny face. These Solace goggles have a much nicer fit, if not quite as much peripheral vision as the I/OS.



They are really comfortable to wear, I've had no issues with the goggles fogging up. I picked up the Aura/Blue Lagoon color and it looks great, I also bought a Green Solex replacement lens for really sunny days since the Blue Lagoon lens that came equipped with that frame was really best for lower light conditions.



All in all, really happy with this purchase, I tried on tons of different goggles, and this was one of the very best for my tiny face. It fits seamlessly with my R.E.D. brand Defy helmet.
Easy to remove lenses.
The strap on the early versions would come apart easily, but they fixed it in subsequent years. I use a piece of black athletic tape on my older frames and it works great. It has stayed put for years.

The lenses are easy to remove/replace and the goggles really do fit my face.

I'm a dude. I'm not small. These fit me. I love them. I don't care if they're not for men.