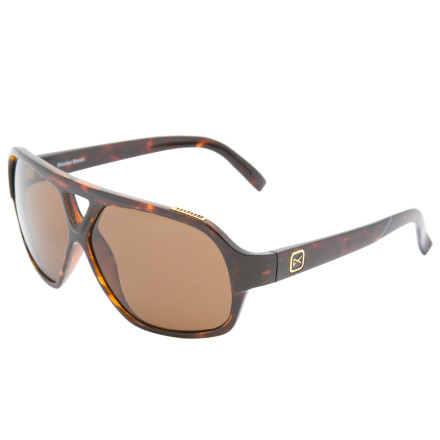 Detail Images

Community Images
When you really want to make a statement, just make sure you're wearing the Anon Shocker Sunglasses as you roll into your neighbor's house party. If the massive lenses and retro style don't get some attention, then you clearly showed up too late and all your friends are already passed out. Anon used tough Acetate frame material and scratch-resistant Optyx Descentered lenses to ensure the Shocker can handle the roughest parties without concerns.
These look DOPE. I own the yellow and purple pair, and man, those things can be spotted a mile away! Not for the conservative dresser haha.
Since I'm Japanese, and typically, sunglasses don't fit very well... these sunglasses sat on my cheek bones and not on my nose as they should...but that's expected from me since it seems to be a trend with the majority of sunglasses.
The lenses on these are nice too, with no real distortion, so it makes wearing these for long road trips a pleasure
If you are a true LA Lakers fan, you need these. How can you roll up to the staples center wearing black shades? Don't be ridiculous, you have to match your jersey at all times. Scoop these up to look good for the the playoffs, unless you think your team is doing down first round. LA Laker pride, if you have it.
are they still available in tortise...
are they still available in tortise shell??
No my man, sorry about that. Just the blue, grey and 2-tone color ways are.
sick as sunnies for any occasion, i rocked em weddings, concerts and beach and now want a new pair cos ive worn mine out after a year of hard wear!!
yes, made for men who want to look good and feel better about sun protection against your eyes.