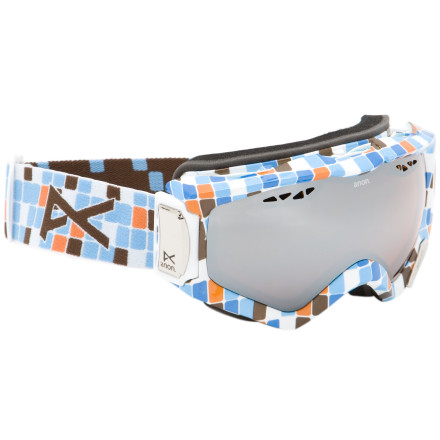 Detail Images
These goggles rock out. Out of all my goggles, these do the trick. I've worn Electric, Smith, etc. and none of them reflect the light or open up my view like these do. Plus, the look sick as hell. The purple Realms catch everyones eyes and I get compliments every time i'm on the mountain. Nobody can find these except for here! Board safe homies....
Awesome goggles, they really are. I've had no problems with them at all.

I have however had loads of compliments and overheard kids next to me in the lift line saying how sweet they are.
Thes goggles fit great! I can't wait to use them this winter.
Shipping needs some work.
The goggles are killer and are probably the most comfortable i have ever worn...

but make sure to make a note when you are ordering any goggles to put the lens case on them before they shipp them or in front of them ... the lens rubs on the plastic window thing in the box and scratches up the lenses pretty bad.. they send you new ones but its too much hassel better just make sure its right the first time.

but they are great goggles and you get great customer service.
I received a pair of these sick goggles and the lens was scratched. I immediately told customer service and they sent me a replacement lens 2nd day free of charge. Thanks for coming through in the clutch. Highly recommended.
This is the first year that I chose to ride with Anon. Usually I rock Oakley specs but this year I wanted to get something that every little ripper on the mountain didn't already have. I went with the Shogun print to make sure that didn't happen. In comparison to the Oakley A frame and O frame, these goggles are way better. They have the excellent peripheral vision of the A frame and have way better cushion and support. The only thing that I would change about the Realm is that I would offer a larger spectrum of colors and prints. All together I give it 4 out of 5 stars. Kick ass!
I seriously have to begin by thanking you guys and your sales team. This is my third consecutive year ordering on your website. Awesome service. Getting to the goggles. More than I had anticipated, sytle and ergonomics are key to their success. Anon makes sure to pay attention to detail. The lens is perfect for any weather condition and the ventilation system is well designed to get rid of any unwanted moisture. You get your moneys worth 100%.
I got the treez/blue mirror. I didn't know it but the frame design actually has evergreen trees on it, and the chrome on the side looks really nice.