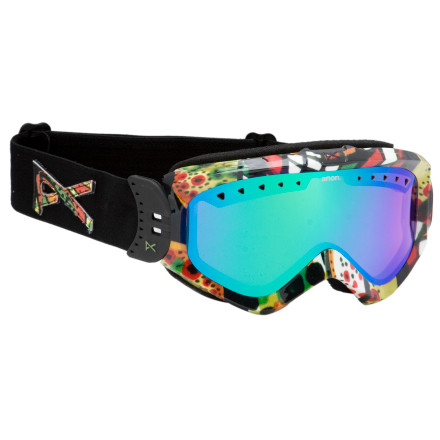 Detail Images
these are so awesome!! i get tons of complimants and they perform great in all kinds of weather!! they are pretty tough too...i have done a few yard sales and things have gone flying and most of the time my head takes the impact but these goggles have been unphased!! i love em!!
First and foremost, I ordered Next Day Air on Thursday...snow storm delayed the delivery. UPS doesn't deliver on Weekends &I'm going to the Mtn for the weekend. These guys got me my order EARLY Saturday morning.

Now, the goggles are supa fly! I got em for my girl and she loves em...she looks soo good. They pack alot of flava...even a guy could rock these.
perfect for smaller faces. I was wearing oakley A frames which fit great. I love the printed design. The rose colored.ens with mirror was great on an overcast day as well as a sunny day at Taos just a few days ago. Fits well over helmet and never hurts looking stylin' as well!
Really comfortable and practical. These things are great, especially when I wear my helmet. Some goggles I've had in the past didn't fit quite as well with a helmet, but these are great.
Cool colors, I've gotten tons of compliments. So far so good preformance wise.
, ☃bcs_badge_alumni_label☃
Fit my face well
Got these for my sister for Christmas and had to try them out first hahaha! They fit my face surprisingly good. I have a hard time finding goggles to fit my face. I have only found Electrics and oakely a frames. But i liked how these fit a lot. I am sad to be sending them away to my sister!