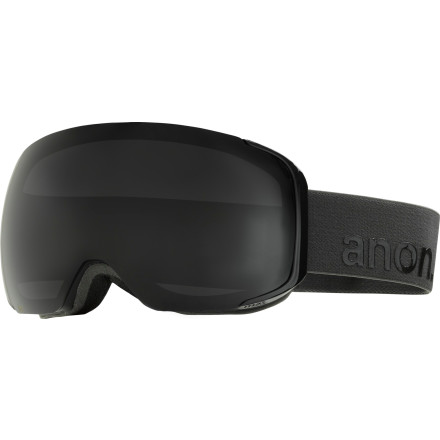 Colors

Detail Images

Videos

Community Images
Description
There's a new sheriff in quick lens change town.
Anon takes its already revolutionary magnet-based lens-swapping technology to the next level with the M2 Goggle. Now frameless for maximum field of vision and a cutting-edge look, this design makes changing lenses insanely easy and fast.

Magna-Tech quick lens change technology got an upgrade on the M2. Anon removed the outer frame and buttons so all you have to do to take off the lens is literally grip it and rip it. The magnets are strong enough to survive a tomahawk through powder without coming off so you don't have to worry about losing your lens when you take a tumble. The large spherical lens tapers from the optical center toward the periphery for a wide field of vision with minimal distortion. Full perimeter channel venting allows maximum airflow to keep your lens fog-free, and triple-layer face foam provides a comfy fit that seals out the elements.
Magna-Tech magnetic quick lens change technology
Spherical lens
TPU frame
Full perimeter channel venting
Triple layer face foam
Fits medium to large faces
Low light lens included
Microfiber bag included
Sick af!!!!!!
Familiarity:

I've used it several times
I love there goggles! I love the lens change and the quality of the lenses. I have the blue neptune frame with blue cobalt mirror and love the grey base tint. The only thimg i don't like is the lack of silicone (2014 module). GET THESE GOGGELS!!!!!!!!
Sweat Fogging Be Gone!
Familiarity:

I've put it through the wringer
I run really warm and even on the coldest days I can still fog up my goggles after a long run. The normal thing to do after such run is to move your goggles up onto your head but this will only make them fog quicker. The M2 has the salutation to that, just remove the lines real quick wail you are in the lift line or headed up on that tram.

Thats why I love the M2 so much, all you have to do is take the lines off! I bought these goggles for this reason alone.

No more foggy googles!



Fit: the fit is great! I have an issue with a loot of other goggles not being wide enough or pinking my nose, the M2s do neither.
Lens Change Made Simple
Familiarity:

I've put it through the wringer
These goggles are great. Changing lenses is extremely easy and quick. I use them with a smith variant helmet and the fit is nice. I agree that medium/large is accurate on the face size fit. The only issue I've ever had was popping the lens off accidentally when pulling the goggles off over my helmet. The issue was user error because of the frameless design. Awesome goggles.
Anon M2 Goggle
Familiarity:

I've used it several times
These goggles have the easiest lens change out system out there. I was riding a trail that was sunny bluebird at the top and overcast and in the shade at the bottom. I stopped on the side of the trail and swapped out lenses in about 30 seconds. I never would have been able to do that with any other lens. The lens magnet system is really cool. The reason why I gave 4 stars and not 5 is because the "low light" lens that comes with this goggle was still a little dark and I've used better low light lenses. These goggles have a very wide range of view and are very light on your face. The only goggles I've seen that have a greater range of view are the Oakley flight deck goggles. The Anon M2 has a very slightly smaller range of view (barely noticeable) and has a much easier lens change out system. The price is a little steep, but it does come with two lenses which is nice. Overall I highly recommend these goggles.
How does the size of these and the anon Mig compare to the smith i/o and io/x?

Thanks!
They're a little smaller than the io's
Awesome goggle
Familiarity:

I've put it through the wringer
I upgraded to the M2 from the M1. I have found the M2 to be far less prone to the fogging I experienced w the M1. The frameless design is awesome. The viewing area is vast. The goggle is not too big, and it's not small. It's JUST RIGHT. I've taken some pretty gnarly spills w them and they are secure as any other goggle. Lens changing is stupid fast and easy. They did a fantastic job w this goggle. Most impressed w how clear they stay on moist powder days. These were conditions I struggled w previously w the M1... The lenses offered by anon are great as well. I'm very happy w these. I use these goggles w smith vantage helmet they are a perfect match, No gap.
Can withstand a beating
Familiarity:

I've put it through the wringer
I love these goggles! A few weeks back I was riding and while hitting a jump I landed on my face really hard. I had a broken wrist and nose, and scraped up my face pretty good and bite my lip open. And even after all that, my goggles came out of it like nothing happened. The magnet lens didn't pop off and my lens has very scratches. I will be ridding with these for a long time. (You can check out what the crash did on my Instagram @somedeaddude90)
Green Solex lens.
Best goggles!
Familiarity:

I've used it several times
I LOVE these goggles, not only are the lenses super easy to change, they don't fall off when you wreck, they don't get foggy, they come with 2 lense options.. You should get them!
Dope.
Familiarity:

I've used it once or twice and have initial impressions
I've only worn these goggles twice so far, both rainy days in about 35 degree temps. But so far, they are awesome. The rain was coming down the first day and it was so nice to be able to just pop my lenses off for the lift ride to keep them clear and dry, then just pop 'em back in after I strapped into my bindings.



I noticed a little bit of fogging in the bottom right and left corners when I would be looking over my shoulder, but it never extended up to eye level. Kinda bummed that for the price I experienced any at all, but it went away quick. Some reviews say they make you a goggle face if you have a small face, but I have a pretty small face and they actually look pretty normal when I'm wearing my helmet.



Overall, these are a sick looking goggle and the quick change is crazy convenient!
To visualize what each Anon Lens will look like, go visit this nifty tool they built on their website.



http://www.anonoptics.com/lens-tints
pretty awesome goggles
Gender:

Male

Familiarity:

I returned this product before using it
these goggles are great. probably the best looking goggles in my opinion. the lens interchangeability is 10/10. i can't speak to the anti-fog because i never used them in harsh conditions or worked hard in them. the reason i returned these goggles though is because of their compatibility with helmets. I tried them with a protec riot, a giro, and the anon rodan helmet that this goggle was designed for and with each helmet there was a SLIGHT gap between the helmet and the goggle. I'm talking maybe 2 mm. you can only see it if you really look for it, but its there. I chose to stick with the Smith i/o7 because there is no gap with the Rodan or the giro helmet and wont let any wind through (literally fits flush, better then with anon goggles). The lens change on the smith is a little more difficult but the fit is nicer and I have heard that the anti-fog is unbeatable. Overall, 4 stars based on my limited experience with them
Steezy and easy
Familiarity:

I've put it through the wringer
This goggle is my dream come true. I'm pretty lazy when it comes to changing lens' but these are so easy to change, I can change them anytime during the day. They are super comfortable and I love how they look. If you have a smaller face, they might look huge on you. The lens options are endless, I personally like the Blue Lagoon for low light conditions and Red Solex for bright, bluebird days.



I'm wearing the Blue Lagoon lens in the picture (I'm the one on the right).
Great goggle
Familiarity:

I've put it through the wringer
Fit---Even though these have a large lens, they are a medium fit goggle. The fit a smaller face than the Smith I/O X (which I also have).

Compatibility---They fit with Smith Vantage and Lazer helmets in addition to the Anon Helmets

Lenses---Mine came with the Blue Lagooon, which is better than any low light lense I have tried to date (most of my experience is with the Smith options). The Blue Cobalt lense is ridiculously dark and a true bluebird lense.

Anti-fog---I haven,t found a goggle that I cannot fog yet. These did fine on cold dry days, but I was able to get them to fog around the top edges on more humid, snowy days. On a side note I am a sweater.

Foam---The foam is not nearly as thick as the Smith options

Strap---the strap is a little short when using my medium sized helmet, forcing the face foam down almost uncomfortably. Having to run the goggle strap all the way out places the adjusters under the goggle strap retainer on my helmet, and keeps them from being properly secured. Additionally, it has no silicone beading, which makes the goggles difficult to keep in place when pulled from the face and placed on the helmet.

Lense changeability---it is the easiest I have found. Rather than pulling the lense off, if you squeeze the frame from top to bottom, the lense will pop right off easily. To get them back in place, all you have to do is be within a few inches and they pop right back on. One caveat is that you have to be careful when lifting your goggles off of your face and placing them on your helmet...you can easily pop the lens out and if you are not expecting it, you may drop the lens.

Case---Nice vented case and goggle back to protect them while in transit.



5 stars for design, but 4 stars for execution because of the strap.
Sherpa
Familiarity:

I've used it several times
Field of view is awesome with these goggles. I got the Blue Cobalt lens and they are dark. Perfect for bluebirds but keep your low light handy when the sun dips behind the summit. No fog issues and with a great seal to my face there are no leaks at high speeds.
Great great great
Familiarity:

I've used it once or twice and have initial impressions
I got them before the weekend and used them and they are great. Say one was a blue bird morning then in the afternoon it went all Gary bird on us, I was caring the other lens and 3 seconds flat I swapped lens no problem, it wasn't a cold day -4 no wind. The second day wow-11 and with the winds the feel was -16 and lots of snow falling here in Quebec, so I used the gray bird lens all day they never fogged up at all and I didn't feel any wind come in. And I trust 100% the magnets on them and the quality of the lens are great. I recommend them hands down.

I have the m2 sherpa comes with a the yellow lens for gray bird days.
I finally decided to ditch my ratty assortment of old scratched up goggles this season and upgrade, and I couldn't be happier with the M2. The frameless field of vision is huge, I am digging the spherical style lens. Although the goggles are a lot bigger than the old-school stuff I was used to, they fit perfectly (but snugly) with my brimmed Bern helmet. As for people worried about the quick-change lenses coming off in a crash, I can say from recent experience that a multi-tomahawk powder crash the other day didn't budge them at all :)