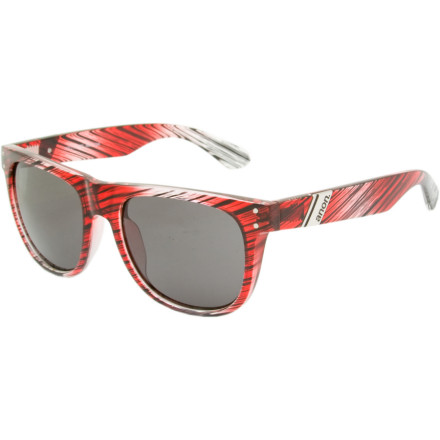 Detail Images

Community Images
Wear the Anon Hollyweird Sunglasses to crash your next Southern Cali house party and show everyone just how normal it is to wear huge sunglass frames. Okay, so maybe it will never look normal, but in Hollywood, anything goes. Will Farrell shows off his fuzzy flabby chest in every movie, and he definitely gets laid, so you can pull these babies on, fluff up your hair, and wait for the magic to happen. The Hollyweird's resilient injection-molded Grilamid TR90 frames and 6-base polycarbonate lenses won't snap when you get tossed out of the swanky party on Sunset Boulevard and have to go back and meet up with your pals at the dive bar.
Unanswered Question
Are the glasses ever going to come back...
Are the glasses ever going to come back into stock!?!?! (Black ones especially!)
Been rockin' 'em since the day I got 'em, even in the dark.

For those of you ladies who want the steeze but don't wanna be stuck behind massive frames, the Hollyweirds are a go. Get 'em. In every color. Rock 'em hard.

Lenses are 2" tall from top to bottom of frame and 2.25" inches wide from side to side of frame.

Sporting these while working out hard, you will find that there is no nose-slip or discomfort. They fit snug, but not tight, and hang on like they were lined with velcro. The mirroring on the lenses is a bit darker than what you see in the photo, so it's a pretty snazzy contrast to the silver frame.

Really, when you're as cool as you are, you should have these.
Do you think the black gloss pair will...
Do you think the black gloss pair will come back in stock?
It might, Just keep checking or run the Smurf color way. It is sick in person.
Super crappy, but it doesn't look like we have any of these guys currently on order from Anon. I'd listen to Lyman though--the Smurf is ill as tits.
consider getting one in every color
The Hollyweird is born when a pair of Wayfarers start blowing on the steeze exhaust. Your sunglass collection is incomplete without them.
how much bigger are these than ray bans?
how much bigger are these than ray bans?
They are pretty much the same size, but the hollywieird is a tad bit bigger.
How big are these compared to the Oakley...
How big are these compared to the Oakley Frogskins? Are they similar?
Are the red Hollyweird sunglasses for men or women?
I get lotsa complements when I wear these, and alota looks when I'm driving around town.
Great sunglasses. Good quality lenses, none of that cheap plastic shit. The frame feels solid, nice weight. You can tell the quality of these sunglasses immediately. The anon metal details are a nice detail, and the sunglasses look fresh. Get the Smurf Blue if you can. Great on-trend style while setting yourself away from the hordes of Ray-bans.

One warning: These are big glasses. I've got a big head, so it all works out, but these are some chunky frames. Also, the tops a little flat.
I just purchased these sunglasses in Tortoise Shell. They are a little bigger than I expected, but still are amazing. They block out the sun really well, and are quite trendy. They are my new go-to sunglasses.

I recommend them!