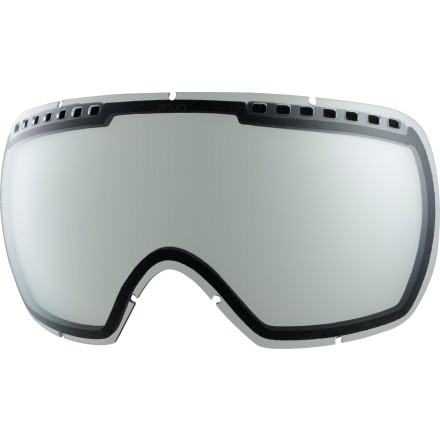 Description
Worth stocking up.
The Anon Comrade Goggle Replacement Lens sure comes in handy when you accidentally leave the Comrade goggles on the roof of your vehicle and watch them fly off and get bounced around in traffic. Fortunately, you reacted quickly and were able to recover the goggles, but the lens is a whole other story.
All Anon lenses provide 100% UV protection and exceed ANSI Z87.1 impact test standards. The dual-lens design reduces fogging, and the tough polycarbonate construction is tough to scratch or break. A polarized version is available to cut out glare, and Anon's Solex mirror coating helps increase contrast.
Spherical
Tough polycarbonate
100% UV protection
Exceeds ANSI Z87.1 standards
Share your thoughts
What do you think of the
Anon
Comrade Goggle Replacement Lens
? Share a...
Great field of view, ok quality.
Familiarity:

I've put it through the wringer
I have been using the Comrade goggle for 3 seasons now and what initially interested me about them was that at the time of purchase (maybe still now as well, I'm not sure) they had the widest field of view out of any goggle/any brand. That was important to me because when you're charging through the trees, the last thing I want is to have blinders on my peripheral vision caused by a big bulky lens-frame.

One downside however as some have already mentioned, is that the lenses are prone to fogging on the inside. I have experienced this, but have generally found it to be manageable as the fogging usually occurs in the uppermost corners of the lenses.

Personally, my biggest criticism of the Comrade (and my reason for buying two new replacement lenses) is that the coating on the outside of the lens is seriously prone to scratching. As anyone who has ever slashed a big pow-turn, ridden in 37 degree drizzle, or yard-saled on the groomers can tell you, goggles get wet and covered in snow, it's just part of the deal. So from time-to-time it's just natural to swipe your glove across the lens to clear your vision (especially in the middle of a run where stopping and busting out the factory-issued lens cloth is not safe/practical/or possible.) The result of the glove swipe is a bunch of horizontal scratches in the finish coating of the lens which over time becomes very disruptive to your vision, especially in low-light/flat-light.
The lenses which I have found to be the worst about scratching are those with a shiny coating on top of the plastic. Silver-Amber and Blue-Solex are two that I have used in the past and had get badly scratched. The scratching on the Blue-Solex is more tolerable at first, as that lens is intended to be used in brighter conditions. However, the Silver-Amber lens is intended for medium-to-lower light conditions and the scratches become disruptive to your vision much more quickly.

This time around I have purchased the Yellow for my lower-light lens, as it does not have a spray coating on top of the plastic (that I can tell) which will hopefully suit me better and last much longer.

Included is a photo of the Silver-Amber lens (the way you would see through it while wearing it) after one season of use.
To visualize what each Anon Lens will look like, go visit this nifty tool they built on their website.

http://www.anonoptics.com/lens-tints
Solid grey bird option
Familiarity:

I've used it several times
Got the yellow lenses for an alternate to my red solex lenses. Very good option in low light/snowing conditions. Just what I was looking for.
Love these!!!
Familiarity:

I've used it several times
The clear lenses are amazing, i use them for night skiing and flat light skiing. They work so well, i usually take my goggles off during those times to see, but its habit to do with the clear lenses. Now i don't have to its just like seeing with my naked eye and no goggles. Its awesome. And i look dope, like i ski big air or something.
One of my favorite goggles
Familiarity:

I've put it through the wringer
I was given these goggles initially, and I've bought a couple of replacement lenses for them, currently I have the yellow low-light lens and the blue solex, and both of them are solidly up to par.

Only problem is that I've had the goggles for 3 seasons now, and they fog up horribly. Switched over to the M2's recently, and that sh** is FIRE!
Unanswered Question
Hi.
Does the 2014 version of lenses fits...
Hi.
Does the 2014 version of lenses fits to goggles from previous season?
My inner lens of my comrades is scratched....
My inner lens of my comrades is scratched. will this replacement lens be what i need to fix it?
Best Answer
Yep this replacement lens is for the Anon Comrade goggle- replacing that scratched lens with a new one will give you a whole new perspective on life! Well, at least a less scratch-filled perspective.
Are these easy to put in? I cant seem to...
Are these easy to put in? I cant seem to figure how
They aren't too bad- start with the bottom of the lens around the nose piece, once those are popped in, slide the sides into your goggle frames and then click the top of the lens in to place.
Hope this helps!