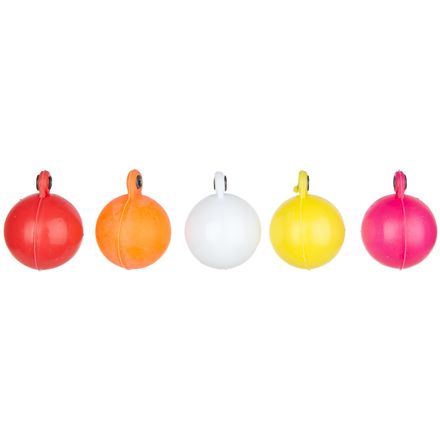 Colors
Since the fish aren't taking the least bit interest in your dry setup, switch out to a nymph rig and tie on a Thingamabobber so you know when a fish strikes. This three-pack of Thingamabobbers are high floating indicators that never need floatant or dry shake to stay on top of the surface.
Great indicator!
Familiarity:

I've put it through the wringer
I love these indicators. They float really well and don't slide around on your leader. I like the small .5 inch size for small streams and the medium .75 inch size for large rivers and heavier rigs. They do cast a little goofy, but what can you expect. My only problem with these is how they kink your leader. If you want to avoid that, try the airlocker indicators. They screw onto your leader and don't kink it at all. Still love these indicators though!
Thingymaindicator
Familiarity:

I've put it through the wringer
These are all you need when throwing a bounce rig or dropper setup. Please be advised, the ones we have in stock are glow in the dark! That means, they will arrive clear and not in multiple colorways. They still are awesome and do the job. I use the medium for everything from mellow runs to more aggressive water.
I love these strike indicators.
Familiarity:

I've used it several times
These strike indicators are so easy to put on your line. For a beginner I do not suggest white. Do with orange or something that you can see really well. I'd also suggest a smaller size for small rivers.
Great Indicator
Familiarity:

I've put it through the wringer
Easily attach to your tippet and throw some droppers. They float high and are clear to appear as bubbles on the waters surface. Very responsive! I am excited to see them glow in the dark.
got some of these glow in the dark variety thingamabobbers in medium and they work well. great when your trying to fly fish at night. (there's already enough to worry about.)
Tried and True
Gender:

Male

Familiarity:

I've put it through the wringer
I've been using these for a while now. Best indicators I've used. Can easily see the slightest strike and false strikes, (which is probably more my own problem). I would suggest larger than the small though for faster bigger rivers.
stealthy
Gender:

Male

Familiarity:

I've put it through the wringer
Like Chris Jenney said, these are only coming in a clear... but are they just clear? Nope. They are actually glow in the dark! Hold them up to your headlamp at night for a minute and then they will glow green.



I also like them because they really are a little more stealthy then those bright indicators. Very sensitive and responsive as well.
I love these indicators. They are sensitive and really detect a strike. the picture above shows multiple colors, please be aware that these are only shipping in CLEAR right now. I personally love the clear as they seem to spook the fish less.
These are a fantastic solution to the nymphing effort. They are easy to install and very visible. They make a great strike indicator.
I have a few of these which I have picked bought and a few others I have found while fishing. Easy to attach and even easier to see a strike. If you are moving from hole to hole and need to change depth, no problem just a little slide and you're set. I have even had strikes on these indicators (slightly frustrating) but at least it didn't scare the fish.
Super easy to use, you can thread these on an existing nymph rig. Very durable and easy to see.
Thingamabobbers are more sensitive for strike detection than a lot of other indicators because their round shape allows them to move easily at the slightest bump or strike. These stay on your line better than most indicators and are much more durable. These things last a long time and are virtually unpoppable. Its the best and easiest system I've found yet which is why they are the only indicators I use while fishing for myself or guiding.