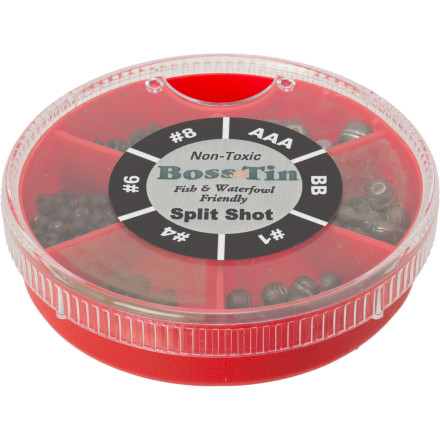 If your line isn't sinking at the right rate, toss on another weight from your container of Boss Tin Weights. Choose the right size from these American-made, non-lead split shots, add it to your line, and see what attention your new rig attracts. Waterfowl-friendly, these split shots come in an organized wheel selector for added convenience.
Safety first
Familiarity:

I've put it through the wringer
Protect the fishes, and use tin over lead. I can't get these to not slip down my line, but they are great weights, in good sizes for trout.
It aint lead!
Familiarity:

I've put it through the wringer
With all the options out there these days, using lead weights is unnecessary. These are non-toxic and come in a great array of sizes. Everything from throwing a few AAA's to get to the bottom of the deepest and fasted run to #8's to make sure your dropper is dropping, this tin has got you covered.
Save the environment don't buy lead.
Familiarity:

I've used it several times
These guys go right on and are safe to use in our prized local waters. I've opened and closed them a few times and you really get a lot of options when you buy this kit. Do yourself a favor and tie a knot right in front of the weight so it doesn't slip down to your fly. Mind blown!
basic
Familiarity:

I've used it several times
basic set of weights and gets the job done
These work exactly like the lead ones I used to use, if a barely noticeable bit lighter. Good for waterfowl. They are more reusable and less prone to getting mangled during removal than lead. I have never had any trouble removing these from my leader, using the forceps/thumb method.
Be environmentally responsible
These weights are made of tin, not lead - enough said! No reason to pollute rivers with lead when there are great tin options like this. For easy reopening of weights, just use your forceps and the pop right open for reuse.
Keeping lead out of fish = karma points!
Fish with tin, and you'll catch more fish. Easily reusable with a fingernail and forceps. My only qualm is that the quantity of weights in the pack is on the slim side (think approx 10 BB's)...if only being nicer to fish was more cost friendly...
I am all about not polluting our waters while I fish. The tin instead of lead is an excellent idea for this. However, the lack of a reopening device means I sacrifice my leader when I want to change weights. It also means I can't reuse my weights to help save the environment. Change that one thing and they would be perfect, I'd even pay more for them.
The 4-way round contains: Sizes BB, #1, #4 and #6.