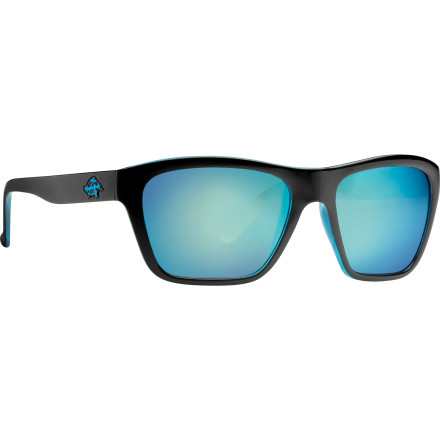 Community Images
The Anarchy Status Sunglasses has more than a good thing going on thanks to its smooth and clean style. Lightweight and flexible components make the Status easy to wear, and its scratch-resistant lenses offer you 100-percent protection from the sun's harmful rays.
Little extra steeze
Familiarity:

I've put it through the wringer
Great pair of sunglasses. I expect to have these for a log time considering the inverse relation of price to life regarding sunglasses. Usually the cheaper pairs last the longest! Definitely stoked that they are pretty sweet looking pair of sunglasses! They get the job done. Fit is great for me, I usually wear a L hat (baseball) and M helmets (giro mostly).
Pretty sweet
Familiarity:

I've used it several times
I got a pair of these a few weeks ago, they looks sweet, I have the black with the blue mirror and they are snazzy. Additionally, or the price the optics are great. I've used them for one ski tour, driving, and hanging out, no complaints so far!
Hiking.. riding.. hanging out. These shades do the trick. Durable as well which comes in handy since I'm always dropping them and leaving them laying around.
Good Fit, Build Quality, Questionable Polarization
So I bought the Black/Smoke of these primarily because they were one of the least expensive polarized, not-too-flashy, good looking sunglasses on this site at the time.

THE GOOD: The glasses fit perfect. I'd say I have a medium to slightly above averaged sized head. If you have a LARGE head these probably aren't the glasses for you. Style is excellent, arrived just as pictured...no surprises. Build quality seems to be excellent as well. Glasses open, fold, wear, and just feel like a solid quality piece.

THE BAD: all the little white lettering on the inside of the glasses rubbed off literally during my first time wearing them. Not a big deal, I don't need to be reminded I'm wearing "Status" sunglasses. Lastly, and the only real concern of mine...I'm not convinced these lenses are actually polarized. All my previous glasses have been polarized, and these just don't seem to be exhibiting the typical features I'm use to. Glare doesn't appear to be reduced much (or at all when viewing water), and in general the lenses seem to just dim the world outside. My previous polarized lenses significantly reduced glare, and although they tinted the outside world they also seemed to sharpen everything.

I did some looking around online, and it appears Anarchy makes these status glasses in both polarized and "non-polarized" models. Other sites charge significantly more for the polarized model. I'm thinking perhaps these aren't actually polarized, or maybe I was sent a bum version on accident?

Either way, for the money they're still an okay deal...but given the choice I'd pay more to get a pair where the polarization is evident.
Clean style and these shades have a great fit.

Not the most protective sunglasses out there (or the most durable), but you get what you pay for. I have a couple pairs that I leave in my truck for driving. On super bright days in Utah these, like Frogskins, are hard to wear because of the light creep around the edges.