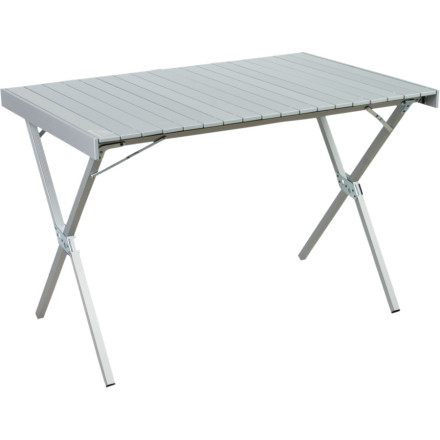 Detail Images

Community Images
This is a must if you car camp, picnic at a neighborhood park or just want extra space at a party. It's so light, easy to pack and carry around, yet sturdy and well constructed. I use it to bbq in my backyard and then tuck it away to have deck space. I've also used it inside to double the size of my kitchen table, for larger groups. Because the slats have small spaces in between them, if you spill something liquid it's probably going to get in the cracks, and it's a little tough to clean. Not a big enough of a problem to sway my love for this thing, just a heads up. Also, the surface can be a little bit fragile - metal can scrape it up!
Alps Mountaineering Regular Dining Table
Familiarity:

I've put it through the wringer
Easy to set up & tear down, this Alps Aluminum Dining table is sturdy & reliable. The carrying bag features 2 compartments, one for the frame & one for the folding table top. It wipes down easy & is lighter compared to others on the market. The best part is that this table rolls up so taking this with you is just like tossing a folding chair in the back of your set up.
Awesome table
Familiarity:

I've used it several times
This is a great table for car camping at a good price. The bag is great for transporting and the table breaks down quickly and easily to pack up. Great to pull a seat up to or to place all the gourmet fixings near the grill when prepping some grub!
Easy to carry & set up
Familiarity:

I've used it once or twice and have initial impressions
Lightweight, and as sturdy as can be (you know, without being made of solid wood). If you spill something liquid, be prepared to clean in between the slats. Also, I think over time, when you roll the top up and store it, the metal is probably going to get a little bit scratched. Small price to pay for an awesome table.
Good all-around table
Familiarity:

I've used it several times
No complaints. Lightweight, plenty of room for anything you need to do, relatively sturdy, and packs and sets up easily. The end caps have a tendency to fall off but it's a minor hassle.
Must have for car camping
Familiarity:

I've used it several times
Really frees up space on the picnic table that is at most camp sites. Plenty of room to prep an cook meals on. Easy set up and stable as long as the ground is relatively flat. Also get some use out of this around the house when entertaining outside.
Watch for edges
Familiarity:

I've used it several times
I purchase this table for group trips. While it's easy to set up, the plastic pieces that are on each board have a tendency to fall out. The table is then super sharp and its easy to cut yourself on it. When I emailed ALPS to let them know about the defect, they barely acknowledged it. Cheaper construction followed by cheaper service.
how much weight will it hold?
how much weight will it hold?
I don't have specs on weight capacity, but my experience has been that I have not worried one bit about loading it up with picnic material and/or having people sit around it with their elbows leaning on it.



I'd feel safe in loading the top with four or five cases of beer all spread out... but I would not feel safe putting a 10 gallon cooler of water in one spot.



So... not a heavyweight table... but not at all fragile-feeling in normal use.


Nice Sturdy Table
Familiarity:

I've used it several times
My girlfriend is a chef and she's been begging me for a camping table that she can use to prepare camp meals. She's stoked on the table it's easy to set up, not too heavy and very durable as well. It provides a great space to both cook and eat at a decent price.
How about some detail in the descriptions...
How about some detail in the descriptions of the tables you sell. Need length, width and height on all of them along with weight and packed size. Some of the descriptions have some of this but none have all of it and many don't have much at all.
Best Answer
- Size: 28" wide x 43" long x 28" tall

- Weight: 12 lbs.

- Aluminum Fold-Up Top

- Sturdy Aluminum X-Frame

- Shoulder Carry Bag Included: 5" x 7" x 43"

- Anodized Aluminum Frame



I also added comments to the ALPS Mountaineering Square and XL tables, and let someone at backcountry know of missing details on the tables.
first of all, backcountry is THE most organized company i have dealt with in my life. Whoever runs it should help run the country. So if you want any product that they have, buy it from them and it'll go well. The table is great. There are no bars to attach to a base you have to hold open. Nope, you just unfold the legs and it stays put. You unfold the top and gently pull down the last slat on both sides and it hooks onto the base. Very sturdy, very light to carry, seems very well made...and intelligently made.
Absolutely LOVE this thing. Take it car camping every time. It packs up a little larger than a typical collapsible camp chair and is definitely worth taking if weight and car space is not a concern. Sets up in 30 seconds and makes all the difference when you're planning on camping for a few days and don't want to prepare and cook meals in the dirt. I can fit a two burner stove, a 2 gallon water jug, pots, pans, and food on this table with room to spare. I can't believe I went car camping without this for so many years...It's changed my camping experience forever!