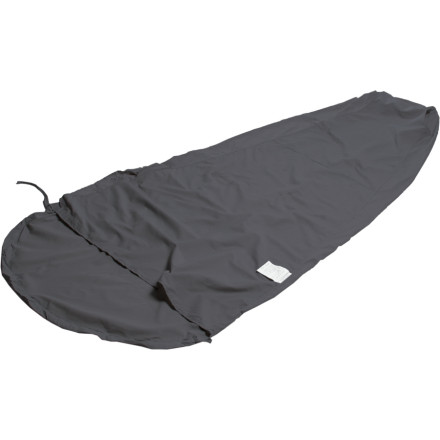 Detail Images
Good Liner
Familiarity:

I've used it several times
What can I say. This sucker lined my bag. Pretty happy about that.
Itchy and stiff
Familiarity:

I've used it several times
I got the microfiber version of this liner thinking it was a steal based off the reviews and the fact that I got it for 50% off. However, I was utterly disappointed with the fabric quality. I expected it feel like legit microfiber, however it felt more like an itchy hotel sheet. After washing it, the liner felt a little bit better, but not by much. Other than the quality of the fabric, the design itself is pretty sweet because it has a small side flap the makes it a breeze to get in and out of. I don't know if the polycotton version is any better, but maybe I just got a flawed liner. Regardless, I can't really recommend this liner.
Unanswered Question
What size would of sleeping bag would this fit?
Unanswered Question
ALPS Mountaineering Mummy Liner - What is the difference between the Microfiber and Poly/Cotton choices? Pros and Cons?



Thanks.
Yes, this item comes with a stuff sack
Solid but heavy
Familiarity:

I've used it several times
Very solid. Used it about 10 times and it looks like it will last. However it's too heavy for a backpacking liner.
A sleeping bag's best friend
Familiarity:

I've put it through the wringer
I have been using the microfiber liner for about a year now and it is great. This is more of a 3 season liner so it won't add much extra warmth (if you need warmth for winter camping you should look at a fleece or heavier liner) but in the middle of summer you really aren't going to be too concerned with warmth. The biggest thing this liner is going to do is protect your sleeping bag from dirt and oils on you. It is a lot easier to was a liner than it is a sleeping bag (safer too).



This liner is a lot easier to get into compared to a lot of liners on the market today. I tried a Sea to Summit reactor and only having the top open made it really hard to get in and out. This at least having a little opening down the side is easier when you have to pee at night. It packs up small and is light weight. What more could you ask for in a liner?
Good liner
Familiarity:

I've used it once or twice and have initial impressions
I bought this mummy liner for my wife's sleeping bag. She tends to sleep a bit on the cold side and also didn't like the feeling of sleeping against the sleeping bag itself. This liner helped out with both, though it only does so much to add warmth. The fabric is much better to sleep against than the inside of a sleeping bag. Easy to pack and easy to clean, it's a winner.
For the price, good.
Familiarity:

I've put it through the wringer
For the price I paid, ~$15, I would highly recommend this. I've used it quite a few times inside an aging 20 degree REI synthetic bag, and it's been great. It will keep you a few degrees warmer, but that's not the main point of this liner. I hate the inside of sleeping bags, they get my skin sweaty and I don't like the nylon. This solves that, it's like a sheet, maybe a bit thicker. It's easy to wash, and keeps the nasty smell out of your sleeping bag. I sleep warm, so many nights I'll unzip my sleeping bag, but wind will then blow in and is too cold on my skin. This is a perfect middle ground: sleep in this liner with the sleeping bag on top as a quilt. Very comfortable.

No zipper, so it's kind of hard to get in and out of, but worth it.
rating on liner??? I have 20 degreebag ...
rating on liner??? I have 20 degreebag would this get me down to 10
That really depends on you and the environment you are in. If you are more of a warm sleeper this should do for you , but if you are more of a cold sleeper it will probably not get you that much. I have tried a few liners and found that the actual temp rating for me at least is not completely accurate. But backcountry has a good return policy so if you find it isn't what you want you can easily return it.
No way. this is more of like a sheet for the inside of your sleeping bag. I would say 2 or 3 degrees at most.
Sleep warmer, extend you bag
Got a good deal on this liner. Like the silk better but this is a good product if you aim to save $$$
How much does it weight? Does it comes...
How much does it weight? Does it comes with a stuff sack/
I don't have it in front of me but i believe it's under 2lbs. Does come with bag. I enjoy it!
REI has this liner listed at 9.6 oz.
Product website says 11 oz.
I would go with that ALPS website says. I have the one I got from REI and it is about 9.6 oz, but this is not the same liner from REI this is the poly/cotton version the one REI is selling is the microfiber version.
Does this have a zipper and how far down...
Does this have a zipper and how far down does it go? What would be the proposed degree rating if used alone for a light summer weight bag?
Best Answer
No zipper. I wouldn't recommend it as a solo bag unless used at a hotel or hostel.
degree rating that it would lower to. I have a 20 degree bag would this get me down to 10