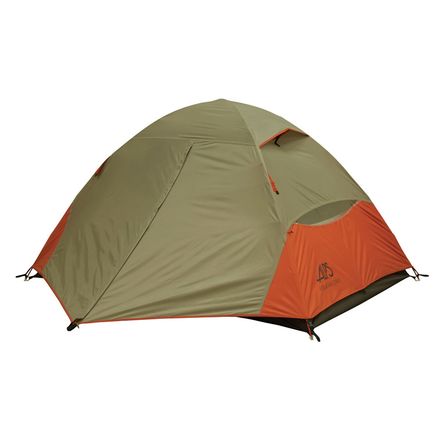 Detail Images

Community Images
When you're sharing a tent with two other people, you need all the ventilation you can get. The Alps Mountaineering Lynx AL 2-Person 3-Season Tent features four half-mesh walls for excellent breathability and seam-sealed fly and floor construction for three-season camping protection.
Free standing two-pole system assembles easily with tent's clips
Urethane-coated polyester fly resists water and UV damage
Urethane-coated floor and sealed fly and floor seams keep rain and snow out
2 Vestibules for ample gear storage
Gear loft and internal mesh pockets allow you to store smaller gear off the floor
Great tent for the price
Familiarity:

I've used it several times
I bought this a couple years ago for motorcycle camping. It is small enough for backpacking for a few days too. My last trip to White Mountain here in California was the coldest and windiest so far. Forty plus MPH winds with higher gusts and the tent did great.
Great tent for a hobby camper
Familiarity:

I've used it several times
This is a great tent for a periodic and lower experience camper. It's easy to set up, it's light weight, it's very roomy for a 2 person tent, and it's easy to fold back up. I've been loving it and happy I bought it for my 3 day excursions along the CA coast.
Great tent
Familiarity:

I've used it once or twice and have initial impressions
This tent is wonderfully constructed. The material is lightweight and durable. Setup was easy and really didn't even require looking at the instructions. When I got the package I immediately opened it and threw it up in my living room, so that should speak for its free standing ability, as it stood up great. I even had me and my two roommates seated in it comfortably with plenty of room. You could fit three sleepers in it depending on their size, I'm 5'9" so it's extremely roomy for me. The fly vestibules are spacious enough to fit your pack and shoes with no problem. Haven't had a chance to field test it yet, but from what I've heard and seen, I'm sure it won't disappoint. I can't really offer any cons as of right now. The tent was a great choice to the price, practically a steal.
A Fantastic Budget Backpacking Tent
Familiarity:

I've used it once or twice and have initial impressions
This is my first true backpacking tent and I picked it up at a great price (around $70 at the time). I don't have much experience with top-tier tents but I can't imagine how they can be much better than the Lynx. The two door, two vestibule setup is great and it all fit well in my pack on the way to our site (I ditched the zip sack, rolled up the tent, and carried the poles on the side of my pack.)
The tent went up fast and the fly was easy to attach. It rained a little and all our gear under the vestibules stayed totally dry. It comes with a gear loft which was handy for keeping a small light until we went to sleep. I imagine I'll be using this tent for a long time.
Great Tent
Familiarity:

I've used it once or twice and have initial impressions
Alps thought of everything that I wanted in a 2-man tent. Two opposing doors with two vestibules. Each person has their own gear pocket which are located diagonally opposite each other. Ensures you and your trail buddy will be sleeping head-to-toe. They even thought to put windows on the fly! Great when you don't know if that is rain falling on your tent or tree litter. Also great for checking outside when you hear unfamiliar noises. No need to unzip door and vestibule to check. Easy tent to setup. Also, love that it had half walls instead of full mesh walls. Provides some privacy while allowing you to sleep under the stars without fly. I tried this out a month ago on a hot summer's night. Worked great. Easy two pole design for setting up. Great tent and a great price! I look forward to many trips with this tent.

I will be using this mostly in sand. The stakes I see are the normal small wire bent ones. Does this tent have stake loops so I can utilize my longer aluminum triangle shaped stakes? I can not see from the photos that are provided. The metal loop and post is all I can see.
Tina, it sure does have loops at the corner of the tent that will accommodate those stakes. The guy lines will probably need a slip knot at the end to make that work.



If you have anymore questions feel free to send me an email or call!



Bill Porreca

bporreca@backcountry.com

801-736-6398
I am not finding a footprint for this tent .. Suggestion for an alternate?
I bought a random one I found at a used gear sale for $5 - it's a completely different shape, but covers enough to suffice!
Works Great
Familiarity:

I've put it through the wringer
No leaks when it rains, and it has held up really well!
Perfect 2 person tent
Familiarity:

I've used it once or twice and have initial impressions
I bought this tent for my son and me to use for Cub Scouts. It is very easy to put up that I bet he could do it himself. We have a few camping opportunity's where we cannot stake the tent into the ground and this tent allows you to use the rain cover without stakes. Even though it is only a 2 person, we were conformable and had room for sleeping pads and backpacks.
Home is where you pitch your tent
This tent is stellar! It's lightweight and packs pretty easily. It sets up quite well, even in gale force winds and sheets of rain - and kept me dry throughout the entire storm. I would say it's a three (ish) season tent - the bitter New England fall cold tends to creep through if you're not too careful! Also, ALPS has great customer service. Super psyched on this tent.
Beat this thing up!
Familiarity:

I've put it through the wringer
I used this tent for a winter ascent of Mt. Whitney. The mountain gave us every kind of weather except good weather and the tent surprisingly held up. We stayed at trail camp (12,000ft), 35-50 mph winds, freezing temps, rain, snow, hail, lightening and it did not fall or rip at all. Not to mention we stuffed the 2 person tent with 3 people plus winter gear. Picked this up on S&C and all in all I must say even when I watched the poles bend in ways poles shouldn't and thought we were going to have to abandon camp I couldn't help but think this was the best $80 I've spent!
Easy set up!
Familiarity:

I've used it once or twice and have initial impressions
I have the 4 person version of this tent and it is super easy to set up! I can easily set it up and take it down by myself. Also it is probably to heavy and big to back pack with but the 2 man might be a bit better. A great tent and usually able to find it at a good price!
Seems great
Familiarity:

I returned this product before using it
Easy to assemble. Packs easy. A little to heavy to use for hiking.
Unanswered Question
In comparing this to the Aries 2 or Chaos...
In comparing this to the Aries 2 or Chaos 2 what are the advantages/disadvantages? The Aries and Chaos are mostly mesh walls which seems nice for warm weather, but potentially worse for colder temps. Will the using the fly make these differences negligible in colder temps?
Unanswered Question
Anyone used this winter time ?? Kinda...
Anyone used this winter time ??

Kinda wondering if potential snow will blow up under the oute cover ? not planing on stormy trips, but you never know when it comes to the wind in mountains.
Best Answer
This tent is made in China.
I have had this tent for about three years now and have used it dozens of times in all sorts of conditions, day after day. Sure, in the middle of a downpour there might be a few drops of water that get through.... to be expected, but other than that this tent is a must! I can set it up by myself if I need to, but with two people it goes up in about 60 seconds flat. It is extremely durable, after all of my use i have had no problems..... The coldest night I have probably spent in this tent it was about 20 degrees and I thought it was as good as expected.... and you can't beat the price..... double thumbs up from me!

P.S. we even fit three people in it for a night once....
Does this have a footprint? I picked it...
Does this have a footprint? I picked it up off SaC and have been looking for the footprint for it. Haven't been able to find one.
As far as I can tell from their website, they don't make a footprint for it.
Curious having my question answered by a Bohanon, I'm a Bohannon.



Anyway, I just ordered an REI Cirque 2 ASL footprint. It's 2" shorter than this tent on both dimensions so I'm hoping this will fit. I'll report back once I've tested it out.
Check out (Alps Mountaineering 2 Person Fitted Fabric Footprint) at campmore.com. Thats where i got mine for my Lynx 1


First night I used this tent it rained. The large vestibule kept my shoes and pack %100 dry. And, because it has two vestibules, my girlfriend's gear stayed just as dry. I especially like the velcro vents built into the fly. These keep the air moving whether you are drying your tent or just trying to keep it fresh. Overall, a great tent.
I got a version of this tent in 2004. Seven years, several storms, insane winds, and heavy snowfalls later, this tent is still going pretty strong. My poles are slightly bent from holding a foot of snow for a day before we got back to camp, but its all good (we also realized this was partially due to us forgetting to Velcro the poles to the fly)! Because of the pole design, this tent is not ideal for high speed wind abuse or snow as it has received from its time with me, but I cannot tell you how happy I have been with it. The zippers all work fine, nothing has broken, and there are no tears. My friend's Kelty tent has gone through about 3 years less of the exact same trips and abuse. The zipper on the only door broke, and he is tentless.
My lessons learned: 1. Remember the guide lines during storms, it needs the extra support to keep from turning into a taco. 2. Always buy a tent with two doors.