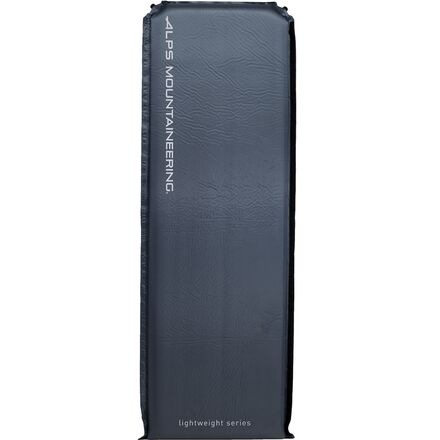 Colors

Community Images
Comfy and a little clunky
Familiarity:

I've used it once or twice and have initial impressions
This pad was perfect to sleep on, extremely comfortable and large, worked very well for a camping trip on a rock beach up north. Only downside is the size of the pad when rolled up, it's a little too large and must be strapped to the outside of the pack, but definitely worth the carry!
Solid Pad for the Price
Familiarity:

I've used it several times
I recently bought this as a second pad for casual camping. The pad I use for Backpacking is the Therm-a-Rest ProLite 4 Sleeping Pad. Head to head, the Therm-a-Rest takes comfort, packability and weight, but not by much. Were the ALPS takes the cake is in price. As a casual camping pad, it is easily a 4 star pad.

The ALPS pad is comfy, durable, and packs up easily. It is more bulky than higher end pads I've used when it is packed up, but it is not any more bulky than those foam pads you see around. I would take this pad any day over one of those.

It comes with some nice elastic straps and a bag for backing.

All in all, this is a great pad, If you aren't ready to drop a chunk of change on a Therm-a-Rest or Sea to Summit, pick up one of these and you won't regret it.
not the most packable but still solid
Familiarity:

I've used it several times
Yeah this isn't the lightest or the most packable, but it's reasonably light and it's comfy to sleep on. Nothing crazy, but a good value.
Not the most compact, but if you aren't backpacking far, it's really comfy, and easy to both inflate and pack up again!
Slept comfy in hot summer days
Familiarity:

I've used it several times
Purchased the "Long" Lightweight Air Pad because I wanted 2" of cushion instead of the regular's 1.5". I am 5"10 and 130lbs and find the pad comfortable. It is a bit bulky when in the stuff sack, but I did not wanted it for light backpacking, so I am cool with that. I would consider this "Long" pad serves better for base-camping instead of backpacking. I slept in it inside my tent while camping in the beach, under some really nice shade, and with a thin bed sheet over it. Works great for me. However, my girl purchased a Fox Outfitters Ultralight Series Pad, which is REALLY light, and packs super small, and I found that one equally comfortable *surprisingly* and even more fresh...
What are the tech specs on this pad? It's helpful to know weight and size - both inflated and rolled. Thanks!
Best Answer
Hey Shuckinator,



Regular:

20" x 72" x 1.5"

2 lbs 4 oz

(Stuff Sack Size) 4.5 x 21"



Long:

25" x 77" x 2"

3 lbs 14 oz

(Stuff Sack Size) 6.5 x 26"


Sidesleepers beware!
Gender:

Male

Familiarity:

I've put it through the wringer
First - the pad is lightweight, strong, packs small, and fills up quickly. The Long version was plenty long and wide enough for my frame.



I read many reviews on here from side-sleepers who say the pad worked great, but I beg to differ.



I'm a big guy, 6'5" and 260lbs. When I'm backpacking, I rely on a good night of sleep, which I never got sleeping on this after 8 nights. It seems comfortable at first, but after 10-20 minutes on one side, my arms and legs would fall asleep, I'd experience shoulder and hip pain, which would inevitably cause me to roll over to my other side or try my back. I tried a night with it slightly deflated, and a night with it slightly over inflated, both of which did not give desirable results. I recommend letting it auto-fill and leaving it at that. The surface is also very slippery with a nylon sleeping bag. If you're on any slope at all, you'll go sliding all night long.



I was hoping to get used to it, but 8 nights in, it's just as bad as the start. I'm thinking I need to give in and spend double for a different pad and save this one for friends.
Pretty Good, but not quite Great
Bought this on the cheap from SAC, and I'm happy I bought it, but happy I bought it for 60% off. As a pad, it does exactly what it's supposed to. I've stayed warm in a light bag down to about 45F, both in a tent and in an ENO hammock.

My only complaint is its size when packed. It's almost too bulky to fit in the pad straps on the bottom of my pack, and the width when rolled up is a bit cumbersome.

I'm 6'2", very athletic at 190 lbs. and I JUST fit. Anyone with a larger frame should definitely buy the XL version.

Overall, it's worth it (especially considering the price) to buy as long as you're not an ultra-light fanatic. I'm a big ALPS fan, and this is a solid product that will hold up well.
Unanswered Question
what is the R-value of this pad?
what is the R-value of this pad?
I have the regular and it's a good size for me, I'm 5'9" and about 190lbs. I was fairly comfortable, but it's a little on the narrow side. Very light and has held up well for backpacking trips and some car camping. Not the best, but pretty good for the price.
Good for Light Car Camping
Decent mat overall. Its durability has held up for me - comfort is on par with its size and weight. The price makes it a great deal.

I don't know that I'd recommend it for backpacking, though. The weight and especially size make it bulkier than most of the competition (I have a Thermarest Prolite that packs up much smaller).

If you're willing to carry the extra size, or want a slightly smaller car camping pad, this is a nice alternative.
Great pad, light, comfortable, but slippery.
Great mattress for car camping
A bit heavy for backpacking use, but much more comfortable than my lighter weight backpacking pad as well.
We use these for car camping trips instead of the two twin sized coleman air mattress that we used to lug around. The old air mattresses required a blower to air up, a big enough space for a kingsized bed, and often left us on the ground if they got a pinhole or the night got sufficiently cold. These sleeping pads however, air up by leaving the valves open for a few minutes, then topping them off with a few puffs of air. You can overlap them if the available space demands it AND once you close the valve after topping off, we've had no trouble with deflating overnight. These also work great for when the kids have a sleepover and want to crash in the basement with their friends... :)
Lightweight, not so durable
I went to canoe the boundary waters with a small group. four of us purchased this pad in green in the short length, two of them punctured by the end of the week-long trip. I would normally go for something longer, thicker, and sturdier for any weekend camping trip but i went with this lightweight option for this trip. i don't know whether they punctured due to something sharp or the users weight but they don't seem to last.
good pad for the price. no issues with it, it's just a little bulkier than my thermarest, so i tend not to use it when backpacking, but it's nice to have as an extra/backup!
I have used this on 4 different 3 to 5 day backpacking trips, plus I have had numerous drunken friends pass out on this pad. ALPS Mountaineering has done it again, great quality product at a price you can afford. This air pad is soooo easy to use, just unroll, let it inflate itself, and then blow air into it until it is at your desired firmness. I have noticed that throughout the night I have had to put more air into it, but I believe that it is a very very common issue with ALL of these type air pads after you have used them as much as I have. I have these types of air pads fold in half, and then roll up where this pad simple rolls up and is a bit longer in your pack, however it holds more air than the ones that folds in half, and you don't have an annoying creese in the middle right where your but is. To sum it up, it is bigger than normal, but if your out for numerous nights it is worth it to be comfortable.
Great pad for the money, very good construction. Used a comparable Thermarest a few weeks back and really could tell no difference (other than the price and and the fact that this one is built better). I like that brass threads were used instead of plastic, should hold up way better. The self-inflating feature works great if you just roll it out, open the valve, and let it sit for a few mins... every time I did this I only had to put an extra two breaths in and we were good. I like the way it comes with the patch kit just in case you get a puncture in the wilderness... met an AT thru-hiker a few weeks back that had to wake up every hour and reinflate his sleeping pad that would have loved this feature. The only negative I can think of is the sack that it stores in is loose... I really wish it had compression straps to it or something. Overall a wonderful pad that I would highly recommend, especially if spotted on SAC.
Bought this as a present for my boyfriend. Got it on SAC for a great price. He absolutely loves it! Very comfortable and portable and it will be great for backpacking this summer!
decent - not too heavy pad
At 2 lbs 5 oz, the regular pad is reasonably light weight. There are lighter pads out there, but for this price I found it to be a good compromise. Doubles as a sled too.