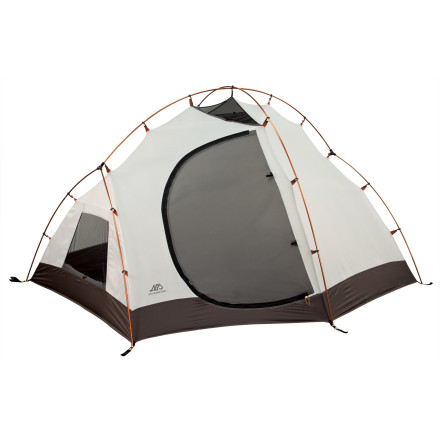 Community Images
Whether you're flying solo or bringing along two friends, the ALPS Mountaineering Jagged Peak 3 Tent keeps you, your gear, and your party safely and comfortably sheltered.
Free-standing pole system with large pole diameter for stability
Vents can be closed to keep out wind
Durable polyester taffeta floor with coating for increased durability and longevity
Two vestibules increase gear storage options without encroaching on personal space
Multiple storage pockets and gear loft help keep your essentials organized and at the ready
ALPS Mountaineering Jagged Peak Tent
Familiarity:

I've used it once or twice and have initial impressions
Super Awesome tent. Easy to set-up, very sturdy, well made, comes with all the accs. needed to rig tent, you just need a hammer to pound in stakes. I just added a perimeter reflective line; "connecting the dots" of the tent pegs to make them more visible during dark hours. Excellent tent and what a value: "Cheap" in relation to all the features and how well made/assembled the tent is, High quality fabric, I also purchased a "tent footprint" to protect the floor of the tent from damage. Two of us use it, lots of space, two doors & vestibules makes it very conveinient for entry/exit, "outside" storage, and ventilation adjustments.
looking to buy my first real tent.not...
looking to buy my first real tent.not something you get from wal-mart. i will be camping year round with this tent if i decide to buy it. why should i buy this tent and not a north face tent? and i will be camping in eastern Kentucky,not super extreme weather.so be a sales person. why should i buy this tent?
Best Answer
Stanley,

Congratulations on your first real tent. This is a big step in life. First of all, you can buy this tent, you can buy a Marmot tent, you could buy a TNF tent. Unless you have some serious brand love going, or believe one manufacturer is a vastly more reliable than another, I wouldn't place much focus there. The really important factors you should be looking at are things like capacity (how many occupants you want it to fit), weight (are you car-camping or carrying this miles into the backcountry), and seasonality (can't believe I didn't just make that word up, but spellcheck says I'm good).



Seasonality is, for me, the most important factor of all. Do I want a tent that can handle just Spring/Summer/Fall or do I need a tent that can do it all. There is a third alternative and it is where the ALPS Mountaineering Jagged Peak 3 Tent fits: 3 season convertible or 3.5 season. These are the magical tents that when fully zipped and with rainfly attached can withstand just about anything mother nature can throw at them. However, when the rainfly is removed and mesh side-panels are opened, they are able to breathe and vent as well as any 3 seasoner. If you are really looking to do year round camping I would suggest a 3 season convertible like this tent here.



In terms of weight, you don't want to be packing any more pounds than is absolutely necessary on long treks. Look for a tent that is relatively light-weight for its seasonality and a good bonus is if it can be set up sans-fly, or better yet, if you can set up the fly sans-tent. This is what is typically called pack-light mode.



For capacity, again you just have to be honest with yourself. If you are always hitting the trail alone, save space and weight by getting a one or two person tent. If you are a family man and by some miracle your teenagers want to go into the wilds with you, size up to a 3- person.
A great 3.5 season tent!
Familiarity:

I've used it once or twice and have initial impressions
I recently purchased several 3 person tents to compare and have decided to keep the jagged peak tent. I wanted a tent that would fit 2 people comfortably, with a dog, for Northern California car camping - and this one did the trick.

I don't generally camp in harsh weather, but I wanted a tent that could withstand the cold temperatures of the sierras though the spring and fall. I debated whether a "3-season" tent would do the trick or if all the mesh would be too cold, or if a 4-season tent would be overkill and not worth the extra costs and set up hassles.

While the 3-season tents were simpler to set up (specifically comparing against Marmot's Limelite), this one is still really easy, and went up in the dark in about 10-15 minutes all said and done.

The tent is borderline short (for anyone 6' or taller this is definitely not the right option) whereas the Marmot had plenty of head/foot room for me (5'3") and gear bags, this tent had more room side to side which I preferred for my dog.

This was the only 4 season tent I considered because most of the others were out of my price range and I wasn't convinced I truly needed a 4 season tent for my uses. I listened to other reviews of the jagged peak 4 season and I found them to be true: This is a perfect 3.5 season tent.

Overall I love the tent, I would say. That it is smaller than I would want for 3 people, and larger than I would want for backpacking - but none of those were my criteria. The vents are great and for summer camping I plan on not using the rain fly (and not having to worry about the privacy issues of most 3-person mostly mesh tents). My one complaint is that the rain fly /vestibule design forces me to reach out very far from the tent door while ducking low to avoid the quite moist fly. Both times I have used it in dewy mornings both myself and my dog ended up pretty wet while trying to exit.

Overall I love this tent and for the price it was a perfect compromise between a 3-season and 4-season tent
Does this tent come with a foot print?
Does this tent come with a foot print?
This tent does not come with a footprint. You can always put a tarp down under the tent if you are worried about abrasion though or cut out a piece of plastic sheeting to fit under the tent. Just make sure none of the material sticks out from under the tent where it could collect water coming off of the fly and trap it under your tent.
I'm looking at purchasing a quality 4...
I'm looking at purchasing a quality 4 season tent. Is this one of those "You get what you pay for" deals?
Best Answer
It always comes down to that. So what does 4-season mean to you? Is it the ability to take some snow load and some wind, or is it the ability to withstand being brutalized nonstop? If it's the former, this one has a pretty decent pole configuration and heavier poles. It also can be used for the other 3 seasons, and, most reviews I've read are based on car camping and rain. If that was the case, I can think of a dozen 3-season tents that will do exactly the same thing. That's not at all to say that it's not a "quality" tent, just that it's not what I would necessarily look for in something I intended to use primarily in a full range of winter conditions. If you're looking for an actual mountaineering tent, start somewhere like the TNF Mountain 25 and move on up if your needs demand it. More money, but you don't just "get what you pay for", you pay for what you actually need. Suitable shelter and warmth aren't places I usually try to skimp on, ever. Hope this helps.
Would I be wise to purchase this tent for...
Would I be wise to purchase this tent for a base camp stay at Camp Shurman on Mt. Rainier?
Best Answer
There are better base camp tents for lots of different reasons. What reservations are causing you to question your wisdom? A lot depends on when you're going and the weather. Depending on that and how you're breaking down the load, I would probably want something lighter and definitely with more guy points. White River Campground- Shurman is about 5 miles or so, and you have about 5k feet of elevation gain...and Shurman is on a unprotected prow. That's both a long and heavy slog, and a vulnerable spot to be caught without the ability to lash down and hunker in. Just my thoughts. If you have other concerns, feel free to share them and we'll see what we can do for you.
First impression...? Great tent! Ignore the last review, sorry man but you've never spent time in a 2 person backpacking tent. You better know the person you're bunking with cause it's a tight fit in those.

This tent? Great 3 person, few design flaws but not deal breakers. I've got the trail weight down to 7 lbs 8 oz. There's a few tricks to get it lighter, some cheap and cost effective others not so cost effective but hey saving about 2 lbs of weight for roughly $80.00 ain't bad. Very roomy, my wife and I easily fit in it with room to spare for another full grown adult or 2 small children or even 2 dogs. The vestibules have PLENTY of room to stash gear if you're wanting to keep some gear dry from possible rain storms.

Like the side doors, especially that they're at opposite ends of the tent. If you're looking for a 3 person 4 season tent, you really can't beat this one for the price. Picked mine up on SAC for 159.00 so you can always keep your eye out for it there, still at 244.00 here, good price. For the time being I'm giving it 4 stars, we'll see how it stands the test of time and abuse, then and only then will I consider giving it a 5!

Adventure is when everything goes wrong and the real journey begins.
You get what you pay for. waste of $$
Bought this tent last week; and it has already been returned! first, the odd size of the footprint makes this a 2 person tent, there is no way 3 men are sleeping in this with some gear. the true measurement is 56" at each end and 87-88" long (spec says 91"), sure it is 77" at the widest part (specs say 81) but that is in the center which is a wierd shaped triagle portion of the floor on each side. with that said, the tent itself is of poor design.no scoop vents on top, but there are 2 at each flat(vertical) end that do not secure in the closed position and you have to exit the tent to open or close with a small velcro covered rod. There are only 2 guy out points on the entire fly (they are above the vents),would never trust this tent to stand up to any major wind. there are only two points that secur the fly to the frame via small velcro tabs, which are right above the vents on the fly. it would not take much wear from wind shifting the tent or fly to have the clips rub right tru this fly. the vestibule is worthless. if you open up the fly while you are in the tent and try to exit and it is raining ; YOU WILL GET RAIN IN THE TENT. a good portion of the FLY door opening extents over the opening of the main tent. bottom line: you are better off spending a few extra bucks on a better 2 man tent then this. if you truly need a 4 season tent for extented stays or extream conditions, this is not for you.
The weight listed here is minimum trail weight. ALPS Mountaineering lists the "Tent and fly weight" as 7lbs 4oz, and the "Total weight" as 7lbs 13oz.
My luggage scale says 7lbs 14oz for the tent, poles, fly, stakes & sacks. I also measured the poles and stakes at 2.1lbs, the fly at 2.3lbs, and tent(w/o poles) at 3.4lbs.

I find that this tent would have room for three. I understand the feeling expressed in other reviews though; but I'm used to sleeping in smaller backpacking tents, i.e. BD firstlight with 2 people is cramped. For car camping this might be small, but the two doors minimize disturbing your mates and tons of mesh windows should allow it to vent out your buddy odor.

Overall, this is an affordable three person "four season" tent under eight pounds.
Very Sturdy, Very easy to put up---VERY SMALL!!! Tiny in fact
So if you are looking for a tent that will keep you dry, keep you warm and is easy to put up, this is your tent. The Fly does required a line and stake to work, but it does work.

There are two doors which makes if very nice and provides good ventilation and makes it easy for getting in and out of.

The tent is fairly tall, and I have a short camping chair I was able to put inside while it rained on us all day. I stayed dry and so did my book.

Be sure and use a footprint or tarp underneath because it seems like the floor is somewhat delicate.

HOWEVER If you are looking for lots of sleeping room for three people get another tent. IN fact if you are looking for a lot of sleeping room for TWO people, get another tent. This is a small tent, its odd floor design does not accomadate three people at all unless they are visitor from OZ.

The vestibule area is very small as well. So if you are looking for a great two person tent, then the Jagged Peak 3, 3 person 4 season tent is the choice, if you are looking to be able to actually sleep three people, keep shopping.