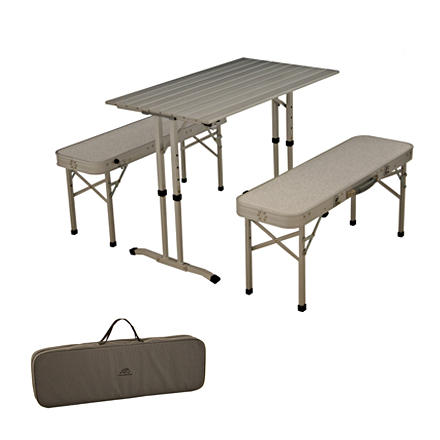 Share your thoughts
What do you think of the
ALPS Mountaineering
Fold Up Table Combo
? Share a...
Well my table arrived. Set up very easily, seem sturdy for a portable and rommy enough for a small family, but one of the bench seats were cracked. Not sure what's going to happen. I've emailed BC and we shall see if they can do something. It will cost a fortune to send it back from Canada, so thats not much of an option. I'll report back after I hear from BC. I'm confident we can work it out.
The table design is great and for the most part what you're buying. The benches are little wobbly and the actual part that you sit on is made of a rigid plastic that seems to be designed too thin in my opinion (it also acts as the outer case for the table which is a really cool design but again, seems too flimsy). This being said, I haven't broken the bench seats yet. This thing has made it through about 30 days in the desert for 5 guys, so its held up pretty well.
Great product design but...
I bought this table off SAC, great deal. When it arrived I was pretty impressed with the overall design however I noticed the seat was cracked. No problem, I returned it for an exchange, but the new one arrived it also had a cracked seat, actually worst than the one I had originally returned. So the product itself is good, but I am not certain it ships well. I should note it is an aesthetic crack, and the bench is fully functional, nevertheless, I am kinda bummed.
How long is delivery from date of...
How long is delivery from date of purchase
Depends what you pay for. You can pay for Next Day shipping if you want, that's the fastest.
Nice small table, not big enough for 4 adults. I have taken this table whenever the troop goes car camping, including 2- week long summer camps (too heavy to carry more that a couple hundred yards) and it has taken a beating from the boys. It has held up well. After this year's summer camp the boys finally bent the top playing slapjacks. The benches seem flimsy but they have held up to two teen age boys sitting on them. If it last 3 years in my troop it should last a family for a long time.
I live in a small nyc apartment and actually got this for indoor use. It works great as small table and seats 2 comfortably and 4 if you don't mind getting a little close to your neighbor. Packing and unpacking is a breeze. The table itself is a little wobbly but overall it does the job quite well. Since it has multiple heights I use it as a coffee table from time to time too.

I usually go backpacking, but if I go for a tailgate trip sometime I will be sure to bring it along.

I got it for about $70 on sale on SAC.
Not a question but a coment...IF Weight...
Not a question but a coment...IF Weight is NOT your highest metric in choosing a table take a look at teh Lifetime 2410. Heavy duty, packs up well, built like the proverbial Brick Outhouse one talks about! Four fat guys will cause a collapse and it is under $100.00 to your door. Brought to you by the same folks who make the white banquest tables and great folding chairs,Lifetime. Their name says it all. Made for life. "Boog"
That's awesome, thanks...
Unanswered Question
CAn you tell me how much weight this table...
CAn you tell me how much weight this table can hold? Item #ALM0008
This table was perfect for my daughter and I didn't mind it for camping but my wife thought the benches were too flimsy and she felt like they were going to break when sat upon and I weigh more than her. The tops are made of some different material and seems like they might break but they've been good so far. In all this is actually very nice to pack.
Unanswered Question
is the top solid and folds or isit multiple...
is the top solid and folds or isit multiple slats that fold? hard to tell from the picture