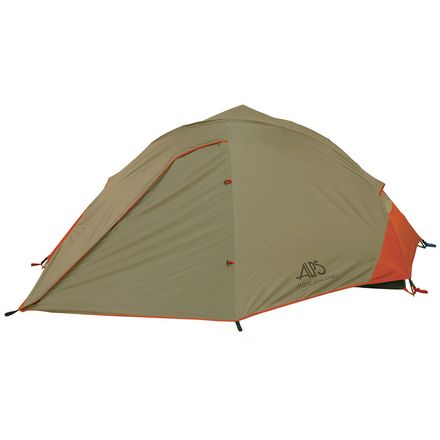 Colors

Detail Images
Description
A lightweight, travel-ready backpacking shelter.
Backpackers, keep your fellow trekkers and gear organized and comfortable during multi-day adventures with the ALPS Mountaineering Extreme 3 Tent.
Factory sealed floor and fly offer full protection from precipitation
Extra large zippers operate easily even under gloved hands
Dedicated ventilation and dual doors allow for full and natural circulation
Multiple vestibules store and organize gear while doubling as automatic guy-out points for nasty weather
Unanswered Question
Comparing this to MSR Fury & ALPS Tasmanian?

I'm looking for a 4 season tent and have noticed that the ALPS Extreme looks very much like the MSR Fury (4-season), especially in how the poles and body cross each other for better structural support. The ALPS Tasmanian is listed as 4-season but has fewer poles than the Fury or the Extreme (3-season), so its structural integrity would likely be less.

The fabrics and poles in the Tasmanian and Extreme are identical aside from the floor (PU coating is 3000mm vs 2000mm). The Fury has better fabrics, as expected from a more expensive tent. The Extreme weighs less than the Tasmanian by about a pound.

The Tasmanian (4-season) has fewer windows, but the Extreme's windows can close. The Extreme seems to have a non-close-able mesh at the top. I can't tell how different the guy-out points are. The Tasmanian has poles for the fly, but the Extreme does not.

So I'm confused as to why the Extreme is listed as only for backpacking & camping, while the Tasmanian is recommended for alpine, basecamp, camping, winter camping. Aside from a difference in floor fabric, fly, and vents the Extreme seems better suited for more extreme winter weather.

The ALPS site doesn't have a season rating for the Extreme.

Thanks for any insight!

Fantastic tent
Familiarity:

I've used it several times
This tent has performed vary well throughout my many uses. It is easy to set it up. At first setup seems fairly counter intuitive. However, after one set up it is easy to figure out. One person can set it up without too much difficulty. Once set up it is fairly roomy inside. It can comfortably sleep 2 with all gear on the inside or 3 with backpacks outside. The rainfly is large and provides two spacious vestibules. There is a gear loft and some additional storage on the inside. The materials are durable and the zippers work flawlessly. Functionally it performs well. Last weekend my tent was exposed to heavy rains and everything inside the tent and the vestibules stayed dry. Wind is no problem. The tent is very strong. There are vents that can be opened if heat or condensation becomes a problem, but I have never experienced this.



Only criticism. It is not the lightest or smallest tent designed and takes up significant space in a backpack when all together, however, it is easy to carry when split between 2 people. Between 3 people this would be no problem. One of the best shelters I have had the pleasure of using.
So I recently bought this tent and took...
So I recently bought this tent and took it out for the first time and I was wanting to buy some extra protection for it, could anybody suggest a good footprint to use with it?
Well, you can buy them from alps http://www.alpsmountaineering.com/alps/products/tents/tent-accessories/tent-floor-savers#.UUIkqBzvuzY

The foot prints work pretty well, they're slightly smaller than the floor of tent though.
Newer isn't always better
I have an old alps mountaineering extreme 3, and I much prefer it to the new ones. Ive had it for years and it's still running strong, however the clear window in the rain fly is beginning to crack and wear through now. The tent itself hasn't changed much, Only colors and decorations. The difference lies in the rain fly. The new one is significantly larger than the old, allowing for more gear but its so large that the wind catches it easily. Even staked down the larger rain fly can be pulled up in a decent wind storm. This issue never occurred with the old tent. This tent can handle more than 3 seasons however, I've use it in the dead of winter and it's had no problems staying up, and it breathes very well while also being warm. Note, for added durability look to the "Outfitter" version sold on the alps website.
Alps Extreme three person
got this tent and set it up last week.
was surprised by the feature set on it.
its the nicest three pole tent design i have seen.
great rain fly coverage with two small plastic windows built into the rain fly.
great for three kids or two adults.
its the kind of tent you will appreciate in a heavy storm or downpour situation...